Total Control for Hubbard Products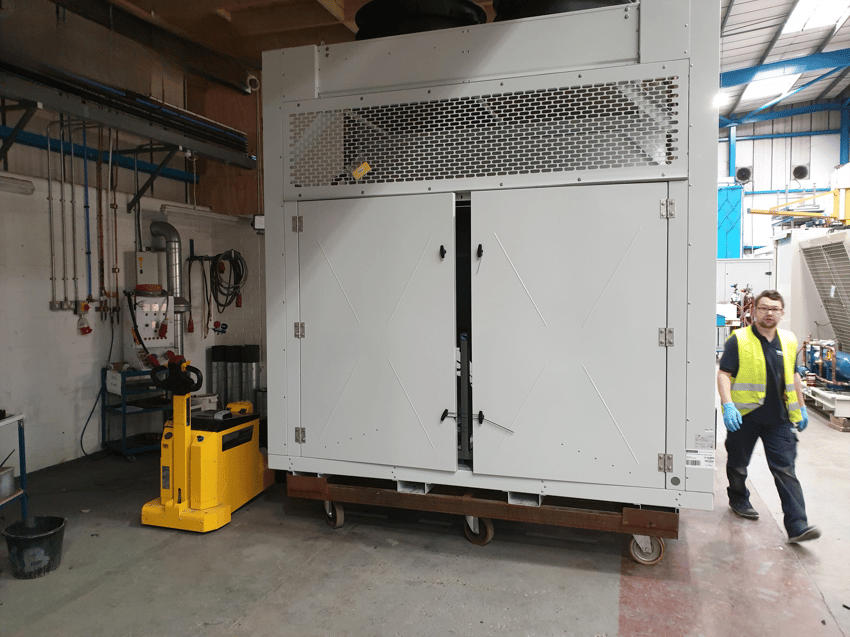 Moving six tonnes of steel with a forklift truck is no easy feat. Difficult balance and a limited turning circle mean that production processes can often take longer than necessary. For Hubbard Products, one of the UK's leading manufacturers of commercial cooling equipment, safely and efficiently transporting components around its busy factory in Ipswich was becoming a real challenge.
As Derek Chapman, Design Office Supervisor at Hubbard Products, said:
"Watching six tonnes of steel being moved by forklift truck made me nervous."
Derek and his team wanted a better solution when it came to moving build dollies containing heavy parts for the manufacture of industrial refrigeration systems. So, after speaking to the manufacturing and assembly specialists based at MasterMover's UK headquarters in Derbyshire, it was decided to trial a MT600+.
The MT600+ allows a single pedestrian operator to have complete, all-round visibility while easily pushing, pulling and steering wheeled loads of up to 6,000kg. Combining power and traction, the electric tug also includes a self-adjusting castor guard to avoid the risk of feet getting trapped.
Hubbard Products were so impressed with the trial that they decided to make the MasterTug a permanent fixture in production, where it quickly became a firm favourite.
Derek said: "Our components are precisely balanced and, when these were being moved with a forklift truck with a limited turning circle, it was proving difficult. Now we can move the loads safely and easily while keeping components at ground level. The other advantage is that, after training from the MasterMover team, anyone here can use the MT600+. We no longer have to wait for a licensed forklift truck operator to become available and there is no need to have another person guiding them while they're moving loads. It has given us far greater flexibility. Now we've got it, we can't imagine life without it."
MasterMover's innovative range of electric tugs can move from 50 kg up to 360,000 kg, reducing material handling pressures and improving safety and efficiency for manufacturers across the world.