How manufacturers can save money, space & improve safety
For manufacturers of trailers, moving components through a production line typically involves a combination of fixed overhead cranes, forklifts and terminal tractors or tractor units. If the ultimate aim is to create a seamless, quick and efficient system, then introducing cost-effective alternative load moving methods to complement or replace existing systems can bring real benefits.
Alternatives can minimise downtime and ensure each stage of the process flows smoothly and continuously into the next.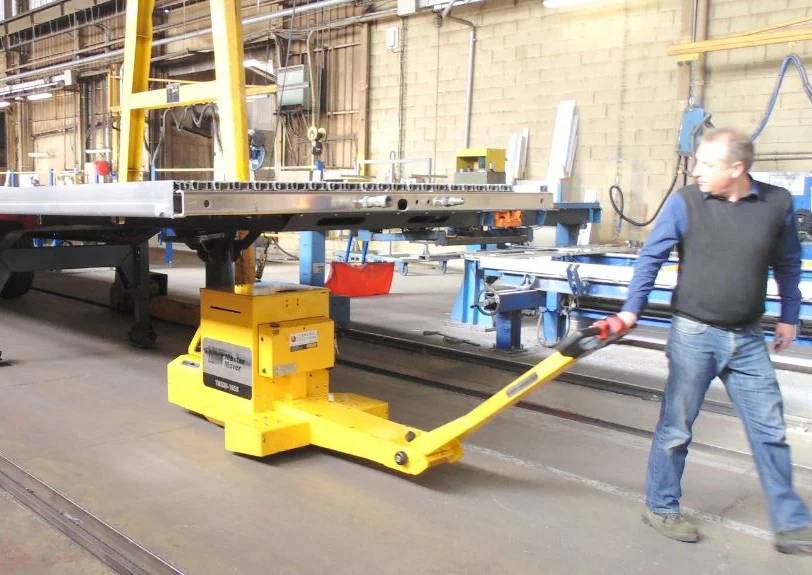 Increased speed and better workflows don't need to compromise staff safety.
When workflows aren't as efficient as they could be, it then becomes difficult to alter production layouts or scale up to meet demand.
The good news is that by exploring different methods of moving, it is possible for trailer manufacturers to unlock greater operational efficiency and scalability – all while promoting improved staff wellbeing too.ext.
Reducing the reliance on shunters and tractors
One common way to move the trailer once it's on wheels between stages is to use a forklift. This isn't always safe – especially when moving large components through production facilities.
Then there's the additional problem of waiting around for a trained operator. It's not an efficient way of doing things and it doesn't exactly put lean manufacturing principles at its heart.
It's the same problem with tractor units, terminal tractors or shunters – which also require a licensed driver. In addition, these are big, noisy and emit diesel fumes.
Manufacturers could also look at installing a conveyor system in the floor, but this is a big investment.
So, is there a different approach? One that is cheaper and opens up the possibility for greater workflow flexibility?
Electric tugs are manual handling aids that are used by a pedestrian operator to move heavy wheeled loads with very little effort needed.
Electric tugs are (by their very nature) moveable – and this freedom means that it's far easier to adapt production layouts to changing needs.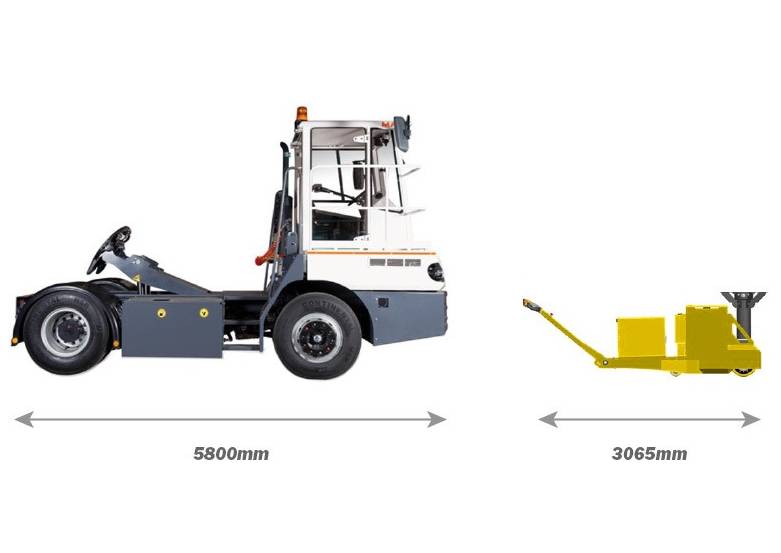 Cost-efficient and flexible battery powered trailer movers
MasterMover's Trailer Moving System (TMS) range of electric tugs offer other benefits too. The compact size of a tug – combined with excellent manoeuvrability – means that it's possible to make the very most of available production space.
With full visibility right around the load, as well as superior turning capabilities, it puts the operator in full control. No license is needed. It's simply a case of connect and go.
How does it work? A TMS attaches to a trailer's king pin using a lockable fifth wheel attachment. This creates a secure connection that, alongside powerful braking and programmable speed control, offers a far safer method than an adapted forklift.
Another added benefit? TMS machines are electric. So diesel fumes in the main production areas are kept to a minimum. It's a win win.
No wonder that MasterMover's TMS machines are trusted by the world's leading trailer manufacturers. From curtain siders to tankers, low loaders to flatbed units, it's a great solution.
In one factory, managers were looking to reduce the reliance on forklift trucks and save time and money in what is a busy, pressured factory. Use of forklifts had previously meant high servicing costs and delay. What's more, there was a high risk of collision when moving trailer bodies weighing up to 20,000 kg.
Today, after making the switch to a MasterMover Trailer Moving System, there are no hold-ups – and wasted time has been significantly reduced. Now a single pedestrian operator has complete all-round visibility when moving trailers, thanks to our powerful TMS that takes the strain and makes moving 11 tonnes look easy.
The ultimate guide to material handling
Material handling equipment
Looking to understand material handling in a little more detail?
We've compiled some helpful resources to get you started.
7 reasons to choose an electric trailer mover for your production line
Here's why trailer manufacturers choose MasterMover's Trailer Moving System
1. Powerful & capable

The Trailer Moving System offers capabilities of up to 20,000 kg

2. Cost effective

When compared to other methods – achieve a higher production volume at a lower cost

3. Highly manoeuvrable in confined spaces

Allowing operators to turn a trailer within its own space

Able to handle the toughest of manufacturing environments

5. Keep staff safe

6. Flexibility & efficiency

Unlock greater flexibility and improve operational efficiency

7. Ease of use

Easy to use and no licence required
We're here to help
If you're looking to improve safety, remove the risk of injury and unlock greater operational efficiency, we're here to help. Speak to our team to discuss your application.