Benefits of an electric tug
Electric tugs are used across industrial manufacturing sectors all around the world, delivering a range of benefits...
Proven and effective electric tug solutions
Experience the reliability and effectiveness of our range of battery-powered electric tugs and tows. Whether you're handling a weight of 500kg or 30,000kg, our products are designed to deliver consistent and dependable performance.
Electric tow tug safety features & options
When it comes to handling materials, prioritising operator safety is essential, especially when working in crowded areas where heavy loads are being moved.
Our electric tugs are equipped with a comprehensive range of safety features, protecting both the operators and the people, equipment and environment around them.
The ultimate guide to electric tugs
Electric tug essentials
Looking to understand electric tugs in a little more detail?
We've compiled some helpful resources to get you started, covering everything from how they work, different types of batteries, getting the right connection point and more…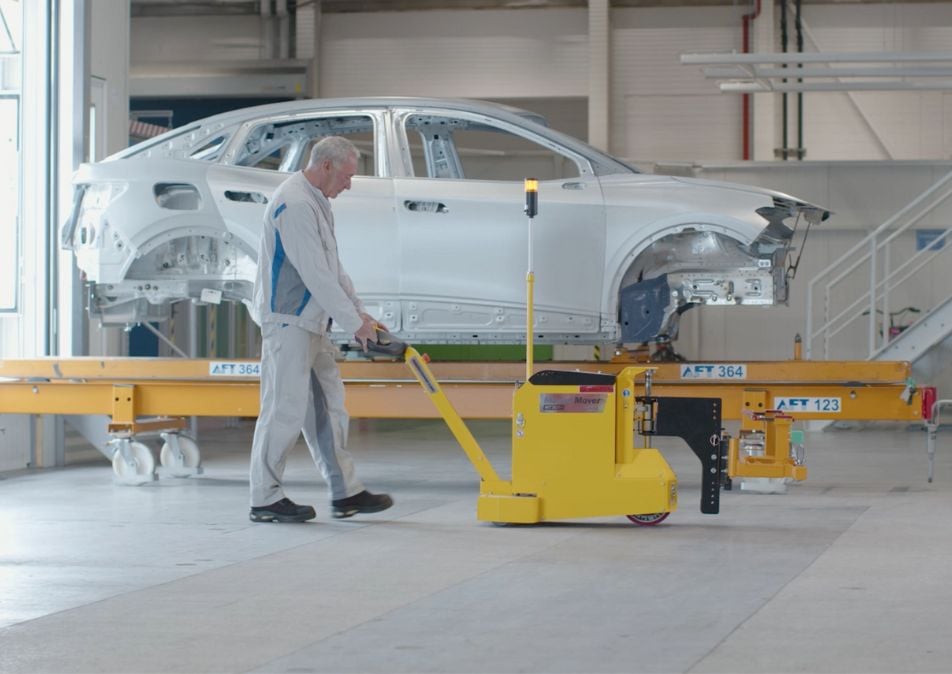 Case study: Volkswagen EV Plant Supercharges Workplace Safety
As one of the largest automotive OEMs in the world, Volkswagen is committed to creating a safe working environment for its employees.

Learn how VW used MasterMover electric tugs to improve workplace safety.
I'd certainly be happy to recommend the MasterMover AGV to other organisations looking to automate their driving processes.
We were able to deploy the electric tugs on many sites, and we have received very good feedback from users.
They are high-quality, reliable and easy to operate, and furthermore, they offer fantastic control and movement in tight spaces – so they are ideal for use in the biopharma industry.
The tugs have enabled us to change the way we produce our units, making the workshop more efficient and a safer environment.
We wouldn't be able to meet the needs of our trash hauling company without having MasterMover's electric tug to get our containers out of the building and to the street safely.
Our staff have given us some great feedback and love the MasterMover's simplicity of use and safety features.
Your questions, answered - FAQs
Do I need a license to operate an electric tug?

No, you do not need a licence to use an electric tug. This is one of the many reasons industrial manufacturers are increasingly opting for electric tugs to create fork-fee environments.

Unlike forklift trucks, electric tow tugs don't lift loads, so they do not fall under LOLER regulations (Lifting Operations ad Lifting Equipment Regulations, 1998).

With an electric tug, you no longer need to wait for the availability of a licensed forklift truck driver to move a load.

How long does the battery last?

Like any battery, the battery life of an electric tug or electric tow is determined by usage, specification, and environmental factors. Battery life can be influenced by variables such as:

Load weight and route
Run speed
Battery specification/size
Environmental conditions such as temperature

We provide a runtime figure on each of our product pages.

Will they work on slopes?

Yes, all MasterMover machines will work on slopes. The maximum angle our tugs are capable of clearing, on average, is 8°.

It is important to remember that for every degree of slope involved, the maximum load capacity of the machine is reduced, just as pushing a car on the level requires less force than on a slope.

Therefore, if the weight of the load is already close to the maximum capacity of the machine a more powerful tug may be needed to move the load on a slope.

Yes, all our electric tow tugs are suitable for both indoor and outdoor use. Our AllTerrain tow tug range is the ideal solution for the most challenging of environments.

What if I need a custom solution?

For applications where a standard solution isn't the right fit, we have a dedicated engineering team on hand to create custom solutions. With 25 years of industry experience in providing customised solutions, you're in safe hands with MasterMover.
Ready to Unlock Safer Operations?
Are you looking to improve safety and efficiency in your operations? Contact us to discover how you could transform your processes to enhance efficiency and maximise workplace safety with an electric tug or electric tow tug.