Exploring the Different Types of Automated Guided Vehicle Systems
Automated Guided Vehicles (AGVs) have revolutionised industries across the globe, offering a cost-effective and efficient solution to labour-intensive material handling and inefficient internal transportation.
So, whether you're working in a manufacturing facility looking to optimise your production line, a warehouse in need of efficient material flow, or are a supply chain manager seeking to enhance the overall efficiency of your operations, this article will provide you with a deep understanding of the different types of AGVs and how they can help drive operational efficiency. In this blog, we cover the different types of AGV, including: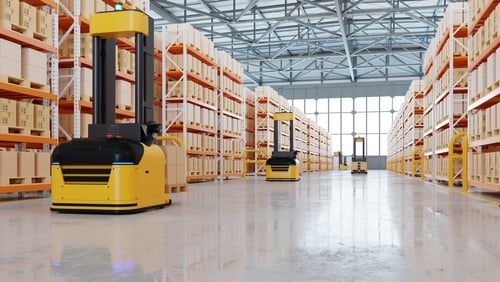 AGV Forklifts
Forklift AGV systems are autonomous vehicles that lift, move, and stack heavy loads without human intervention. Automated forklift trucks are widely used in various applications and industries. In warehouses and logistics distribution centres, AGV forklifts are used to optimise material flow and space utilisation by efficiently moving palletised goods. Automated forklifts have advanced technology and use navigation systems like laser or vision-guided technology to manoeuvre accurately along routes.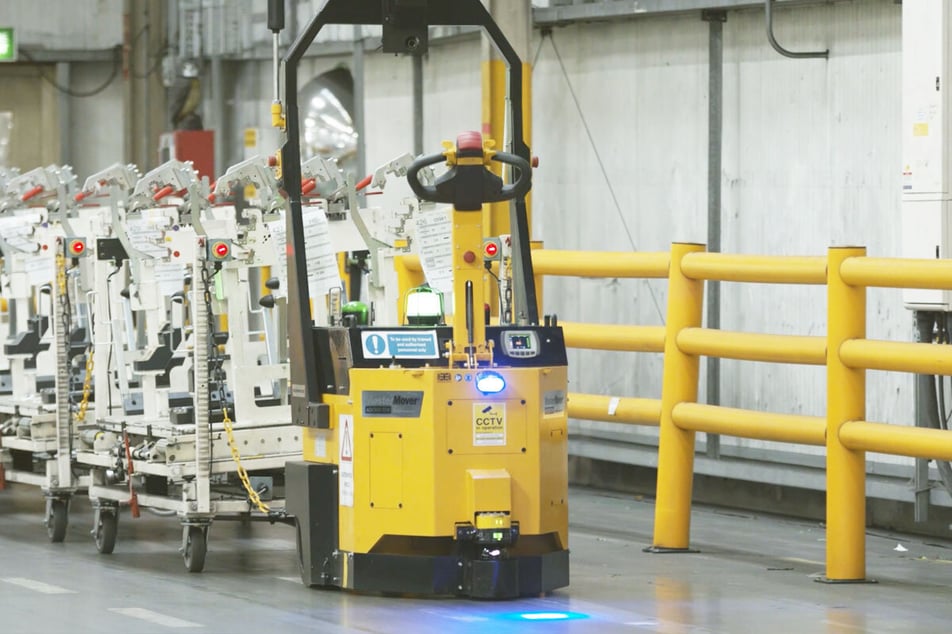 Towing AGVs & Tugger AGV Systems
A towing AGV system excels at moving heavy-wheeled loads, navigating tight spaces and improving operational efficiency. They efficiently transport multiple trolleys at a time, creating an automated tugger train, saving time and optimising space. Towing and tugger AGV systems are ideal for assembly lines, ensuring a continuous flow of materials, enhancing productivity and streamlining operations.
Learn more
Download guide
Download Your AGV Guide
Download your free guide today to discover the power of fully autonomous load moving.
The Benefits of Towing AGVs
Automated towing vehicles offer a range of benefits across industries. Towing AGVs and tugger AGV systems eliminate the need for manual labour in low-value-adding tasks like towing applications of moving goods from A to B – freeing up staff to work on more productive tasks.  
Towing AGV systems:
Can tow a heavy load

Are able to tow multiple loads at once

Are best suited to repetitive movements

Improve operational efficiency
Repeatability

Precise movements, every time. By their nature, AGVs are a great fit for delivering repeatable movements.

Better utilisation of people

AGV solutions make movement of equipment and materials more efficient and allow your people to focus on value-adding tasks.

Eliminate human error

Towing AGVs take control away from a human operator. Safety sensors ensure a programmed response to any detected risk, stopping movement until a hazard has been cleared or moved away.

Improve operational efficiency

AGVs drive operational efficiency by reducing wasted movement and freeing up staff to work on more productive tasks.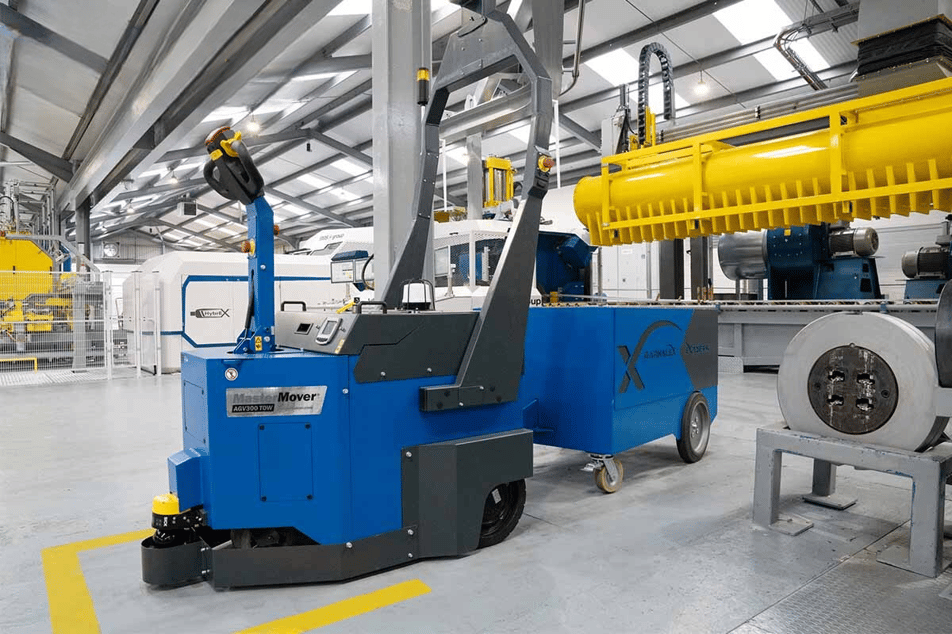 Who Uses Towing AGVs?
Industries like industrial manufacturing, automotive and logistics distribution centres rely on automated towing vehicles and tugger AGV systems for seamless material handling. They contribute to just-in-time delivery, efficient supply chain management, and improved material flow. Whether it's moving raw materials to the assembly line or transporting finished goods, this type of AGV system plays a crucial role in enhancing operational efficiency and safety.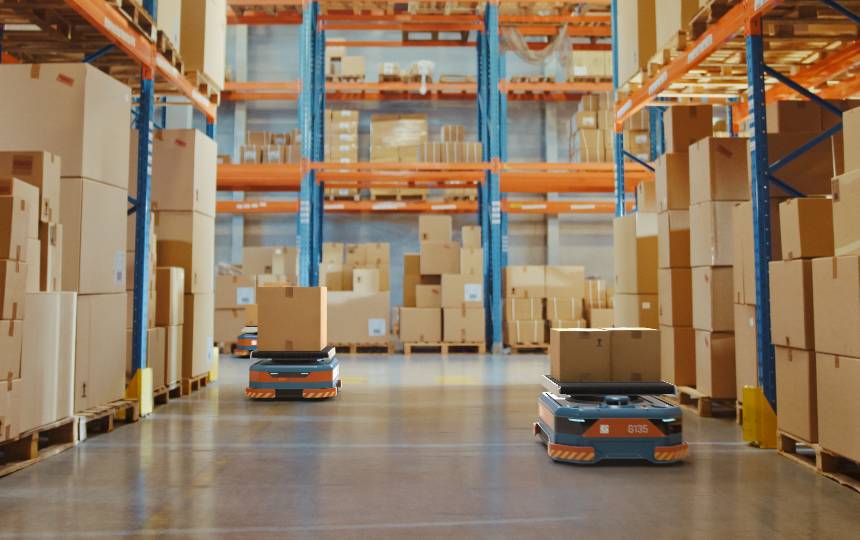 Unit Load AGVs & Automated Unit Load Carriers
Unit load AGVs and load carriers are one of the most common types of Automatic Guided Vehicle systems. They are designed to carry and transport heavy loads and unitised loads throughout warehouses and production facilities. 
The design of an automated load carrier allows loads to be loaded onto the unit and then transported along a defined route. One of the key benefits burden carrier AGV systems and automated load carriers deliver is their ability to streamline operations and optimise material flow. 
By automating the load transportation process, businesses can eliminate the need for manual labour, reducing the risk of human error and increasing productivity. This type of AGV is particularly useful in industries that require frequent movement of heavy loads, such as warehouses and distribution centres.
The Ultimate Guide to AGV Electric Tugs
Automated Guided Vehicles (AGV)
Looking to understand Automated Guided Vehicles in a little more detail?
We've compiled some helpful resources to get you started, covering everything you need to know.
Automated Pallet Trucks
AGV pallet trucks are specifically designed to handle pallets and move palletised loads. With advanced technology and precise navigation systems, automated pallet trucks can efficiently transport pallets from one location to another, minimising manual labour and maximising efficiency.
Pallet truck AGVs can operate autonomously, performing repetitive tasks without the need for human intervention, allowing workers to focus on higher-value activities. This makes them ideal for industries that require frequent pallet movements, such as e-commerce fulfilment centres, logistics depots, and manufacturing facilities.
In terms of functionality, Automated Pallet Trucks are equipped with specialised forks or clamps that securely grip and transport pallets.
Automated Guided Carts (AGCs)
Automated Guided Carts (AGCs) are designed to transport smaller loads, such as bins, totes, or boxes, within industrial facilities. AGCs are highly configurable and can be adapted to various applications, making them a valuable asset in diverse industries, including industrial manufacturing, retail and automotive industries.
An automated guided cart can navigate through congested environments, such as production lines or assembly areas, with ease, allowing for efficient and timely material transport. Unlike typical AGVs systems that are available with more advanced navigational technology, Automated Guided Carts typically navigate through line follow navigation.
Your Questions, Answered - FAQs
What type of Automatic Guided Vehicle is right for me?

As with any equipment, it's important to assess the different types of automated guided vehicles alongside your operations, your objectives, and future requirements. For example, if you business aims to remove forklift traffic from internal processes in the future, you may want to reconsider if an AGV forklift is the right option and assess if tugger AGV systems may be a more future-proof solution. 

When buying an AGV, there are a number of factors to consider - including your operations, desired benefits and movement needs. Dive into our Buying Guide below!

What are the benefits of an Automatic Guided Vehicle System?

AGV Efficiency: Automated Guided Vehicles enable businesses across industrial manufacturing and logistics to drive operational efficiency, increase resource utilisation and reduce non-value-adding tasks in their material handling processes.

With the rise in industrial automation, many businesses look to automatic guided vehicles to streamline the movement of heavy materials and loads, eliminating the need for human involvement. 

Automated Guided Vehicles are available with a range of different navigation and guidance system options. Simple AGV solutions utilise line-follow systems to follow a predefined route on the floor. For more complex and advanced requirements, a navigation system known as 'natural navigation' is available. Using a natural navigation system and sensor technology, an AGV maps its surroundings during installation, enabling it to navigate along its route seamlessly.

What is the difference between an AGV and an Autonomous Mobile Robot?

AGVs (Automated Guided Vehicles) and AMRs (Autonomous Mobile Robots) are both types of mobile robots used for automation in various industries. The main difference between AGVs and AMRs lies in their autonomy and flexibility. AGVs typically follow fixed paths or routes, either through environment mapping or magnetic strips on the floor for line-follow systems. 

What other types of automation are available?

Alongside the rapid innovation and advancement of Automated Guided Vehicles, the market for other automation solutions is expanding. Other industrial automation solutions including automated storage and retrieval systems, conveyor systems, warehouse automation and warehouse management systems are rapidly advancing.
Ready to Implement Your Towing AGV System?
If you're ready to unlock the power of automation and drive operational efficiency, our Automated Guided Vehicles are the perfect fit.
Fill in your details, and one of our automation experts will reach out to discuss your application.