An introduction to AGVs
Automated Guided Vehicle (AGV) electric tugs are becoming increasingly popular in Industrial Manufacturing sectors. And it's not difficult to see why, as they're designed to autonomously move through your environment without the need for an operator.
There is often a hesitancy to adopt AGV solutions despite the many benefits. Concerns centre around perceived cost, risk in terms of safety, and fear of change. Yet when deployed correctly, AGV electric tugs and other material handling equipment offer better ROI, increased safety, and a more efficient operation.
MasterMover works with best-in-class safety and navigation technology providers and this, coupled with 25 years of engineering experience, delivers a world-leading AGV solution that maximises safety and operational efficiency.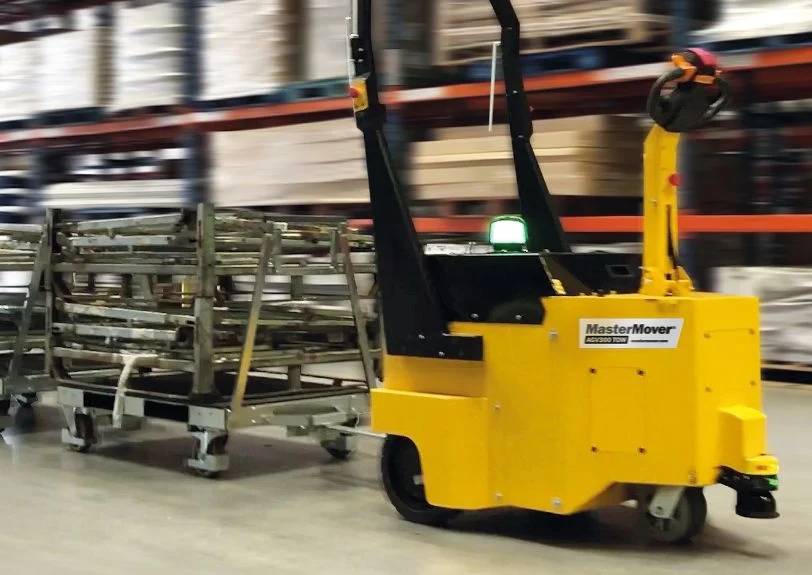 What is an AGV?
AGV stands for Automated Guided Vehicle. It is a mobile unit that utilises floor markings or on-board navigation and sensors to travel between locations. Typically, they are used in industrial manufacturing and logistics settings.
A wide range of AGV solutions exist focused at carrying out high-volume tasks whilst moving products, equipment and materials of lower weights. MasterMover, however, offers AGV solutions capable of moving loads up to 20,000kg and beyond.
For example, our TOW300 is used in automotive manufacturing by a well-known car maker. The AGV is used to move parts to the production line and empty units away from it, offering the capability to move up to 3,000kg, using navigation and sensor technology.
The AGV TOW300 gives 10 hours of operation between charges and carries out tasks more efficiently than could be achieved through a more human-involved process.
10 Benefits to utilising AGV electric tugs
1. Better utilisation of people

Eliminate or reduce the need for your staff to spend time moving materials. AGV solutions make movement of equipment and materials more efficient and allow your people to spend more time doing tasks of greater value-add.

2. Allows precise, accurate movement

AGV solutions are ideal when working in tight spaces, or when moving a load through areas with minimal clearance.

3. Repeatability

AGV's deliver a repeated movement and repeated precision, which matters in a busy manufacturing environment.

4. Eliminate human error

AGV material handling equipment eliminates this risk by taking control away from a human operator. Safety sensors ensure a programmed response to any detected risk, stopping movement until a hazard has been cleared or moved away.

5. Maximise safety

AGV electric tugs can be programmed to take action such as reducing speed in certain locations when visibility is reduced, or when the surface becomes wet and traction is impacted.

6. Better efficiency

An AGV will travel to its destination at a set speed, faster than if the movement was conducted manually, or by pedestrian operated equipment by a person who could be delayed or distracted.

7. Cost & redundancy vs fixed automation systems

AGV electric tugs are more cost-effective than fixed automation systems.

They are more flexible in terms of being able to carry out a wider range of tasks. Additionally, they are more redundant as they can easily be swapped out to minimise any disruption caused through faults.

8. Maximising investment ROI

MasterMover AGV electric tugs can be switched to manual operation, so if the need arises, the machine can be taken off its typical tasks and utilised to move any wheeled load within its weight capability.

9. 24/7 operation

AGV electric tugs that are battery-based offer 24/7 operation. The only consideration is battery charging and replacement (if using multiple batteries).

MasterMover electric tugs can be supplied with spare batteries, which can be stored and charged whilst the machine is in operation. This battery can then be swapped out in between tasks for minimal downtime.

10. Consistent & reliable

Not only are AGV's consistent in their function, but they also have relatively consistent costs compared to manual labour and are affordable to maintain. MasterMover electric tugs are made to the highest standards, so are reliable solutions that deliver day after day.
Utilising Technology to Go Beyond Pedestrian-Operated
AGV's move using a combination of software, scanners and sensors. Most are set to follow a defined path that can be specified by the operator. Others use sensors and scanning systems that allow them to detect the environment around them to navigate around obstacles.
Beyond pedestrian-operated electric tugs, there are 6 "levels" of technology available from MasterMover, building up to a full AGV solution:
An AGV that fits your application
Regardless of your current phase, we understand that switching to an AGV system is an investment, even if it is one that will inevitably deliver increased ROI, efficiency and safety. Our skilled and experienced team is here to guide you with our tried and tested approach.

Our 5-step process:
1. The right machine for you

Firstly, we put time into understanding your application.

2. The right navigation for your site

We'll explore which navigation system works best.

3. The right dispatch commands

Next, our team will look at how the AGV gets its instructions to move or 'pulse' to the next location.

4. Integration with your systems

Then, we look at where other system integrations are needed.

5. Optimise your safety systems

Depending on the environment and application, identifying the right safety systems is key.
The ultimate guide to AGV electric tugs
Automated Guided Vehicles (AGV)
Looking to understand Automated Guided Vehicles in a little more detail?
We've compiled some helpful resources to get you started, covering everything you need to know.
Case Study – See an AGV electric tug in action
If you'd like to learn more about MasterMover AGV electric tug solutions and discuss how they could benefit your operation, we'd love to hear from you.
As we have seen with many customers, AGV electric tugs deliver outstanding operational performance, helping manufacturing and logistics companies to drive efficiency and maximise safety.
We're here to help
If you're looking to improve safety, remove the risk of injury and unlock greater operational efficiency, we're here to help. Speak to our team to discuss your application.