Automated Guided Vehicles (AGVs) have the ability to be transformational when it comes to driving operational efficiency within industrial manufacturing. Featuring best-in-class navigation and safety technologies, AGVs remove the need for human operation, completing movement of products, equipment and materials on time, every time.
This not only makes the operation more efficient but protects your people from the stresses and injuries associated with manual handling, or higher risk load moving solutions. Furthermore, it also means your people can focus on tasks of greater value, driving additional ROI and efficiency.
AGV in Action: Toyota
Learn how Toyota Motor Manufacturing used an autonomous guided vehicle to automate its driving processes.

A world leader in its field, the automotive manufacturer has achieved a return on investment and improved operational efficiency when moving parts to the production line…
Built with benefits to supercharge your processes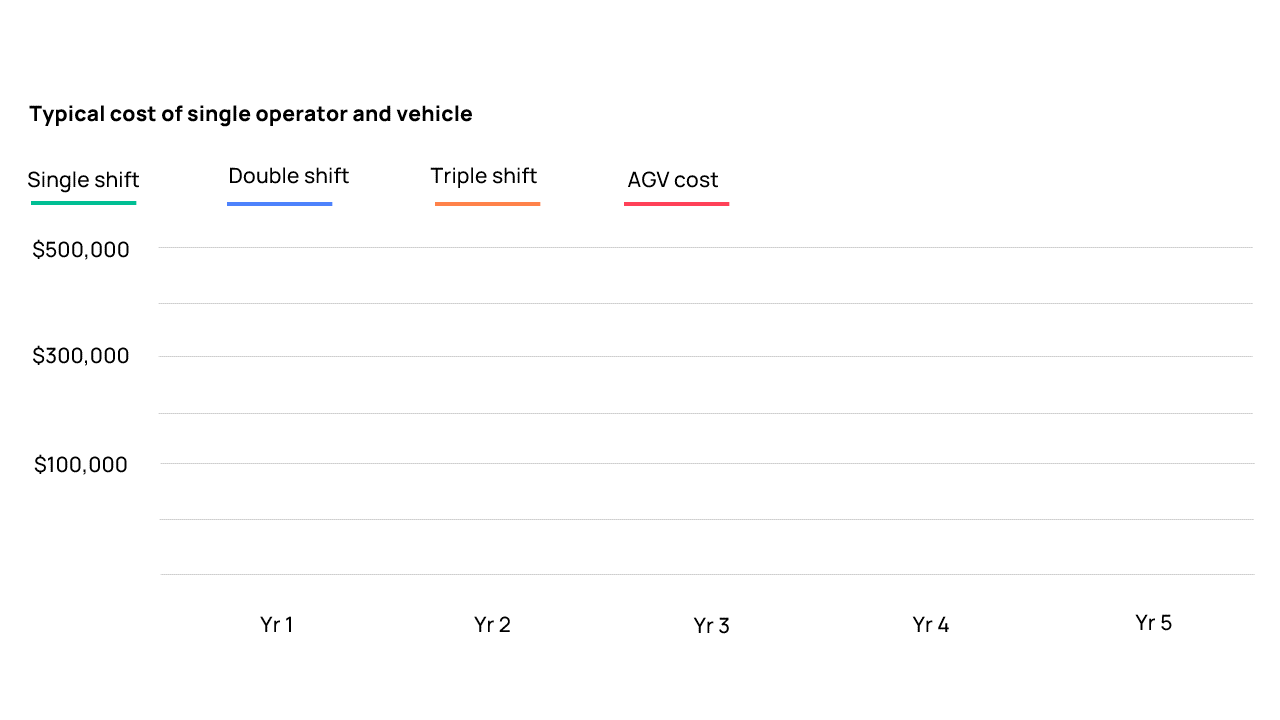 Delivering return on investment
An AGV can reach an ROI of between 50% and 150% when used for a single-shift over 3 years.

This can be dramatically increased to over 600% when the machine is used as part of a three-shift operation over a 5-year period.
Maximizing safety for people and operating environments
AGV systems ensure safety as standard, continually monitoring the operating environment, detecting hazards and taking the appropriate action to keep people and equipment safe.
Intelligent safety rated features
High level scanner
Outdoor weather detection
Speed adaptive safety system
Low level safety scanner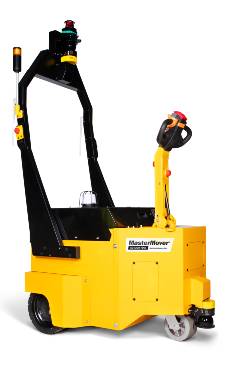 Awareness and warning features
Flashing safety lights
Audio beacons and warnings
Emergency stop/Anti-crush button
Blue light/light curtain
An AGV that fits your application
Regardless of your current phase, we understand that switching to an AGV system is an investment, even if it is one that will inevitably deliver increased ROI, efficiency and safety. Our skilled and experienced team is here to guide you with our tried and tested approach.

Our 5-step process:
1. The right machine for you

First, we put time into understanding your application.

2. The right navigation for your site

We'll explore which navigation system works best.

3. The right dispatch commands

Next, our team will look at how the AGV gets its instructions to move or 'pulse' to the next location.

4. Integration with your systems

Then, we look at where other system integrations are needed.

5. Optimize your safety systems

Depending on the environment and application, identifying the right safety systems is key.
The ultimate guide to AGV electric tuggers
Automated Guided Vehicles (AGV)
Looking to understand Automated Guided Vehicles in a little more detail?
We've compiled some helpful resources to get you started, covering everything you need to know.
Why we're different. Our AGV capability
Ready to learn more?
Download your Guide to Automated Guided Vehicles (AGV)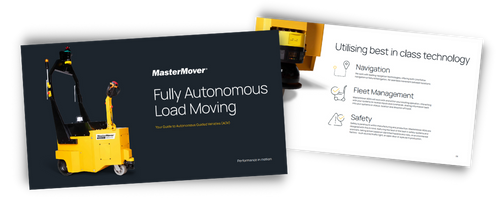 Answering your AGV questions
What is an automatic guided vehicle system?

For many people, AGVs are still unknown and so it's no surprise that people ask "What is an AGV?'.

Sometimes referred to as autonomous guided vehicles, automated guided vehicles (AGVs) are a type of material handling system that travel autonomously - without the need for an operator or driver.  As a self-guided vehicle, they improve efficiency and material flow by automating repetitive tasks. A range of different types of automatic guided vehicles exist including forklift AGV systems, towing AGV and tugger AGV systems, unit load AGVs, automated guided cart systems and automated load carriers. 

What are the benefits of a towing AGV system? 

A towing AGV system enables businesses across industrial manufacturing and logistics to drive operational efficiency, increase resource utilization and reduce non-value-adding tasks in their material handling processes.

With the rise in industrial automation, many businesses look to automatic guided vehicles to streamline the movement of heavy materials and loads, eliminating the need for human involvement. 

What industries use automated guided vehicle systems?

If you're interested in an automated guided vehicle system or autonomous vehicles, you're probably wondering what industries use them. Automation and automated equipment are becoming increasingly more accessible and the adoption of automated technologies is no longer just seen in automotive environments.

Our AGV systems are used across industrial manufacturing, from plastics and metal manufacturing to automotive assembly.

Likewise, the repetitive nature of intralogistics processes in distribution and logistics continues to drive an increase in warehouse automation systems and automated guided vehicles.

What is the difference between an automated guided vehicle (AGV) and an autonomous mobile robot (AMR)? 

Automated guided vehicles (AGVs) and autonomous mobile robots (AMRs) differ primarily in their navigation capabilities.

AGVs rely on pre-defined routes or markers to follow a fixed path within a controlled environment, requiring physical infrastructure for guidance. In contrast, an autonomous mobile robot utilizes advanced sensor systems and algorithms to autonomously navigate without the need for fixed infrastructure or predetermined routes.

AMRs can perceive their surroundings, avoid obstacles, and dynamically plan paths in real time. AMRs are most commonly used to move lighter loads, with the most common design being a unit carrier or load carrier.

What navigation technology do MasterMover automated guided vehicle systems use?

Our advanced AGVs feature best-in-class Autonomous Navigation Technology (ANT) by BlueBotics. ANT natural navigation requires no external infrastructure. Using sensors, the AGV maps its surroundings, during training, resulting in no need to reconstruct warehouse or production environments. 

What happens if the AGV encounters an obstacle?

Our AGV integrates sensors and various components that receive, process and analyze data in real time and act accordingly. When an autonomous guided vehicle encounters an obstacle on its route, such as a pallet or person, it will stop if it detects that it could harm the operators.

Aren't AGVs complex to install?

The different types of AGVs and their corresponding navigational methods dictate the ease of installation. For example, a line following system, an AGV system in its' most simplistic form, enables simple cost-effective installation by simply sticking a line of tape that the machine follows.

For more complex systems, a reputable supplier will work with you to arrange installation at your site.

How will automation affect my employees?

AGV perfectly complements your existing workforce. AGVs do the heavy manual work, Removing or reducing the need for your staff to move materials, allowing your people to spend more time doing greater-value tasks.

What is natural navigation?

Natural navigation requires no external infrastructure. Using sensors, the AGV maps its surrounding, during training, resulting in no need to reconstruct warehouse or production environments.

How does an AGV know where to go?

Our AGV navigation technologies include:

Line follow: A painted or magnetic line on the floor.

The AGV follows only the painted or magnetic line (including markers to tell it where to stop or change direction).

Natural: A navigation that requires no external infrastructure.

The AGV maps its surroundings using sensors during training runs and stores the data onboard.

Our AGVs, unlike others, are built to operate indoors, outdoors, on slopes, uneven terrain and even in the rain, ensuring production and manufacturing processes can reduce downtime with autonomous load moving between buildings.

How fast can an AGV travel?

MasterMover AGVs travel up to 2.5m per second, even with heavier loads. AGVs are capable of adapting to the surrounding environment, slowing down at certain points i.e. through high pedestrian areas and then speeding up when necessary.
Ready to talk? Request a consultation