The Trailer Moving System is specifically designed to move unladen trailers weighing up to 44,000 lbs. From articulated trailers to flat beds and low loaders, the TMS range of electric tuggers allows the effortless movement of heavy trailers inside, outside and on slopes.  
Featuring a universal kingpin connection, the Trailer Moving System connects securely to any commercial trailer. Once securely connected, the it safely raises one end of the trailer off the ground, enabling a full range of movement.
Fully electric and with no license required, the Trailer Moving System prevents bottlenecks in moving trailers for both distribution depots and manufacturers alike. Boasting intuitive operator controls and safety built-in as standard, the range provides operators with complete control when moving heavy trailers.
A compact machine design maximizes visibility and enables operators to easily maneuver large commercial trailers in even the tightest of spaces.
Trailer Moving System Key Features
The Trailer Moving System is packed with features that maximize operator safety when moving heavy trailer units.
Trailer Moving System Key Features
The Trailer Moving System is packed with features that maximize operator safety when moving heavy trailer units.
Download technical datasheet
Safety & Machine Options
The Trailer Moving System comes with a wide range of standard safety features. Additional options are available depending on your application requirements.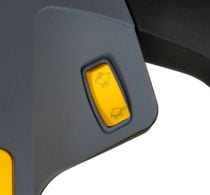 Two speed selector switch
Adjustable speed settings at your fingertips.
Safety light beeper
Maximize safety when moving loads through congested areas.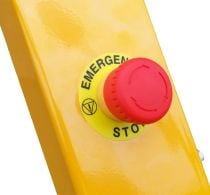 Emergency stop
Allows you to immediately stop the machine.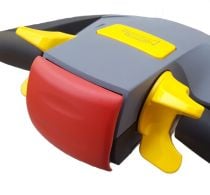 Anti-crush button
Protect operators and maximize operator safety when moving loads.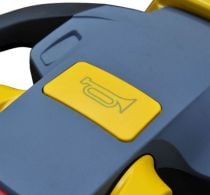 Warning horn
Perfect for congested areas, alert pedestrians when moving loads.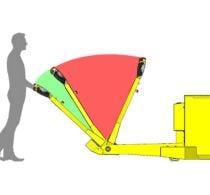 Automatic cut-off
Preventing accidental operation of the machine.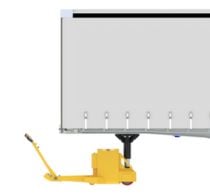 Kingpin connection
Easily connect to a range of trailers using a standardized kingpin connection
Custom couplings
Need something different? We can design custom couplings to suit your application.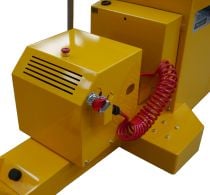 Air compressor
Engage the trailer brakes directly from your trailer mover to maximize efficiency
The cost of a TMS is also a fraction of the cost of a diesel tractor unit or forklift truck, which is not designed to move a trailer. The TMS can be used in confined spaces and so we can get more trailer units through our production process now if we need to.
Benefits of the Trailer Moving System
The Trailer Moving System enables a single operator to move unladen trailers with ease, in a safe, controlled and simple way.:
Your Questions, Answered – FAQs
Can the trailer mover work outside?

Yes, the Trailer Moving System is perfectly designed to move trailers outdoors around depots and yards.

Is a license required to operate them?

No, unlike shunters or lorries, the Trailer Moving System does not require a license to operate. A license-free operation reduces downtime and maximizes operational efficiency, reducing wasted time waiting for a licensed driver.

What is the maximum speed of the trailer movers?

With the Two Speed Selector switch, the 'Tortoise' mode enables you to maximize control and operate the machine at a slower speed setting of .75mph. In the faster 'Hare' setting, the machine's speed is 1.86mph. Machines can be set with custom speed settings where required, with a maximum programmable speed of 3.73ph.

How far can the trailer mover range travel on one charge?

Battery performance varies from model to model and is influenced by load weight, battery capacity, environmental conditions and usage.

Individual battery performance data can be found on the Technical Specification Sheets for each model.

How do they connect to trailers?

A range of coupling options is available across the range that maximizes performance, security and safety.

Custom coupling solutions can also be designed for unique applications.

Yes, the Trailer Moving System can work safely on slopes.

When it comes to electric tuggers, it's important to understand that for every degree of slope involved, the maximum load capacity of the machine is reduced, just as pushing a car on the level requires less force than on a slope.
Therefore, if the weight of the load is already close to the maximum capacity of the machine, a more powerful machine may be needed to move the load on a slope.

We carry out a full evaluation of your application to ensure any machine is suited to your needs.
Ready to Unlock Safer Operations?
Are you looking to improve safety and efficiency in your operations? Contact us to discover how you could transform your processes to enhance efficiency and maximize workplace safety with an electric tugger or electric tow tug.