Easily move wheeled loads weighing up to 4,400 lbs. with the SmartMover range. Delivering effortless pushing, pulling and steering, the SmartMover improves safety, removes manual handling and drives operational efficiency.  

With robust yet simple coupling systems, the SmartMover range ensures loads are secure and gives operators complete control – even on slopes. Safety-focused, SmartMover electric tuggers feature anti-crush functionality, emergency stop, variable speed settings and intuitive controls to keep operators, loads and equipment safe. 

Benefit from versatility with various coupling options available, including a hydraulic clamp that delivers total load security.  
SmartMover Key Features
The SmartMover range delivers maximum maneuverability and is packed full of features that maximize operator safety when moving wheeled loads.
Download technical datasheet
Safety & Machine Options
With a powerful, compact design, the SmartMover range can safely move loads of up to 4,400 lbs. Take advantage of a number of features and options...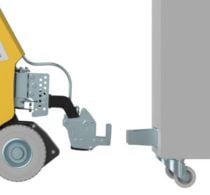 Straight adaptor
Easily bolts to your load, allowing the SmartMover to clamp securely.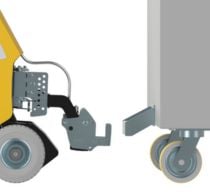 Angled adaptor
A simple bolt-on solution to deliver the optimum connection height.
Custom couplings
Need something different? We can design custom couplings to suit your application.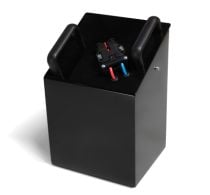 High-capacity batteries
Increased capacity batteries for longer performance.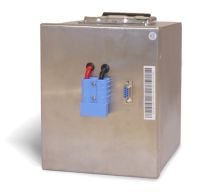 Lithium battery options
Power when you need it, enabling opportunity charging for demanding applications.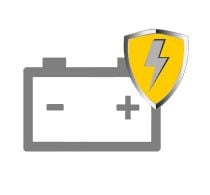 Battery protection system
Maximize your battery service life by preventing battery damage.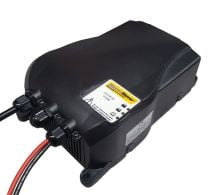 External chargers
Guarantees fast, optimized charging for fixed locations.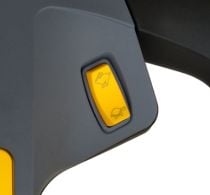 Two speed selector switch
Adjustable speed settings at your fingertips.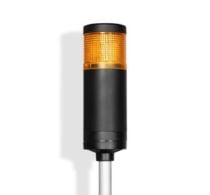 Safety light beeper
Maximize safety when moving loads through congested areas.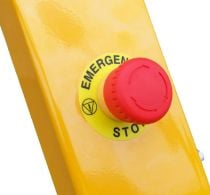 Emergency stop
Allows you to immediately stop the machine.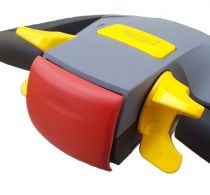 Anti-crush button
Protect operators and maximize operator safety when moving loads.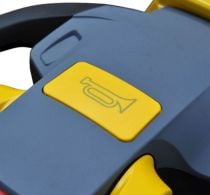 Warning horn
Perfect for congested areas, alert pedestrians when moving loads.
Since using the tuggers, we've seen a significant reduction in the number of roll cage-related handling injuries to delivery drivers of 42%.
We've ordered several SmartMover SM100+ over the last few years and are very happy with their performance. Special thanks to your sales engineers that specified the right product for us and understood our application.
We introduced the MasterMover LM100 over a month ago and it has had a very positive impact on our operations. We've seen safety improvements due to better ergonomics as well as an uptick in production. We're excited to see how we can leverage it in other parts of our operations!
Benefits of the SmartMover Range
Delivering the controlled movement of loads inside, outside and on slopes, the pedestrian-operated SmartMover range removes the risk of injury and eliminates manual handling...
Your Questions, Answered – FAQs
Can you use electric tuggers outside?

Yes, MasterMover electric tuggers can be used outside. Built with durability in mind, the SmartMover range delivers optimum traction even outside.

Purpose-built for industrial environments, the SmartMover range can be used inside, outside and on slopes. With models in the range rated up to IP44, the range can be used outside in wet environments.

Can the SmartMover range push and pull?

Yes, the SmartMover range can push, pull and steer heavy loads weighing up to 4,400 lbs. The SmartMover range is perfectly suited to delivering the effortless movement of loads previously moved by hand – eliminating the risk of manual handling injuries.

What is the maximum speed?

With the Two Speed Selector switch, the 'Tortoise' mode enables you to maximize control and operate the machine at a slower speed setting of .75mph. In the faster 'Hare' setting, the machine's speed is 1.86mph.

Machines can be set with custom speed settings where required, with a maximum programmable speed of 3.73mph.

How far can the SmartMover range travel on one charge?

Battery performance varies from model to model and is influenced by load weight, battery capacity, environmental conditions and usage.

Individual battery performance data can be found on the Technical Specification Sheets for each model.

How do SmartMover electric tuggers connect to the load?

A range of simple to use coupling options are available across the range that maximize performance, security and safety.

Custom coupling solutions can also be designed for unique applications.

Yes, the SmartMover range can work safely on slopes.

When it comes to electric tuggers, it's important to understand that for every degree of slope involved, the maximum load capacity of the machine is reduced, just as pushing a car on the level requires less force than on a slope.
Therefore, if the weight of the load is already close to the maximum capacity of the machine, a more powerful machine may be needed to move the load on a slope.

We carry out a full evaluation of your application to ensure any machine is suited to your needs.
Ready to Unlock Safer Operations?
Are you looking to improve safety and efficiency in your operations? Contact us to discover how you could transform your processes to enhance efficiency and maximize workplace safety with an electric tug or electric tow tug.