New Tug Range Helps To Create Flow Line Production Systems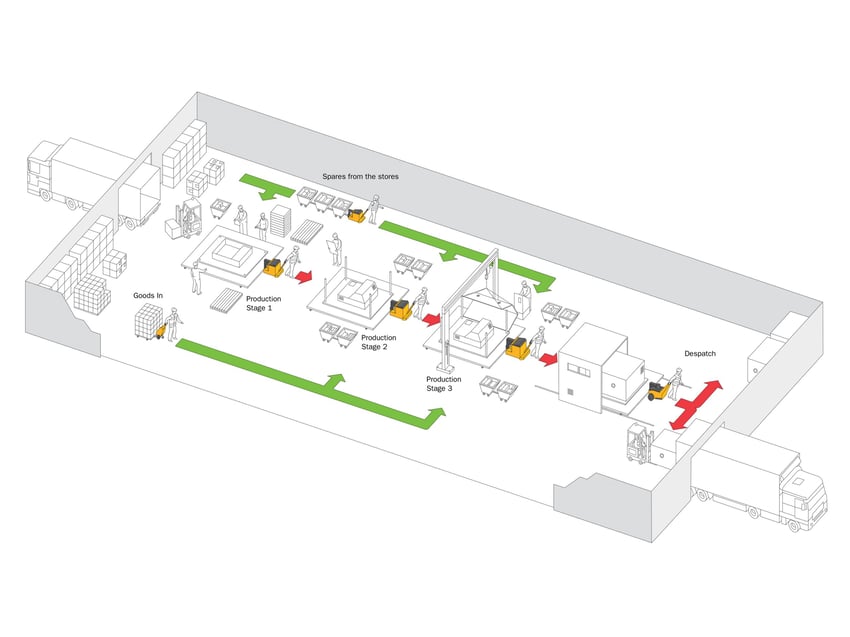 A recent investment into the revamp of the entire MasterTug range of electric tugs will deliver enormous lean efficiency benefits to manufacturing plants across the world.
The new tugs will be used to move heavy loads that would otherwise have to be pushed by hand or dragged inefficiently. MasterMover's capability to move large weights has seen it become a key supplier to manufacturing sectors as diverse as Aerospace, Construction and Modular Buildings.
The benefits that these sectors see include reduced downtime, greater manoeuvrability and control and improved safety.
Better still, the deployment of several tugs in a factory can assist with lean manufacturing by creating flow line production systems.
"We are seeing situations where a customer is using different models to provide fast, efficient and safe flow of goods throughout their production process," explains MD Andy Owen.
Smaller tugs such as the SmartMover are ideal for moving deliveries from Goods In to the factory and delivering parts from a storeroom. Larger tugs in the range are better suited to moving product from one stage of production to the next until the finished item is ready for despatch.
This system is particularly useful for high-value heavy goods such as aircraft, boats or construction machines where an automated production line would not be economically viable or offer the flexibility needed.
"Tugs often replace conveyor systems whilst offering a safer, more controlled working environment than fork lifts as everything is moved at a walking pace," confirms Andy.
The full product portfolio which includes 18 machines, each dedicated to moving a specific weight range, means that MasterMover can offer a machine ideally suited to whatever assembly task is required.
Whether it's pushing or pulling goods on castors MasterTugs can safely move up to 30,000 kg. However, for longer or unwieldy loads, or where a precise turning circle is required, two MasterMover tugs can work together in tandem to creating the MultiTug option. This allows loads up to 60,000 kg to be moved. For loads sat on rails it is possible to move loads up to 120,000 kg.
Downtime is reduced because any trained operator can move a load, meaning no more waiting for forklift trucks or overhead crane availability. And safety is improved too as, being pedestrian-operated, electric tugs ensure a controlled movement of loads through congested production environments.
"We believe that electric tugs represent the efficient way forward for manufacturers who need a versatile solution to the challenge of moving components or products within the assembly plant," confirms Andy Owen.
The new MasterTug range was successfully launched at LogiMat 2014 and models have already been sold to countries around the world.