Skopos fabric manufacturers now safe handles large textile rolls with MasterTug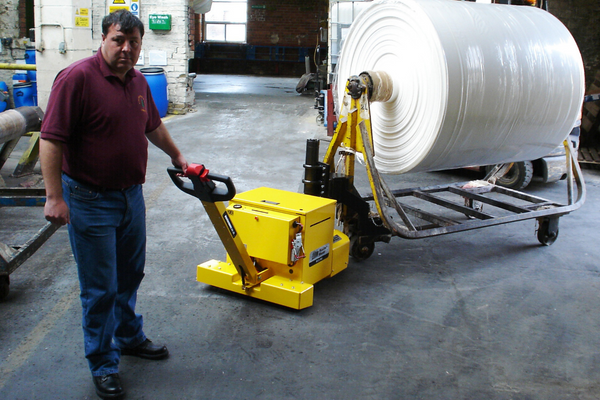 Skopos fabric manufacturers now safe handles large textile rolls with MasterTug
West Yorkshire based fabric manufacturers, Skopos Designs, has recently completed the purchase of a MasterTug from Ashbourne based manufacturer of compact, electric operated tugs, MasterMover.
In response to a clear requirement for a machine to assist with the safe handling of large textile rolls around the undulating site, Mark Grindey, MasterMover's Demonstration and Applications Manager, visited Skopos to assess the working area and machine application. Over a number of months, Mark developed a solution in conjunction with the client for a machine that could both meet the client's expectations for performance whilst, more importantly, eliminating the risk from the manual handling solution already in place.
A demonstration of the versatile MasterTug illustrated how a mechanised solution could allow their staff to safely handle textile trolleys, weighing up to 3000kg, around the plant negotiating doorways and slopes, obstacles and wet surfaces. Skopos specified the MT20-960 which not only proved more than capable of the task, but offered a number of standard features such as the ability to pre-select the speed and the secondary electromagnetic braking convincing Skopos that the unit was the right investment.
Simon Ledgar, of Skopos, commented on the purchase; "It was quite a big decision for our company to invest in this innovative piece of equipment, but when you consider that our staff are no longer at risk from manually pulling and pushing our large, cumbersome textile trolleys, it made complete sense for us to get the machine in as soon as possible. The beauty of the MasterTug is it's ease of use, it's serviceability and its compact proportions, which means it can be used productively inside our premises without taking any further space".