MasterMover Launches Dedicated Parts Website & Makes European Warehouse Investment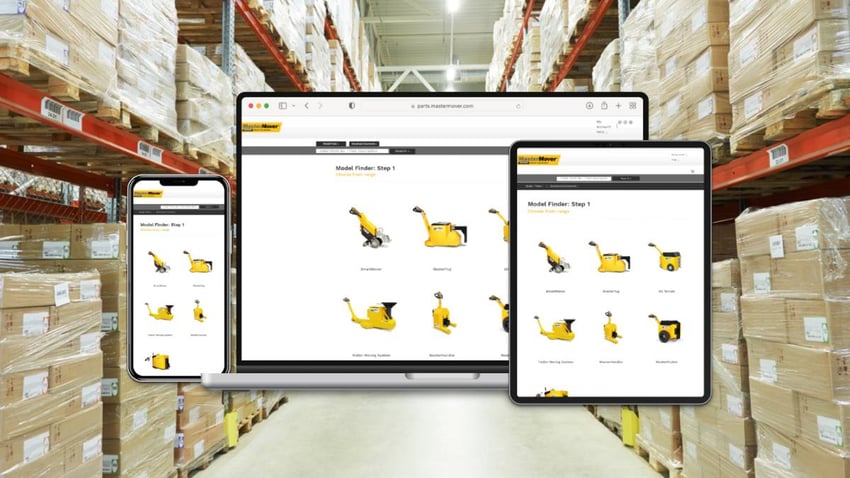 MasterMover, the award-winning manufacturer of electric tug and tow solutions for material handling in manufacturing, has launched a dedicated parts website to facilitate the fast and easy purchase of items for its European customer base.
In addition, the company has made a major investment in its European supply chain, partnering with leading supply chain services company DSV Transport & Logistics. Through this collaboration, MasterMover approved parts and products will be stocked in France, for all machine models, to facilitate fast dispatch and delivery to customers across the continent, enhancing aftersales support and service.
MasterMover electric tugs and electric tows are used by industrial manufacturers around the world, enabling the safe and controlled movement of materials, products and equipment. Capable of moving up to 30,000kg with a single machine, or more through MultiLink technology which combines the power of multiple machines via a single operator, MasterMover has a proven track record of successfully meeting even the toughest material handling challenges.
With operations in France and Germany, and additionally working through a global network of sales and service partners, MasterMover solutions play a key role in the operators of many of the worlds' leading manufacturers. As such, MasterMover has made the investment in its supply chain and parts website to deliver an enhanced and streamlined customer experience.
"We have built strong and long-term relationships with our customers, both through providing best-in-class products that deliver time and time again, but also through ensuring the aftersales support we offer is effective and reliable," said Beth Threlfall, Service & Rentals Director. "Our products play a key role in helping our customers to run safe and efficient operations, empowering people to carry out their roles effectively. We as a business are committed to ensuring the customer experience we deliver exceeds expectations".
The MasterMover parts website is designed to offer users easy access to parts availability and pricing information for their specific model of machine. Ordering is simple, with same-day dispatch available for the majority of parts. A clear user interface allows users to identify their model, and identify the right parts based on their needs.
DSV Transport & Logistics is a business owned and supported by global transport brand DSV Panalpina A/S (DSV). The collaboration sees MasterMover continue to work with industry-leading partners to deliver best-in-class products and services to its customers.
"By partnering with DSV, we are investing with a best-in-class supply chain organisation, to ensure products and parts reach our customers as quickly as possible. The feedback has already been very positive," commented Threlfall.
MasterMover works with companies across manufacturing, retail and logistics, offering a complete range of pedestrian-operated, remote controlled and fully autonomous (AGV) electric tow tug products. The company's products have been used across many applications in industries such as Automotive, Aerospace, Energy and Pharmaceutical Manufacturing, by world-leading names.
About MasterMover
MasterMover is a world-leading manufacturer of electric tug solutions designed to improve safety and operational efficiency when moving heavy, large or unconventional loads. MasterMover focuses on innovation, research and development to provide the widest range of electric tug products on the market. Specialist solutions include pedestrian operated, remotely controlled and fully Automated Guided Vehicle (AGV) options. In addition, MultiLink technology allows a single remote operator to simultaneously control multiple electric tugs through synchronised Movement.
MasterMover operates globally through direct relationships and a network of sales and service partners. The company works with an enviable range of world-leading names across industrial manufacturing, retail and logistics. With an expert in-house engineering team, MasterMover has a proven track record of delivering custom solutions for diverse applications around the world.