MasterMover Enhances SmartMover Electric Tug Range with SM200+ Launch & SM100+ Upgrade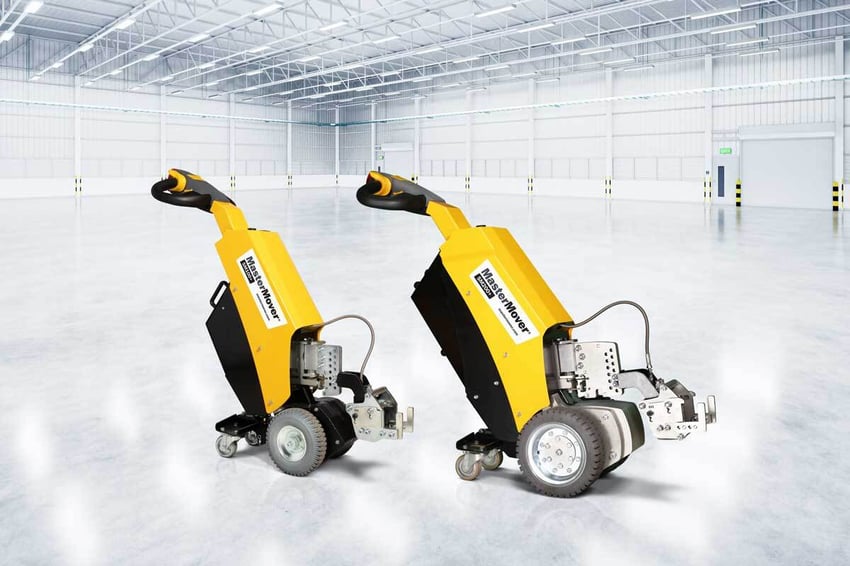 MasterMover, the award-winning manufacturer of electric tugs, has today unveiled a major investment in its industrial product range with the launch of the SM200+, offering a pull and push movement of loads of up to 2,000kg. In addition, the company has released a new version of its SM100+, offering a capacity of up to 1,200kg.
The release of both products represents an increase in capability, features and functionality within the SmartMover product suite, which forms part of the MasterMover Compact range of machines.
Both the SM100+ and SM200+ feature hydraulic coupling for maximising load security, with MasterMover's standard array of safety features included, such as an easily accessible anti-crush button and intuitive user controls. Slow and faster speed selector options give operators additional control of loads when operating in enclosed spaces.
Both products feature 180 degree steering for precision movement, whilst the interchangeable sealed battery pack gives operators a simple method of ensuring near-zero downtime. The SM100+ and SM200+ are designed to work in challenging environments, with anti-puncture, non-marking tyres designed to maximise traction and both products featuring the capability to operate in sloping and uneven floor environments.
"MasterMover is committed to supporting our global customer base, and we have done just that with the launch of the SM200+ and SM100+ upgrade", said Andy Owen, Partner and Director at MasterMover. "Our SmartMover machines are used around the world, and the introduction of the SM200+ now gives our customers a fantastic option when needing a compact, easy-to-use and highly manoeuvrable solution, capable of moving up to 2,000kg."
"We're also pleased to release the latest SM100+, which enhances a product that has played a crucial role in driving safe and efficient material handling around the world for many years."
MasterMover works with companies across manufacturing, retail and logistics, offering a complete range of pedestrian-operated, remote controlled and fully autonomous (AGV) electric tug products. The company's products are used across many applications in industries such as Automotive, Aerospace, Energy and Pharmaceutical Manufacturing, by world-leading names.
MasterMover is a UK-based manufacturer, which secured the Queen's Award for Enterprise in 2021. The company operates globally, with customers across Europe, North and South America, Asia and Australasia.
About MasterMover
MasterMover is a world-leading manufacturer of electric tug solutions, designed to improve operational efficiency and safety when moving wheeled and semi-wheeled loads. The company focuses on innovation, research and development to provide the widest range of electric tug products on the market, with pedestrian operated, remotely controlled and fully Automated Guided Vehicle (AGV) options available, in addition to MultiLink technology to combine the power of a range of machines into a single solution.
MasterMover operates globally through direct relationships and a network of sales and service partners. The company works with an enviable range of world-leading names across industries such as manufacturing, aerospace, energy, pharmaceuticals, retail, logistics, waste and facilities management, and healthcare. With in-house engineering experience, MasterMover has a successful track record in delivering bespoke projects for a range of customers.