Introducing the New PS800+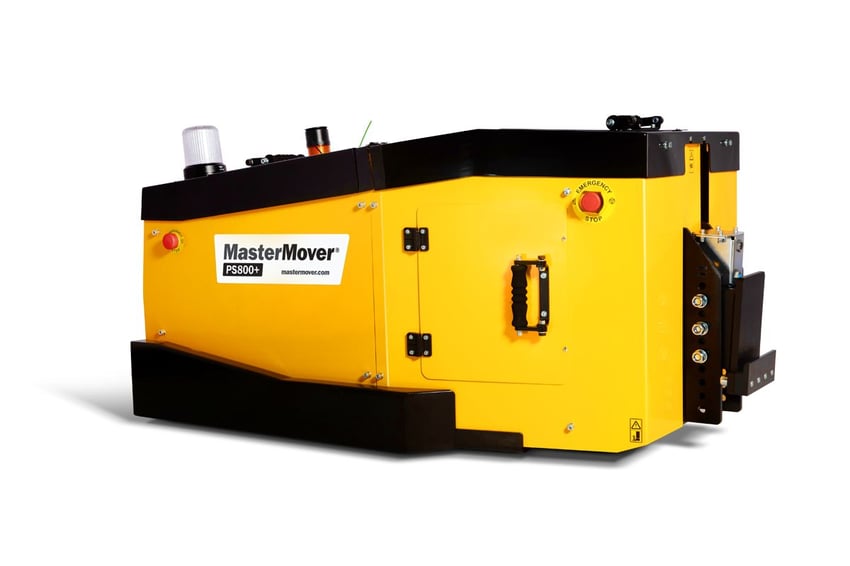 Part of our PowerSteered range, the PS800+ is designed to offer customers a remote-controlled solution for the movement of loads up to 8,000kg.
Remote control operation maximises safety by increasing load visibility for the operator, who is able to take up the optimal position away from the load when executing movements.
The PowerSteered range includes the PS3000+ which moves loads up to 30,000kg, with the PS800+ offering customers an electric tug designed for lighter loads.
The compact size and lower profile of the PS800+ also provides an option to get closer to or below loads.
Safety
The PS800+ comes with all the safety features you've come to expect from a MasterMover product, including four emergency stop buttons, an audible horn, a flashing beacon with audible alarm, a wireless transmitter with a safety shut-off if the signal is lost or interrupted, a caster guard for preventing entrapment and a hydraulic coupling that provides maximum load security.
Our self-levelling hydraulic design means there is a highly secure connection to the load, so you don't have to worry about unexpected and potentially dangerous disconnections.
The remote control means operators can stand back at a safe distance while executing precise movements.
Performance
Moving heavy loads is effortless with the powerful motor. Wireless controller options mean a single operator is capable of moving up to 8,000kg.
A robust hydraulic mast and a coupling system provide maximum traction to the industrial drive wheel, while the drive motor and side loading industrial capacity battery supply the power to move.
Quality
Designed using innovative software and featuring the latest electronics, the PS800+ is built to last. With a heavy-duty chassis built for indoor and outdoor operation, and non-marking polyurethane tyres, the PS800+ produces consistent performance and offers outstanding longevity and reliability.
Power
Featuring interchangeable batteries, the PS800+ features high-performance, maintenance-free interchangeable batteries allowing for 24/7 machine operation.
A clear battery display gives the operator clear information regarding power status, so you'll always know when it's time to recharge. An optional Battery Protection System slows down the machine prior to full battery drain.
MultiLink Capability
The PS800+ provides customers with a solution that features MultiLink technology. This means that two or more machines can be linked together to work in sync, making the movement of awkward or long, heavy loads simple to achieve.
For example, a manufacturer of aeroplane wings could deploy two PS800+ units, one at each end of the load, under the control of a single operator. Or four PS800+ units could be deployed at each corner of a larger load.
Single operator movement use cuts down on manpower and increases efficiency. Our MultiLink solutions have previously been used to move a variety of loads, right up to wind turbine blades – previously notoriously tricky loads to move during the manufacturing process. Fortunately, we've made light work of this difficult task.
Why Choose the PS800+?
The PS800+ provides customers with an electric tug that can move loads up to 8,000kg. It provides operators with the ability to move heavy and awkward loads from the ideal vantage point through remote-controlled operation.
MultiLink technology provides the option to utilise multiple PS800+ units, under the control of a single operator.
The first product in the PowerSteered range, the PS3000+, has been a huge hit with customers, with the PS800+ available to offer a greater choice and flexibility.