What is Intralogistics & Why is it Important?
In recent decades, businesses across a wide range of industries have faced supply chain pressures. As a result, many have had to examine their internal processes to identify opportunities to improve efficiency. As businesses look to maximise operational efficiency in their internal supply chain, the focus on intralogistics processes and intralogistics solutions is growing. 
In this blog, we delve into the concept of intralogistics, giving you everything you need to know to get up to speed with: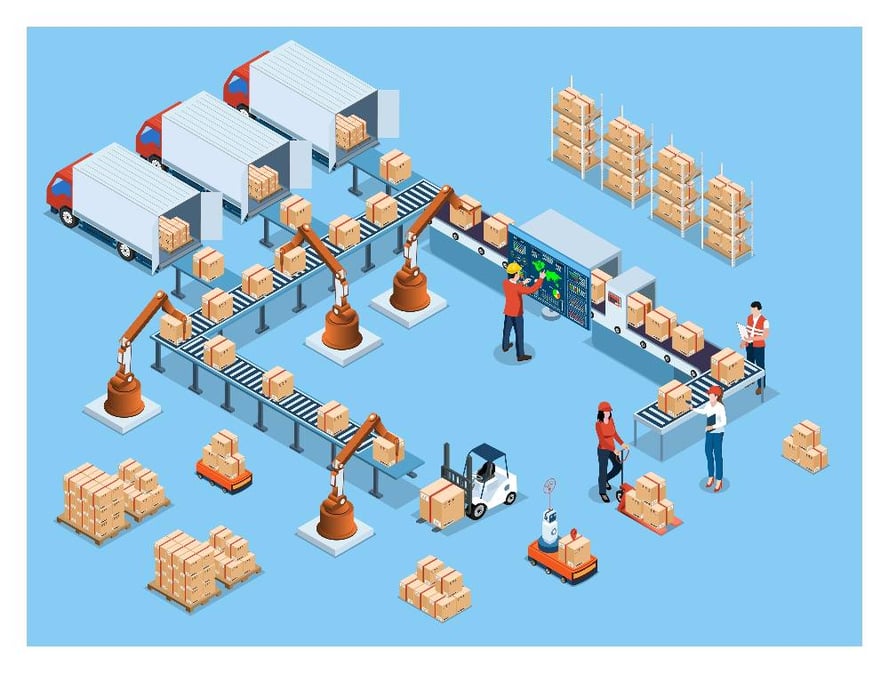 Definition of Intralogistics 
Intralogistics, also known as internal logistics, focuses on organising and managing the flow of information and materials within a company. The term intralogistics refers to all internal supply chain processes, from receiving raw materials to dispatching finished products.
Types of Intralogistics Processes
Intralogistics processes are typically grouped into three main categories:
Internal Material Flow 
This refers to both the flow of materials within a single facility and the flow of goods across multiple sites. For example, the flow of materials within one facility from a warehouse to production, or the transportation of parts or components from one plant to another.
In the automotive industry, this could include the movement of vehicles through the assembly process in the final production hall, and the flow of transmissions, powertrains and other components from another production plant. 
Information Flow and Inventory Management 
Intralogistics is often associated with high-tech automated equipment and software systems. However, at its core intralogistics processes revolve around the 'flow of information' – whether that is using an advanced Industry 4.0 inventory management software or, simply providing clear and easy access to the information needed to complete a task.
Naturally, with rapid innovation in inventory management software, this process has become much easier, with solutions available to track the flow of goods throughout the supply chain. 
Warehouse Management and Logistical Flow 
This covers all logistical processes and operations within a warehouse. Various advanced intralogistics solutions exist to maximise efficiency and logistical flow in warehouse management, from Automated Guided Vehicles (AGVs), Autonomous Mobile Robots (AMRs) and Automated Storage Retrieval Systems (AS/RS). For many businesses handling high volumes of product, automated solutions provide the edge needed to maximise efficiency and accuracy.
However, automated solutions are not always required in every application. By simply optimising material handling processes, ensuring you're using the right equipment and identifying bottlenecks, many businesses can improve operational efficiency with more CAPEX-friendly solutions.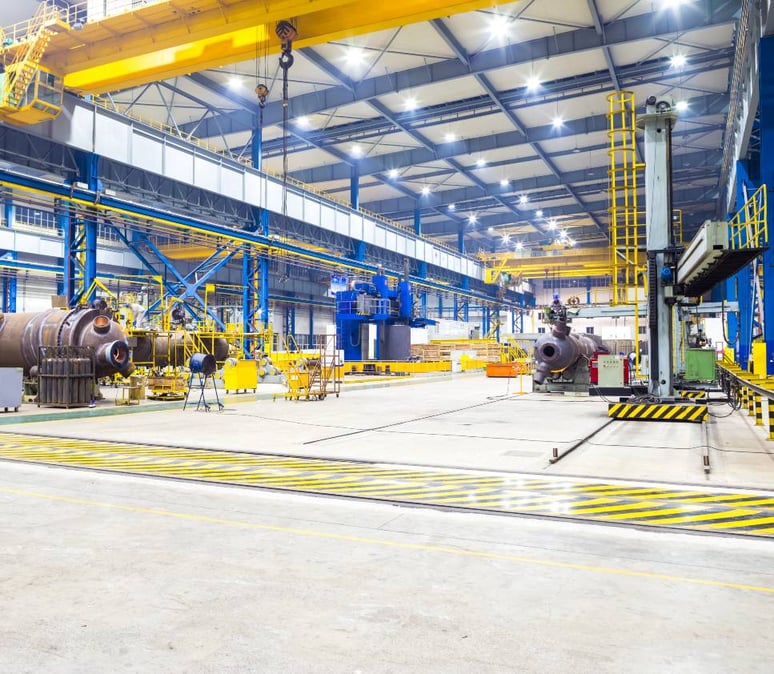 What does Intralogistics Involve?
Intralogistics is the heart and soul of modern warehouses, production facilities and distribution centres. This includes inventory management, order picking, packing, and shipping. Optimising these activities aids in smooth material flow and efficient throughput.
What is the Difference Between Intralogistics and Logistics?
The first step in understanding intralogistics is to recognize its distinction from conventional logistics. A logistics process involves the movement of goods between different locations - i.e. outbound handling.
Intralogistics, on the other hand, focuses on the internal movement of materials within a facility or business.
This often includes various technologies and processes, such as Automated Storage and Retrieval Systems, conveyor systems, warehouse management systems, and material handling equipment. These tools help to improve the movement of goods and optimize supply chain management.
What are the Benefits of Effective Intralogistics and Material Flow?
Increased Operational Efficiency
Businesses can increase efficiency by optimizing the movement of goods within a facility and streamlining material flow. This reduces the time and effort needed to complete tasks like picking and packing and enables goods to be moved as and when required. Effective intralogistics processes and solutions also improve staff productivity by reducing the physical strain on workers and minimizing the need for manual labor.
Improved Inventory Accuracy
Another key advantage of effective internal processes is enhanced inventory accuracy. By implementing automated inventory management systems and clear stock management processes, businesses can reduce the risk of error. This helps to reduce stock issues and also enables companies to maintain optimal inventory levels, lowering costs.
Future Proofing Your Supply Chain
Effective intralogistics enable businesses to achieve better supply chain visibility. Logistics managers can use advanced monitoring systems to gain real-time data on inventory levels. This data allows them to make more informed decisions about production plans and resource allocation. Using real-time data to drive decisions improves the business' ability to respond to changes in demand and in turn, increases their competitive advantage, agility and resilience.
Internal Logistics Trends
With rapid technological development and innovation, advanced intralogistics equipment is becoming more accessible for businesses. As the intralogistics industry becomes more advanced, the following trends continue to emerge:
Warehouse Management System Solutions
Warehouse Management Systems (WMS) are made up of software and processes that allow organizations to manage inventory and improve efficiency.
The key features of a warehouse management system include inventory control, order processing, barcode scanning and location management. These systems enhance productivity and reduce errors in warehouses and distribution centers.
Automated Systems & Robotics
Technological advancements mean internal logistics processes are increasing using automated systems to maximize efficiency. 
Autonomous Mobile Robots (AMRs) and Automated Guided Vehicle (AGVs) systems are both types of intralogistics automation solutions. They facilitate the movement of loads, flow of goods, and other material handling processes. Reducing the need for a human operator, AGVs deliver maximum efficiency – freeing up staff to work on more productive tasks. Ideal for repetitive, predefined intralogistics processes, AGVs ensure accurate movements every time, delivering the just-in-time movement of parts and components.
Automated Storage and Retrieval Systems (AS/RS or ASRS) are another type of automation solution increasing in popularity. An Automated Storage and Retrieval System utilizes computer-controlled systems to automatically place and retrieve loads from storage locations and shelving. As with any automated solution, AS/RS systems vary in complexity – from basic solutions to advanced systems that fully integrate with manufacturing processes.
See How Toyota Optimized Intralogistics with an Automated Guided Vehicle
Optimizing Internal Transport
When it comes to intralogistics, people tend to think of automated warehouse processes and high-tech software solutions purely designed to optimize their warehouse operation. However, intralogistics refers to all processes within any facility, in any industry – whether that is in a logistics distribution center, manufacturing facility or even on a production line. Across any industry, optimizing intralogistics processes can improve efficiency, ensure smooth operation, and boost staff productivity. 
Intralogistics: More Than Just Warehouse Automation
Likewise, intralogistics solutions encompass much more than just software solutions and automation. While the rise in innovative solutions and new technologies improves goods flow and performance, higher cost, more complex industry 4.0 solutions aren't always the right solution for everyone.
When assessing equipment, software solutions or material handling equipment, it's important to ensure that you're investing in the right technology and solutions for your requirements. At the same time, any intralogistics solution needs to be supported by robust processes, effective planning, and systems. 
Working alongside this, businesses can also optimize processes and resources by utilizing commonplace material handling equipment and machines. Such as industrial trucks, electric tugs, and conveyor systems.   
Optimize Your Material Flow to Achieve Maximum Efficiency
By optimizing the overall flow of incoming goods and equipment, businesses can improve operational efficiency and streamline processes. As such, logistics managers must prioritize intralogistics and invest in the right intralogistics systems and processes to improve their operations.
The ultimate guide to material handling
Material handling equipment
Looking to understand material handling in a little more detail?
We've compiled some helpful resources to get you started.