Refrigeration Equipment Supplier Cuts Handling Time By 75%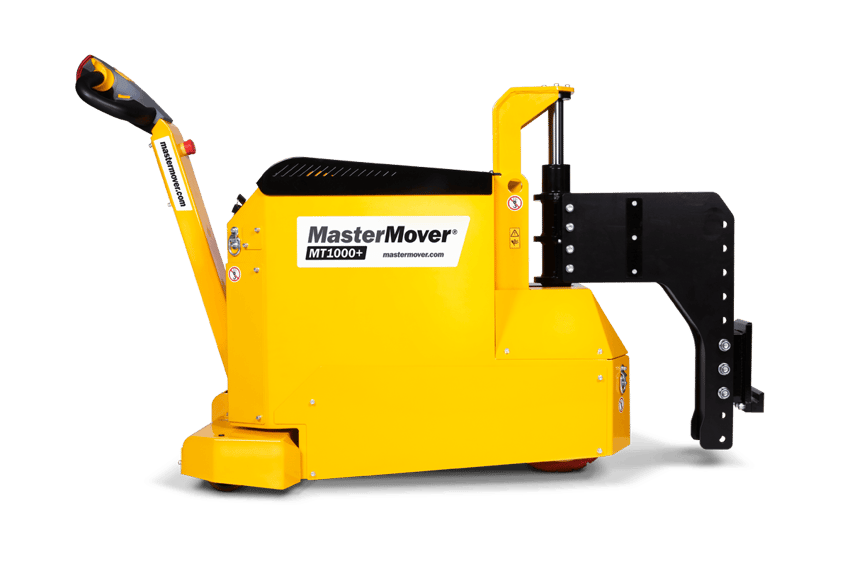 By investing in a compact, electric-operated pedestrian tug to transfer carts of metal parts from manufacturing to assembly, refrigeration equipment supplier George Barker & Co. Ltd has cut materials handling time by 75% and expects payback in eight months.
"A recent Work Study has demonstrated that by investing in a new electric-operated tugger, the plant has cut the time it takes to transfer materials from the manufacturing floor to the assembly plant by 75%. This equates to a saving of between 30-40 hours per week, which means the tugger will have paid for itself within six to eight months."

Paul Mellor, Planning & Materials Manager at George Barker & Co. (Leeds) Ltd.
Established in 1928, George Barker & Co. (Leeds) Ltd is part of Epta, a leading multinational group that supplies high-quality equipment and services for commercial refrigeration. Based in Bradford, George Barker & Co designs, manufactures and installs a range of advanced cooling solutions for the major retail supermarket chains, including Morrisons and Marks & Spencer. The company's solutions include tiered displays and cabinets for chilled food, plug-in refrigeration units, specialty displays for hot foods, glass cabinets for frozen foods and refrigeration power packs.
The manufacturing and assembly plant in West Yorkshire has a capacity of 20,000 square meters and employs around 400 staff. The company has a strong commitment to health, safety and the environment and is an active member of the British Health & Safety Council, the British Refrigeration Association and the Engineering Employers' Federation.
The cabinets and displays manufactured at the plant consist mainly of metal and glass and so the manufacturing process reflects this. There is a mix of laser cutting machines, CNC bending machines, powder coating equipment and a foam injection plant.
The Application
Space is at a premium and so the plant's manufacturing and assembly processes are spread across three levels, which presents some unique materials handling challenges for the company. As Paul Mellor continues:
"Each day we have to transfer manufactured components across to an elevator, where the parts are then lifted to the assembly plant above. There's only one lift and there are space constraints in the lift itself and in the aisles between machines. The process was also labour-intensive and essentially involved moving metal stillages and containers of metal parts that weigh between 485-990 lbs. to the lift."
Prior to investing in the electric-operated tugger, one employee would manually drag containers of metal parts to the lift using mechanical wheels, a ride-on truck, which were quite bulky and had weight restrictions. As space in the lift itself was restricted, physically maneuvering the truck or wheels was difficult and time-consuming.
The Solution
After looking through MasterMover's website for a solution to the company's materials handling problem, Paul Mellor invited MasterMover to recommend a suitable system.
MasterMover recommended its MasterTug range. The compact size and maneuverability of the machines were particularly appealing to Mellor, since space was at a premium. The MasterTug range can push, pull and steer wheeled and semi-wheeled loads up to 44,000 lbs. The machine's patented technology moves the weight of the load onto the drive wheel through a coupling system, ensuring maximum traction from a lightweight, easy-to-maneuver machine. Simple to operate and with a range of integrated safety features, the machine is ideal for use in busy manufacturing and assembly environments, particularly when space is restricted.
"The key for me was the compactness of the tugger, as well as its weight capacity and safety features," adds Mellor. "We bought one machine, but we expect to invest in another similar unit shortly for use in other areas of the plant."
According to Mellor, also key to the improved productivity and efficiency figures is a new design of a cart that holds six containers. In parallel with the introduction of the electric tuggers, the company designed some purpose-built carts for carrying the containers of metal parts to the assembly plant. Rather than carrying one container at a time, these carts, which cannot be moved manually because of their increased load, are now transferred six containers at a time to the lift using the tugger. The carts have to be quite large in order to carry the six containers and so a compact handling system was critical to the improved process.
The Benefits & Results
"The MasterTug is certainly performing well and meeting our expectations. Five employees use the unit on a daily basis and everyone has been very enthusiastic and positive about using the new tugger. Training was also very fast and straightforward and the staff couldn't wait to start using it," explains Mellor.
As well as benefits to production and assembly, Mellor says there are other advantages in using the tugger, including improved safety of employees.
With the amount of traffic reduced, accidents are fewer. The electric tugger has also removed a lot of strain and manual effort in moving loads around the factory. It has also eliminated any risk of litigation or compensation claims from the workforce due to manual handling injuries.

Paul Mellor, Planning & Materials Manager

George Barker & Co.
The Work Study showed that prior to using the tugger, loads were being moved from manufacturing to the assembly plant (via the lift) an average of 20-25 times per day. With the electric tugger, this figure has been reduced to between 5-8 times per day. As Mellor concludes: "This is just the tip of the iceberg though. Potentially, we are looking at using MasterMover electric tuggers in other areas of the plant, including the press shop, where we currently handle large metal panels manually."