Terex Moves Towards A Forklift-Free Factory With New Electric Tugs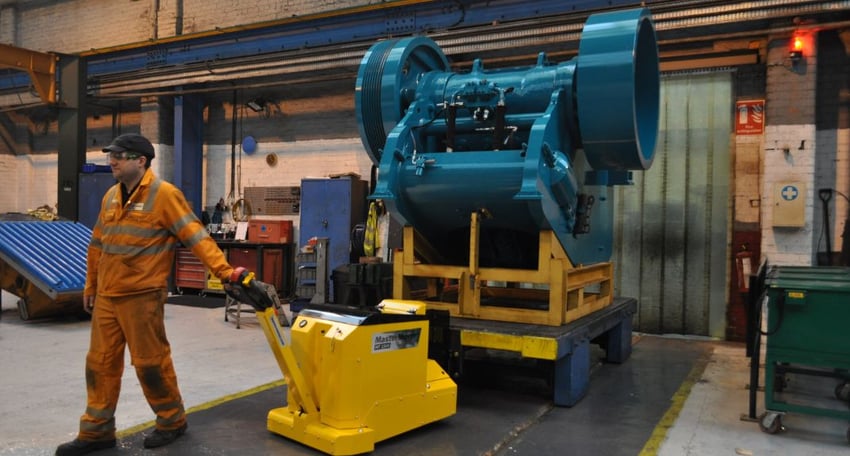 Terex Corporation, based in the US, is a leading manufacturer of heavy material processing equipment including mobile and static crushing, screening, washing and recycling equipment.
Being focused on reducing the risk of accidents and injuries to its employees, Terex has invested in two electric operated tugs for moving 16-tonne crusher machines through the production process.
Terex's Coalville plant, in the UK, produces a wide range of crushing machines which can vary in weight from 10 tonnes up to 38 tonnes. These machines are primarily used by customers in the aggregates, minerals, mining, quarrying, recycling and demolition sectors.
The crushers are moved through stages of production by using bogies on rail tracks fixed to the factory floor. Due to the weight of the crushers, manoeuvring the bogies can be quite a challenge: "Prior to investing in MasterMover's MasterTug machines, we had to push and pull the bogies along the tracks using forklift trucks. Obviously, we wanted to look at another viable option," said Simon Croker, General Manager at Terex.
Terex searched for a suitable alternative and came across MasterMover. MasterMover then identified the MT20/1500 as the most suitable machine for moving the bogies. The MT20/1500 is able to move up to 60,000 kg when the load is sat on rails making it more than powerful enough to move the crusher machines.
Terex has been using these machines primarily in the paint and shot blasting bays, where they push and pull the bogies in and out of the spray booths. MasterMover also manufactured five different quick-release couplings to enable the machines to attach easily and quickly to each of the five types of bogie at the plant.
"The benefits of using the MT20 machines are their ease of use. It's also a very compact machine, which means it is easy to move bogies in and out of tight spaces or around corners. The feedback from the production staff has been overwhelmingly positive. The initial training provided by MasterMover was excellent and so the buy-in from the workforce was very high", said Croker.
If you would like to know more about the MT20/1500 (superseded by the MT1500) or arrange a free demonstration contact MasterMover today.