Pedestrian Tugs Eliminate Roll Cage Accidents At Somerfield Stores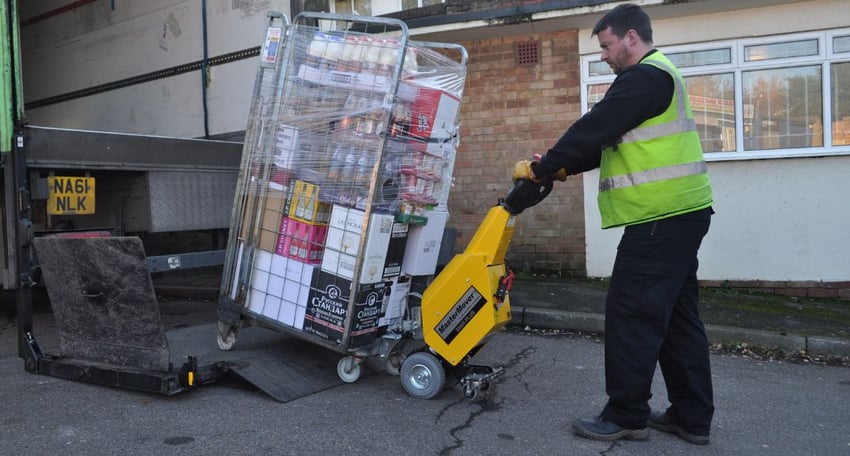 In order to safely transfer roll cages from delivery vehicles to its stores, Somerfield Stores Ltd has invested in more than 50 SmartMover manual and power-operated tugs. As a result, roll cage-related accidents have been reduced to zero and a single employee can now unload a delivery wagon rather than two.
"In our stores that use the SmartMover pedestrian tugs, the number of roll cage topple accidents at the delivery point has been reduced to zero," says David Maloney, Risk Management Advisor at Somerfield Stores Ltd. "In addition, now only one member of staff is needed to unload roll cages from the delivery vehicle. Previously, it took two people to carry out this task. In that sense, our unloading process is now very efficient."
As a Risk Management Advisor across more than 800 Somerfield retail stores in the UK, Maloney is responsible for ensuring that the organisation meets all current Health & Safety-related legislation and regulations. This includes advising the business and individual stores on best practice procedures and ways in which the business can decrease accidents and improve the safety of its employees.
Roll cages are used to transport goods within a factory, or to move goods from a delivery lorry to a warehouse or retail store. However, when loaded with goods a single roll cage can weigh up to 500kg or more and can create certain difficulties when being manouvred outside or on and off delivery vehicles.
Indeed, the Health & Safety Executive (HSE) believes that roll-cage related injuries and accidents are so important that it has issued guidance on how UK businesses can reduce roll cage-related accidents.
HSE provides advice on reducing musculoskeletal and other injuries that frequently occur when workers push or pull cages or racks, particularly up slopes or on uneven ground. According to HSE, some companies that use roll cages have found up to a third of accidents in their workplace are roll cage-related. Roll cage injuries often occur because staff try to prevent a roll cage from overbalancing. Also, repetitive loading and unloading can be a problem, as well as trapping hands or feet. Roll cages falling off a lorry's tail lift is also a common cause of accidents.
"Some of our stores were having problems moving roll cages from delivery vehicles up steep slopes," says Maloney. "We therefore decided to invest in some kind of power-operated tug to improve safety, reduce injuries to staff and to prevent roll cage-related accidents."
At any one Somerfield store, an average of 30 roll cages might be delivered in a single day and so safety of staff is a major factor in deciding which tugs to invest in. "Based on our formal feedback process after purchasing the SmartMover tugs, the investment has certainly paid off and the tugs have performed as we expected them to do. Manual handling risks have been reduced, particularly at those stores that suffer from steep slopes, and the employees expend less effort in moving the roll cages," adds Maloney.
"Before investing in the SmartMover, we trialled the tug in what we deemed to be our 'higher risk' stores. The feedback from users was very good and the SM60 passed with flying colours. The manual version proved particularly popular with our older members of staff, who are perhaps more wary of electric-operated controls," explains Maloney.
In total, Somerfield uses 57 SM60 units, of which 39 are leased and 18 owned. The units are a mix of manual and power-operated versions. The company has a service and maintenance contract with MasterMover for all SM60 units.
The SM60 is a versatile machine designed for moving wheeled loads such as roll cages from vehicle tail lifts and across uneven surfaces and slopes and can turn through 90 degrees. By clamping to the base of the roll cage, the tug ensures that the cage cannot be tipped onto the operator. This reduces serious injury to employees and makes unloading a single-person procedure. Efficiency and safety are further improved by allowing the movement of multiple roll cages using the towing links. Sealed batteries, variable speed and auto braking are also standard.
Where the load is relatively light and where manoeuvrability, safety and control are critical, the SM60 ensures the timely delivery of components to a supermarket warehouse, for example, or it can eliminate the need for time-consuming, manual handling. The SM60 connects to the base of the roll cage via an innovative clamping mechanism, which is operated by using a simple lever located on the neck of the device. Once connected, the machine is secured to the load and the operator can use the 'forward' and 'reverse' controls.
The machine is also very easy-to-use. A simple throttle paddle on the headset enables the user to constantly vary the speed according to the conditions. There is also a twin speed button that enables the operator to place a cap on the speed, which is useful for busy retail environments. Amongst other built-in safety features is an anti-crush button that ensures that the user cannot become trapped between the machine and an immoveable object. The device has an electro-magnetic brake, which is constantly engaged until the operator applies power via the throttle. The unit can be steered on either side, enabling easy turning in tight spaces. When off load, the device travels on the support wheels for maximum operator comfort.
Maloney concludes: "We also liked the SM60 because it's so compact and fits easily into confined spaces in the back storage room or warehouse. However, the unit is also powerful enough to move heavy loads and unload a complete delivery."