How to Move Aero Engine Stands in Aircraft MRO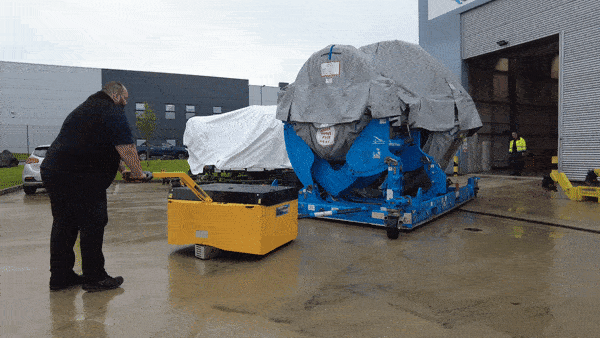 Moving jet engines and aero engine stands can be challenging for maintenance providers, particularly when movements involve navigating through congested engine shops, maintaining tight turnaround times, and moving high-value equipment.
With this in mind, it's unsurprising that many Maintenance Managers long for safer, more efficient material handling solutions.
In this blog, we explore some of the challenges of material handling in the aerospace industry and explain how electric tow tugs can be used to drive efficiency in the movement of jet engines and aircraft engine stands.
Understanding Aircraft Engine Stands
Aircraft engine stands are composed of two components - a cradle and a base, collectively forming a secure engine management system. Different types of jet engine use tailored stands, designed to accommodate an engine's unique characteristics.
The cradle's role is to secure the engine and offer damping from vibrations that occur during transit. The base provides extra support and stability and aids in safely moving the engine over shorter distances.
Challenges of Moving Aero Engines in Maintenance
High-value Loads Can Mean Costly Damage
It's easy to underestimate how valuable aero engines are. Imagine being responsible for moving a Rolls-Royce Trent 1000 engine, which is valued at over $20 million. The sheer value and size of aero engines make moving them around during maintenance a tricky task.
Typically, engines are loaded onto transport stands featuring stowaway tow bars and then moved using either large forklift trucks or tow tractors.
The weight and size of jet engines mean that heavy-duty forklifts are needed to deliver sufficient power. This results in a large, cumbersome forklift.
Engine shops can be congested areas with many engines in for work at one time, which makes manoeuvring them around with large diesel forklifts a difficult task for the most experienced and skilled driver – often leading to costly damage to engines during movement.
Maintenance Grinds to a Halt with Forklifts
Moving engines out of and around repair shops with large forklift trucks often requires multiple maintenance engineers to act as spotters and to manually reorientate engine stand castors during movement.
The size and weight of engines mean that the movement of the largest engines can take as long as an hour – with movement stopping and starting as the forklift is used to shunt engines back and forth to achieve the necessary clearance.  
This approach to moving jet engines is inefficient, taking multiple skilled engineers away from maintenance tasks and resulting in slower turnaround times.
Meeting MRO Turnaround Times
Keeping MRO turnaround times down is critical. As with most industries, time is money – aircraft need to be back in the skies to generate revenue, and working to strict turnaround times is a demand Maintenance Engineers must work to. Waiting for licensed truck drivers to become available, the need for multiple spotters and the time taken to complete engine movements cost money and cause significant bottlenecks in MRO operations.
Volume and Variety of Engine Stands
The volume and variety of commercial jet engines coming into maintenance shops mean there's a large variety of different engine stands to work with. This can make finding material handling equipment to work with a wide range of different stands tricky. Couple this with the challenges already outlined above and the fact that some engines and stands can weigh in excess of 15,000kg – and it can feel like you're looking for a needle in a haystack.
Aerospace Material Handling Solutions for MRO
Whilst the challenges of moving aero engines may seem overwhelming, the good news is that there is a solution – industrial electric tow tugs. Compact aerospace material handling solutions that don't compromise safety and help you reduce turnaround times.
Unlock More Efficient MRO Operations
The MasterTow Range for Moving Jet Engines
The MasterTow range of electric tow tugs enables maintenance engineers to safely move heavy engines with ease. Boasting a compact footprint, they deliver unrivalled manoeuvrability and visibility, allowing engines to be moved with confidence, even in tight spaces.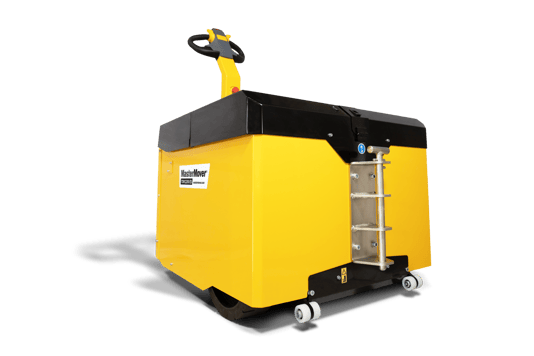 For maintenance engineers, electric tow tugs help reduce the risk of damage and speed processes up, enabling a single operator to move engines weighing up to 20,000kg.
The Benefits of Electric Tow Tugs for Aircraft Engine Movement
      Powerful solutions to move engines up to 20,000kg

      No operator license required

      Simple and secure coupling systems

      Works with any engine tow bar system

      Suitable for indoor and outdoor use

      Zero emissions



Customers Who Trust Electric Tugs to Move Aircraft Engine Stands
Many of the world's largest MRO providers trust our electric tow tug solutions to drive more efficient maintenance operations, including MTU Aero Engines, ST Engineering, Delta Airlines, HAECO, Lufthansa Technik, Pratt & Whitney, Korean Air and more!