Forklift Alternatives in Heavy Plant Manufacturing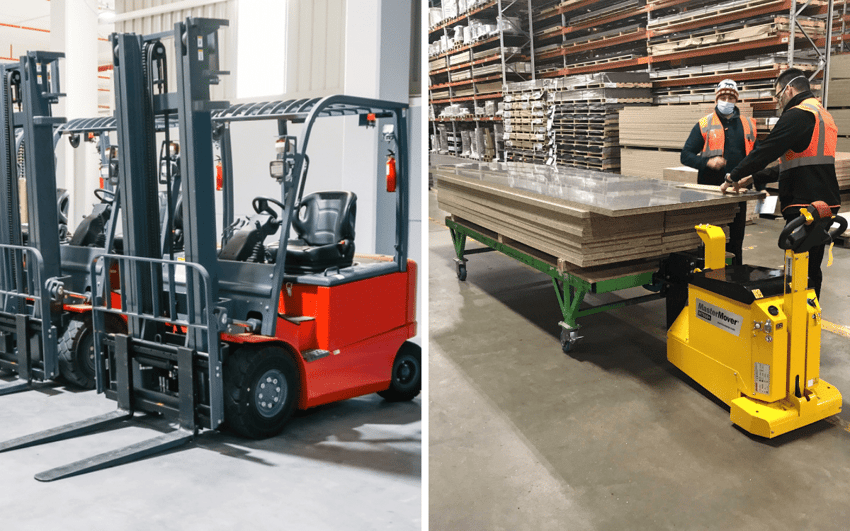 Manufacturers of heavy equipment are under increasing pressure to meet demand, clear production backlogs and reduce TAKT times.
As part of this process, large material handling equipment like forklift trucks are often relied on to mobilise heavy loads such as sub-assemblies around the shop floor and through production stages.
But, with a considerable machine footprint, large turning circle, and poor operator visibility, manoeuvring forklift trucks through tight production areas is no easy task, presenting the risk of collisions – causing damage to product and plant equipment.
These risks and the pressure manufacturers are under, mean that the size of material handling equipment is becoming a key consideration for congested production areas where precision movement is critical.
The challenge – Forklift footprint
With typical industrial loads weighing anywhere between 2,000kg and 20,000kg, manufacturers often rely on huge, powerful forklifts to mobilise heavy products or sub-assemblies.
As the weight capacity of a forklift increases, so does their machine footprint and in turn, their turning circle. This results in large, cumbersome forklift trucks that are difficult to navigate through congested production environments, increasing the risk of damage to infrastructure, products, and people.
Forklifts also present challenges when moving through production environments where manufacturing operatives are working, with highly pedestrianised areas of factories increasingly striving for fork-free operation zones to mitigate the potential for collisions with pedestrians.
There are of course applications where a forklift is the right solution – for example, lifting heavy pallets in warehouses. However, within heavy manufacturing, forklifts are often used within unsuitable, congested areas or misused to tow heavy-wheeled trolleys.
Finding an alternative
But is there an alternative? The loads that manufacturers need to mobilise are often large, heavy, and awkward, which can make finding an alternative to forklift trucks in a heavy plant manufacturing environment can feel difficult. Couple this with the need to increase throughput and keep TAKT times low and finding the right solution can be a challenge.
The solution – Electric tugs
With a compact machine footprint and slimline design, an electric tug offers an effective alternative to forklift trucks and is perfectly suited to the space limitations of modern production environments.
Their license-free design also aids in reducing downtime and transportation bottlenecks, enabling any operative to easily control heavy-wheeled loads.
Compact design to deliver precise movements
For electric tugs and tow tugs, compact is the name of the game, and suppliers are continuously refining their designs to make them even smaller, without compromising on performance.
Electric tugs are segmented into two main designs. The most compact uses a system of weight transfer to move loads and the second type which uses the machines' weight to move heavy loads.
Their design means electric tugs and tow tugs are considerably more compact than comparable forklifts rated to move the same weight.
Their compact footprint and turning circle enables operatives to easily manoeuvre heavy sub-assemblies through production areas with ease, reducing the risk of collisions and fostering a safer working area for pedestrians.
Machine size & turning circles
With a slimmer machine design, electric tugs deliver unrivalled operator visibility for moving heavy loads when compared to larger machines like forklift trucks.
Electric tugs are also available with bolt-on technology options such as a wireless operation to further reduce the risk of collisions, improve line of sight and deliver even safer movement through congested areas.
Electric tugs and electric tow tugs are an obvious choice for precise navigation and movement compared to cumbersome forklift trucks.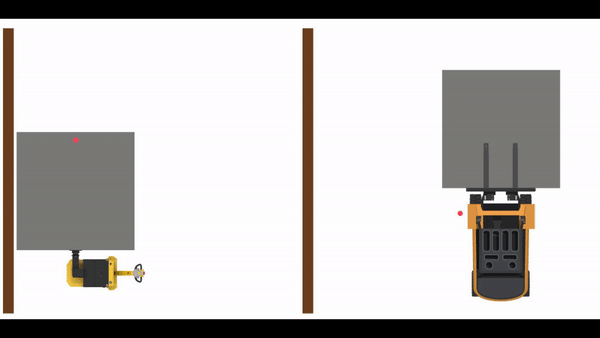 Ready to make the change? Choose electric tow tugs
If you'd like to make the move from forklifts to electric tugs in your heavy plant manufacturing operations, contact us or download our brochure for more details.