Strikebox Engineering Partners with MasterMover for Effective Cleanroom Tote Movement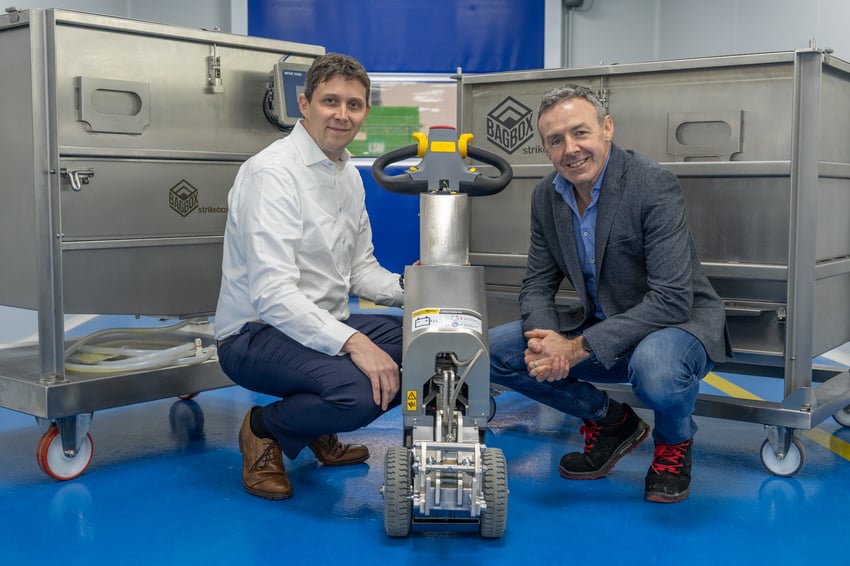 Strikebox Engineering, headquartered in Ireland but servicing a global customer base, has entered into a partnership with electric tug manufacturer, MasterMover. The agreement will see Strikebox offer the MasterMover range of best-in-class stainless steel electric tugs and tows to its customers across the biopharma manufacturing industry.
With a long history of success working with biopharma companies, Strikebox manufactures BagBox, a leading range of stainless steel and plastic totes for the transportation of high-value and sensitive liquids and materials. The company identified a need to expand its product offering to include a reliable, high quality and effective load-moving solution, leading it to identify MasterMover as the clear market leader.
"Our customers are focused on health and safety, and are working with high-value materials throughout the manufacturing process," commented John O'Reilly, Managing Director of Strikebox. "We have seen our customers take a number of approaches to the movement of our plastic and stainless steel totes, but often the solutions are not fit for purpose and come with their own problems and challenges."
"Whenever our customers have used MasterMover stainless steel electric tugs to move our products, we've seen nothing but positive feedback. They are high-quality, reliable and easy to operate, and furthermore, they offer fantastic control and movement in tight spaces – so they are ideal for use in the biopharma industry".
MasterMover is a world-leading provider of electric tug and tow tug solutions, with a wide range of products offering movement up to 30,000kg with a single machine, and pedestrian-operated, remote control and fully autonomous (AGV) solutions available. The company offers a dedicated stainless steel range of solutions, designed for use in cleanroom environments across industries such as biopharma, food manufacturing, chemicals and energy, among others.
"Working with Strikebox is a natural fit. They make a range of best-in-class products for the biopharma industry, and are focused on innovation, quality and customer experience – which matches our own culture perfectly," said Andy Owen, Partner & Director at MasterMover.
"Cleanroom environments and high regulated and controlled, but often tight to work in, with people moving high-value equipment and materials. It is therefore essential that they have the right tools available to move these items in a controlled, safe way. Our range of stainless steel products is ideal for these environments, as they are easy to operate, they offer superb control and manoeuvrability, and are compliant with cleanroom standards," added Owen.
MasterMover electric tugs ensure employees are protected, by eliminating manual handling. This can cause injury through the stresses and strains of physical exertion, but is also dangerous, as such an approach results in a lack of control, increasing the risk of damage to the equipment and materials being moved, but also to the wider operating environment.
Utilising electric tugs for load movement also drives operational efficiency, with a single operator able to easily and safely move heavy loads, maximising time spent on tasks of greater value-add.
Strikebox and MasterMover share the ability to design, build and deliver custom solutions to customers, and the two organisations will work closely together when a specific requirement is needed.
"Our design team is known for innovation, and we have tackled a wide range of specific and custom requirements over many years," said O'Reilly. "In working with a partner for load moving, we wanted to find an organisation with this capability, as our customers often have the need for a custom solution. We've been really impressed with MasterMover's track record and capabilities in this regard. Like Strikebox, MasterMover has repeatedly designed, built and delivered custom solutions that meet and exceed customer expectations."
Through the partnership between the two organisations, Strikebox will exclusively recommend and make available MasterMover stainless steel electric tugs and tows, with a number of machines available for different applications.
About Strikebox
Strikebox is an innovative and award-winning stainless-steel fabrication company that specialises in the pharmaceutical industry, and specifically the subsector of bioprocessing industries (the growth of medicines from living organisms).
With over 30 years of enterprise tradition of leadership and innovation, and a client base which includes companies from the World's top 10 Biopharma and large-scale pharmaceutical companies, Strikebox is a highly recognised manufacturer of products to the biopharmaceutical industry. The company is committed to advancing its customers' bioprocessing objectives from discovery to commercial launch.
Strikebox vision is to improve human health, environments, and prosperity through innovative engineering, whilst its mission is to provide innovative and responsive engineering services to the biopharmaceutical industry around the world.
About MasterMover
MasterMover is a world-leading manufacturer of electric tug and tow tug solutions, designed to improve safety and operational efficiency when moving heavy, large or unconventional loads. MasterMover focuses on innovation, research and development to provide the widest range of electric tug products on the market.
Specialist solutions include pedestrian-operated, remotely controlled and fully Automated Guided Vehicle (AGV) options. In addition, MultiLink technology allows a single remote operator to simultaneously control multiple electric tugs through synchronised movement.
MasterMover operates globally through direct relationships and a network of sales and service partners. The company works with an enviable range of world-leading names across industrial manufacturing, retail and logistics. With an expert in-house engineering team, MasterMover has a proven track record of delivering bespoke projects for diverse applications around the world.