SM200+ Accelerates Safety in Toyotetsu's Machine Press Area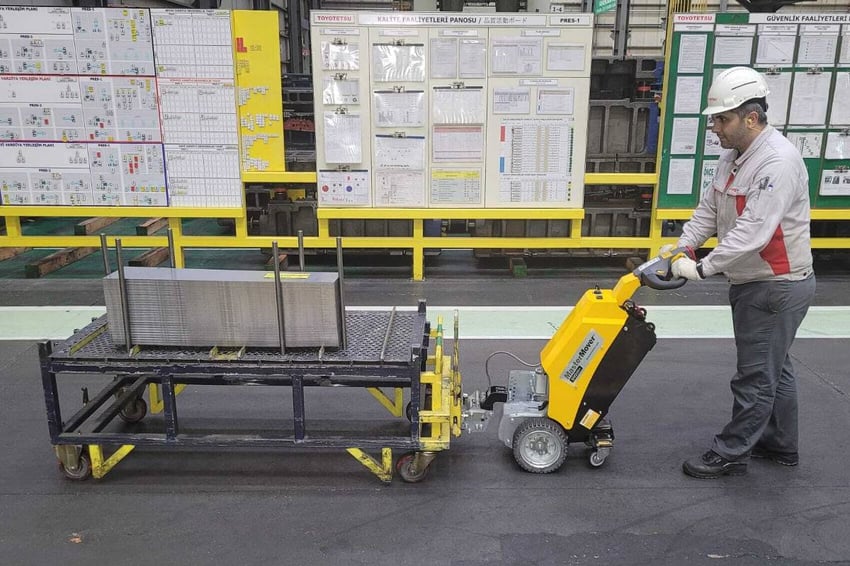 Toyotetsu, a leading automotive parts manufacturer focused on the production of body, chassis, and assembly parts is utilising the SM200+ electric tug to improve workplace safety and drive operational efficiency.
Global automotive OEMs and suppliers need material handling equipment that improves safety and delivers maximum efficiency. From machine press shops to the final assembly line, automotive manufacturers are constantly under pressure to slimline operations and foster safer working environments.
To address these challenges, automotive manufacturers like Toyotetsu are shifting to electric tug solutions to mobilise heavy wheeled loads such as kitting trolleys, body-in-white and chassis assemblies.
The Challenge
Reducing manual handling in automotive manufacturing
Toyotetsu was searching for a solution to reduce manual handling issues when moving heavy wheeled transfer presses. The manual movement of loads was not only causing staff fatigue, but also causing delays in press die changeovers.
Before MasterMover electric tugs, we were manually pushing and pulling loaded trolleys. Our employees experienced ergonomic-related problems. This led to production delays and disruptions, but our real priority was to protect our employees and provide a healthier environment in which they work.

Kadir Diktaş, Manager of the Press Department

Toyotetsu
With staff in the Press and Moulding department moving heavy loads by hand, Toyotetsu needed to explore alternative approaches to reduce the risk of injuries and staff fatigue.
The Solution
SM200+ takes the strain
Located in Kocaeli Turkey, Toyotetsu contacted MasterMover's team in Turkey to explore potential electric tug solutions to remove manual handling within their machine press area.
With Toyotetsu's desire for an easy-to-use electric tug that would deliver safety improvements straight out of the box, MasterMover demonstrated its SM100+, designed to empower operators to easily move 1,200kg loads.
After a successful trial by production staff, Toyotetsu quickly understood the transformational opportunities the SmartMover range would create within their processes. Collaborating with Toyotetsu, MasterMover understood that the press area needed a future-proof solution that could move weights of up to 2,000kg, whilst retaining a compact machine footprint.
The SM200+ was identified as the optimum solution to deliver the safe movement of 2,000kg loads in tight production areas whilst removing the need for manual handling. With a wide range of trolleys that required a specialist connection point, MasterMover designed a custom clamp for the SM200+ to deliver complete load security and ease of use.
We are very pleased with the flexibility this custom coupling provides. A special thanks to your engineers for designing a system that perfectly meets our needs.

Kadir Diktaş, Manager of the Press Department

Toyotetsu
The SM200+ in action at Toyotetsu
See how Toyotetsu used an SM200+ in the automotive manufacturing processes.
A world-leader in its field, the automotive parts manufacturer has achieved return on investment and improved operational efficiency when moving parts to the production line.
The Result
Improved safety and significant efficiency gains
A number of SM200+ machines are now used within the machine press moulding area to transport hot and cold formed materials to machine presses and easily transfer cut materials.
The machines take the strain of the movement and enable operators to easily manoeuvre heavy loads without the need for any physical effort or exertion.
"We have created an ergonomic working environment for our operators and receive very positive feedback from them. We continue to work on adapting the advantages of using MasterMover electric tugs to other material handling processes" Kadir Diktaş – Manager of the Press Department – Toyotetsu
In addition to considerable safety improvements, Toyotetsu has also seen significant efficiency gains from the introduction of the SM200+ units.
"Process times have decreased. In the past, we lost time from manual handling. The process is now much quicker. We have reduced the time lost between press die changeovers. Our production efficiency is increasing". Kadir Diktaş – Manager of the Press Department – Toyotetsu
Recognising the significant efficiency and safety gains that the SM200+ delivers, Toyotetsu plans to utilise the electric tugs across many different stages of the production process to scale up continuous improvement initiatives.
Electric tugs in action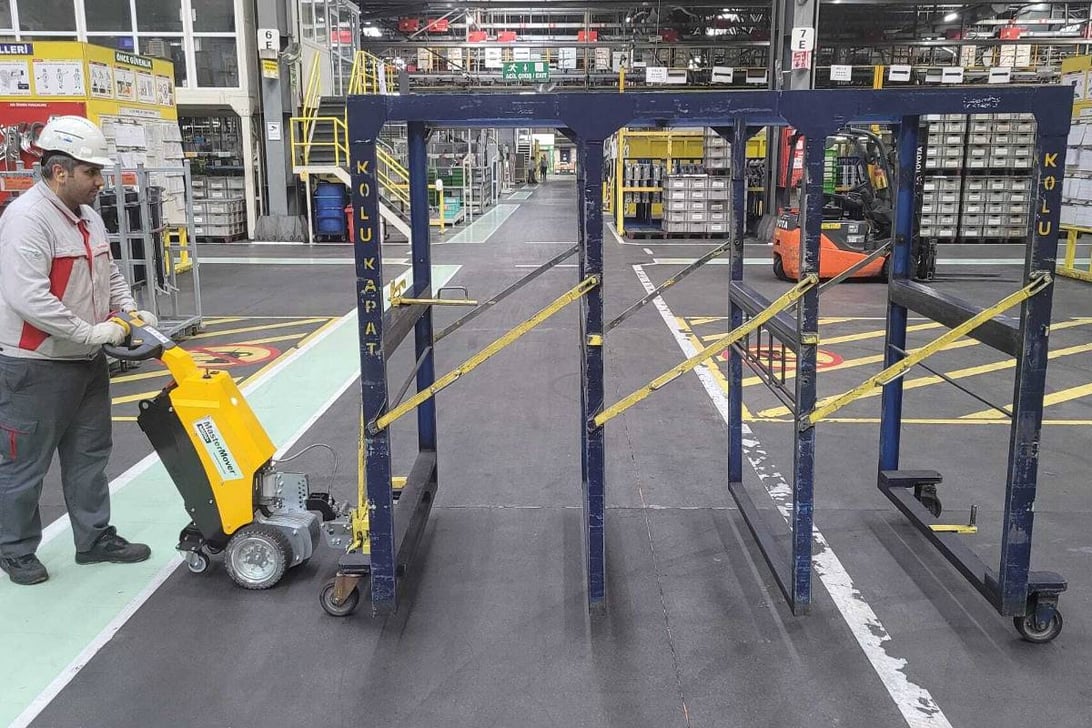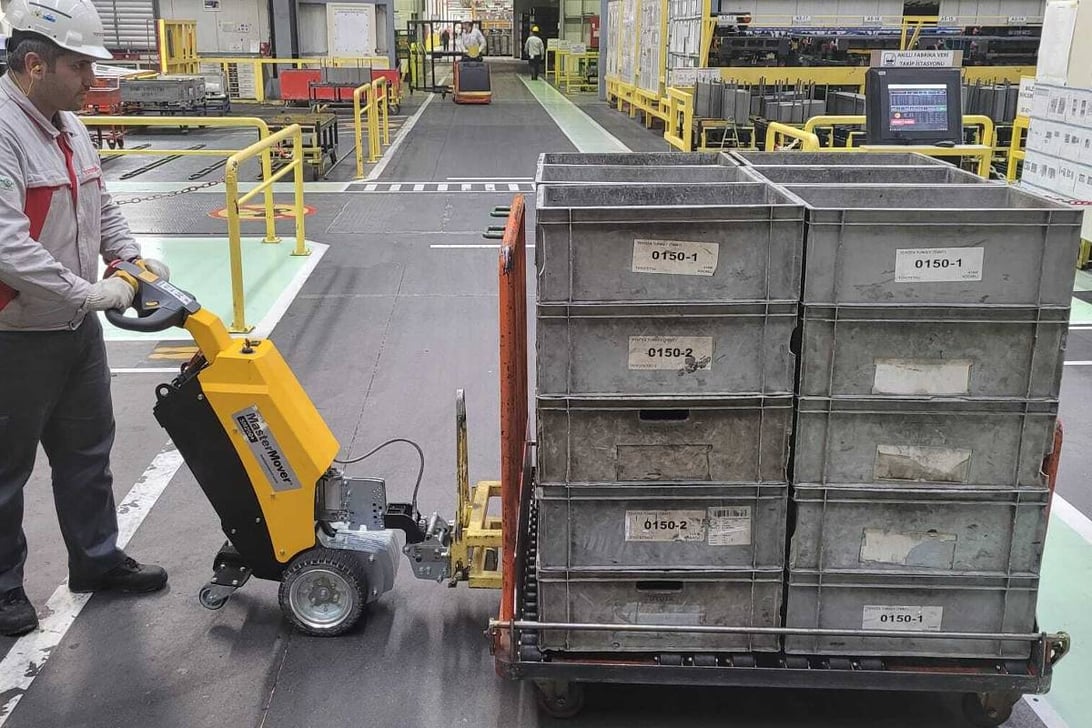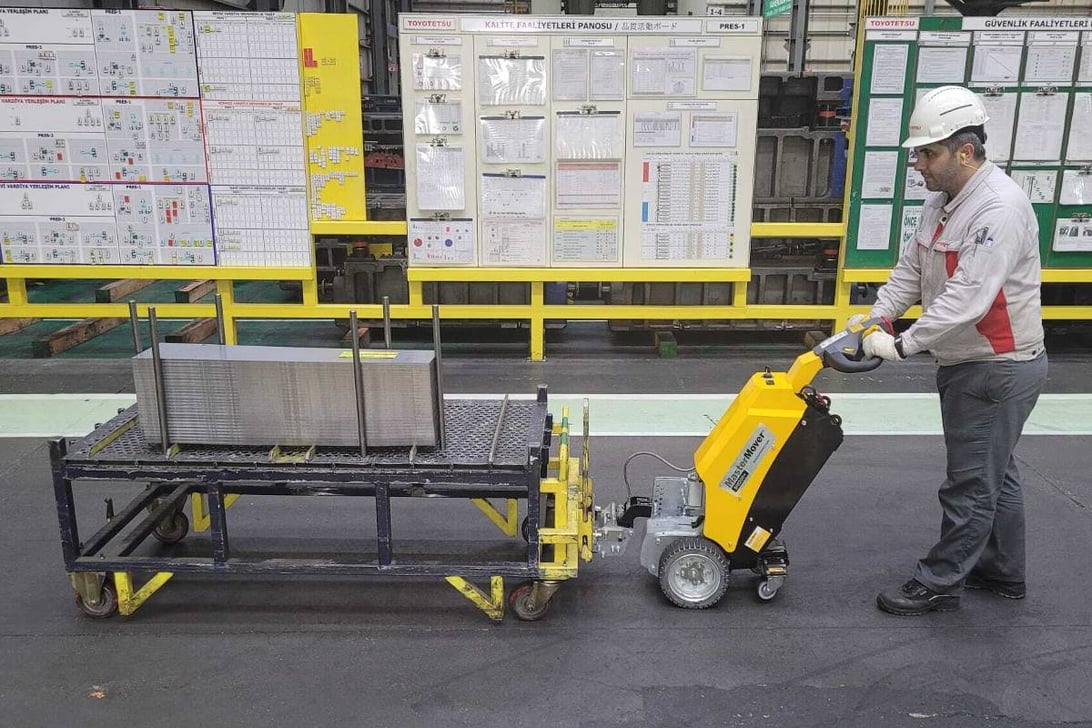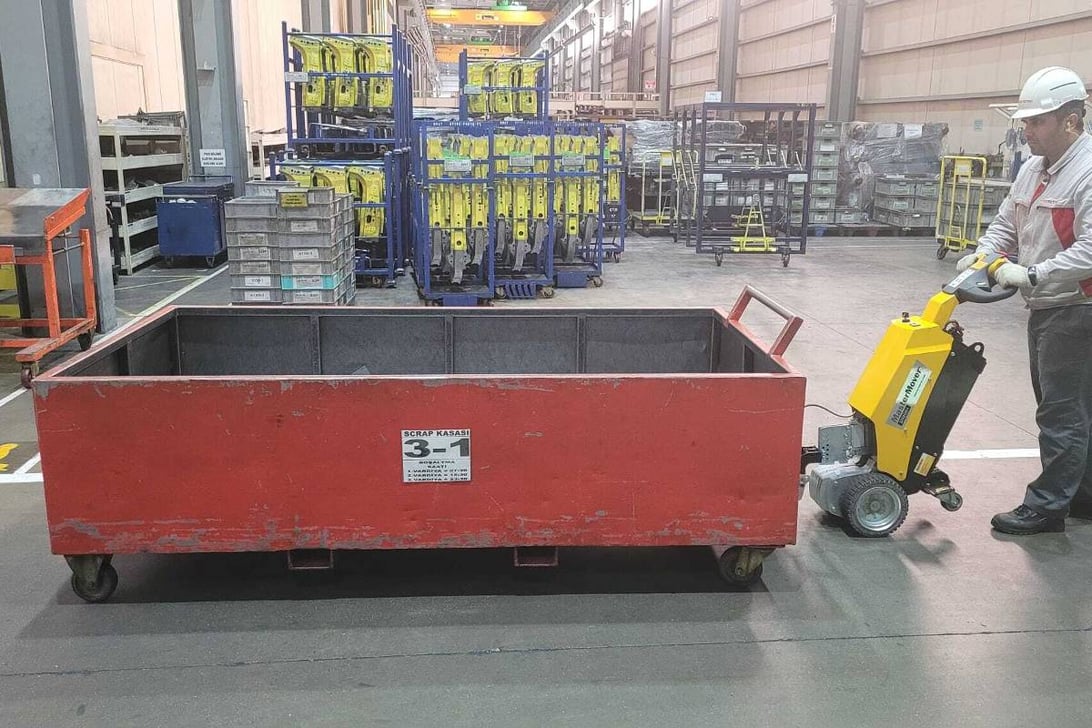 Chassis, Bonnets and Beyond
Scalable solutions for the automotive industry
Toyotetsu joins an extensive portfolio of automotive manufacturers and suppliers that have benefited from safer and lean processes thanks to MasterMover electric tugs.
Keeping production running as smoothly as possible is why leading automotive manufacturers like Toyotetsu trust MasterMover. Our powerful electric tugs and pushers create faster and leaner assembly lines for improved efficiency and safer operations.
From the SmartMover range – capable of moving loads of up to 2,000 kg – to heavy-duty tugs which can handle large weights of up to 360,000 kg with ease, our material handling solutions drive operational efficiency, provide greater operator control and lower risk to staff.
Whether it's the just-in-time delivery of materials to the lineside, or the safe movement of heavy press tools, MasterMover's range of innovative electric tugs are helping automotive manufacturers to save money by reducing wasted time and manual handling.
We help automotive manufacturers to move loads such as:
Mould & Press tools
Kitting trolleys
Chassis
Vehicle Body-in-whites (BIWs)
Engines, transmissions and parts
If you're interested in exploring how MasterMover electric tugs can enhance your operations, speak to one of our experts today.