Terex Implements Forklift-Free Operations with Remote Controlled Electric Tugs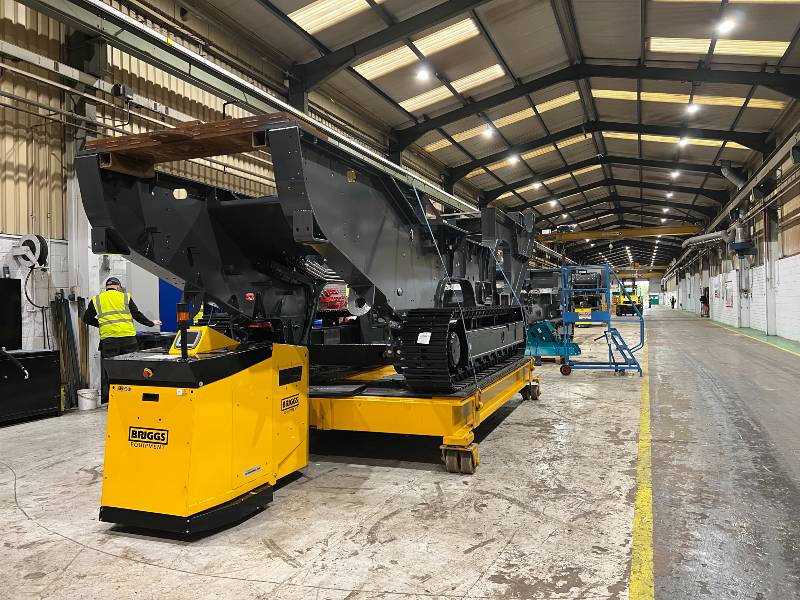 Manufacturing large-scale heavy plant equipment can make material handling a challenge. In this case study, discover how Terex Omagh implemented forklift-free processes in their Materials Processing division, driving safer and more efficient operations.
About Terex
Terex Corporation is an American worldwide manufacturer of heavy plant equipment for industries including construction, quarrying, recycling, and mining. The manufacturer has a strong manufacturing base across Northern Ireland, with nine sites employing over 1,800 people. At one of the largest sites, based in the heart of Omagh, models under the brands Powerscreen® and Terex Finlay® are manufactured. It's at this site that the Materials Processing division designs and manufactures mobile crushers, screening and conveying equipment.
Watch the Full Story
Terex Global Safety Roadmap
Manufacturing some of the largest mobile crushers and conveyor systems comes with its own internal logistical challenges. As part of the manufacturing process, large sub-assemblies, chassis, and crushers are moved through production buildings to final assembly and testing. With the site manufacturing various crushers, including impact, jaw and cone crushers, chambers can weigh up to 18,000kg and large-scale chassis average around 16m in length. This means that moving such heavy and large components around the facility can be a challenge and one that, until recently, relied on the use of large diesel forklift trucks.
Within Terex, we have several safety roadmaps, and that's really part of our safety culture for zero harm. As part of that, one of the key things is to try and reduce forklift truck movement and segregate those from our team members.

Rachel Pattison

Operations Improvement Manager, Terex
Terex has several safety roadmaps that support its vision of zero harm – a vision which involves everyone across the business in striving to continuously improve safety. As part of the wider safety vision, Terex has a material movement roadmap focusing on how materials, components and equipment are transported and moved throughout manufacturing facilities.
The Challenges of Moving Heavy Assemblies with Forklift Trucks
Aligning with Terex's safety roadmap, the Operations Improvement Team at Omagh were looking for ways to reduce and eliminate diesel forklift trucks from their internal manufacturing areas. In particular, they were looking for a safer way to move 18,000kg chamber sub-assemblies and chassis through production and out into a final assembly hall. The applications previously relied on large diesel forklift trucks to shunt loads from building to building and required commercial lorries to transport chambers and chassis to the production hall for off-loading.
There's the disruption to production if you're trying to offload in the production areas. Also, our goal and one of our roadmaps is to reduce the use of forklifts, particularly in segregating them from our staff and reducing any risk.

Rachel Pattison

Operations Improvement Manager, Terex
Top 5 Challenges
For heavy plant manufacturers like Terex, moving large sub-assemblies with diesel forklift trucks presents a number of challenges.
Safety
Safety is the number one priority and the most difficult to achieve with large-capacity forklifts operating in busy facilities. With heavy-duty forklifts, visibility is challenging; combine this with the movement of a 16m load, and it becomes even more difficult. The safety risks of using large trucks in internal processes continue to lead manufacturers to implement forklift-free zones, eliminating the use of forklift trucks or limiting their use to certain areas.
Size
The design of a forklift truck means that the larger the capacity, the larger the truck. However, when it comes to moving heavier loads in industrial manufacturing, the footprint of a sufficiently powered forklift becomes an issue – particularly when movements are inside or in tight spaces.
Downtime
For manufacturers like Terex, efficiency is key. With a reliance on traditional handling equipment like forklift trucks, a significant proportion of downtime comes from waiting for licensed drivers to become available to move loads from A to B.
Flexibility
Alongside operations that are focused on safety and sustaining efficient production output, manufacturers need the flexibility to move loads just-in-time and change production layouts as required.
Emissions
A challenge increasingly on the minds of manufacturers regarding material handling equipment is emissions. With many businesses looking to reduce overall emissions, running diesel trucks across and inside facilities doesn't align with the vision of more sustainable operations.
Previously, we'd have to reverse lorries into the shed. Stop the whole shed in terms of production to clear the area. Then bring the lorries in and get the forklift to get the chambers off the lorry. Those are 18-tonne chambers, so quite heavy to move around the site

Michael Glackin

Production Team Leader, Terex
As part of the safety roadmap and, specifically, the material movement roadmap, the team at Terex Omagh set about investigating alternative solutions for moving heavy loads with precision and improved safety.
Their investigation led them to identify electric tugs as a potential solution, with a focus on working with solutions provider MasterMover. With MasterMover electric tugs already in use at other Terex manufacturing sites, including Dungannon and Coalville, the team at the Omagh site were confident in working with MasterMover to find a solution.
Safer, Leaner Handling Solutions for Forklift-Free Operations
Offering a safer alternative to forklift trucks through a more compact design and improved visibility, Terex contacted MasterMover, the market leader in electric tug solutions. Working with Terex and partner Briggs Equipment in Northern Ireland, MasterMover visited the site to assess and evaluate the movement requirements and demonstrate the PS3000+. As part of the PowerSteered range, the PS3000+ is a remote-controlled electric tug designed to move loads of up to 30,000kg. Having had an on-site demonstration of the PS3000+ moving an 18,000kg chamber from building A to building B, inside, outside and on a slope – Terex was confident in the solution's capability.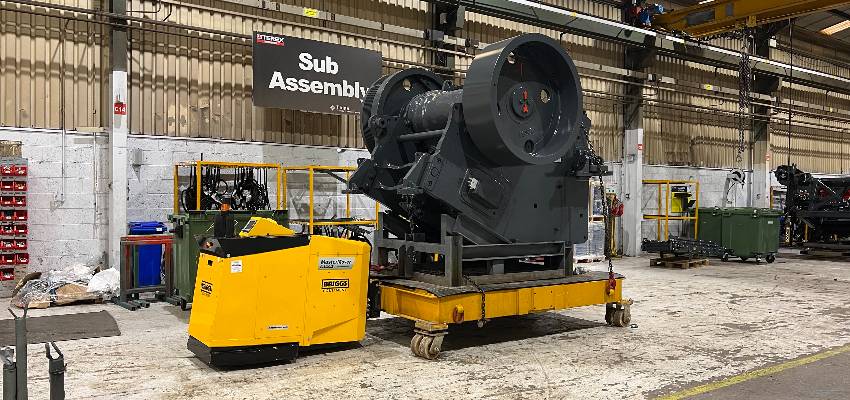 Featuring a remote-control operation, Terex saw the PS3000+ as an innovative alternative to high-capacity forklift trucks for the movement of chassis and chambers. The remote control element of the PS3000+ gives the operator unrivalled visibility when moving heavy loads, which makes it an ideal solution for heavy plant manufacturers who need to move large loads through tight or congested environments.
You can walk around the load at the same time, you can control it, walk around it, and you can assess any situation you're going into. If you're on the forklift, you can't. With the MasterMover, you can stand where the blind spots are – so you've got better visibility.

Michael Glackin

Production Team Leader, Terex
The Benefits of MasterMover Electric Tugs for Terex
The PS3000+ machines are used to move chambers and chassis out of a building and down a slope, then across a tight storage yard and back up another slope into a final assembly building. Since implementing the PowerSteered electric tugs across the Omagh site, Terex has seen a number of benefits:
Improved Safety
Since introducing the PS3000+ machines as part of the Safety Roadmap, the Materials Processing division at Terex has achieved its objective of reducing forklift traffic within internal processes, improving safety and reducing the risk of collisions.
Reduced Downtime
By reducing the reliance on forklift trucks to move heavy sub-assemblies, chambers and chassis, Terex has been able to reduce downtime and increase efficiency. Previously, waiting around for a licensed forklift driver contributed to downtime, now with the PS3000+ loads can be moved from building to building when needed.
Increased Flexibility
Implementing the PS3000+ enables Terex to benefit from a new level of flexibility in their operations. Loads can be moved as and when required – on demand, increasing efficiency and making processes more agile.
The Future of Forklift-Free Operations at Terex Omagh
Having implemented an initial PS3000+ machine at the Omagh site, the team at Terex soon saw the opportunity to expand the use of electric tugs, ordering two additional PS3000+ machines. Now, with three machines in operation in the Materials Processing division moving chassis, chambers and sub-assemblies, there are plans to further expand the use of MasterMover electric tugs on the site.