Labs and Kitchens Boost Safety With Stainless Steel Electric Tugs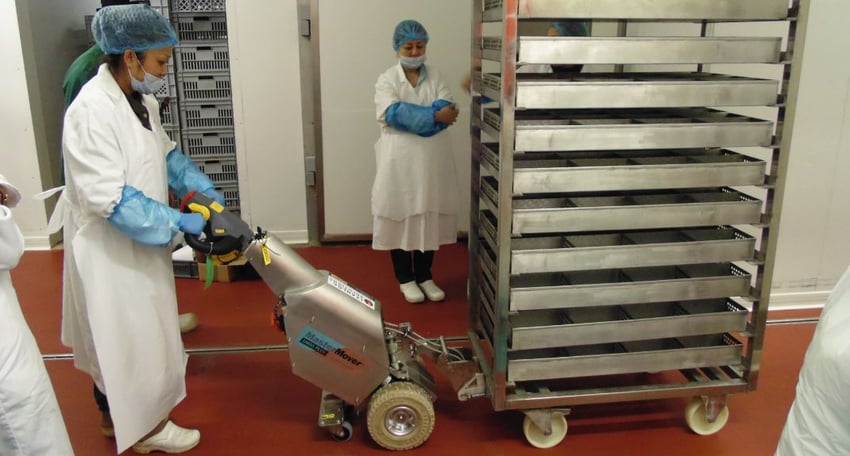 When manufacturers want to adopt working practices that are agile, efficient and yet still meet the highest of safety standards, MasterMover's stainless steel and ATEX compliant electric tugs are the obvious answer.
From moving large-scale chromatography columns and mixing vessels to trolleys and other wheeled equipment, the compact footprint of our small but powerful machines are ideal for confined working environments such as laboratories or kitchens where space is at a premium.
Our tugs make movement of even heavy and sensitive loads effortless, so that equipment can be transported in a controlled manner, safely.
MasterMover's range of stainless steel electric tugs
The smallest of the stainless steel range, SM100+SS is a small but powerful machine that is capable of moving loads of up to 1,200 kg – making it a good choice for moving trolleys and mixing vessels.
Our MH400+ stainless steel electric power tug moves loads where all application wheels are multi directional.
Meanwhile, our larger MasterTugs can move loads up to 12,000 kg and beyond. With standard or bespoke coupling systems, the stainless steel MasterTugs can be used with almost any mobile equipment.
Our range of stainless steel machines can also be converted to ATEX Zone 1 or Zone 2 so they can operate in potentially explosive environments while still meeting the high standards of clean room compliance.
There is also an option of up to IP55 Ingress Protection and food quality hydraulic oil (ISO standard 32).
Added features include non-marking castors that eliminate marks on the floor where dirt could become trapped. Food quality lubricating grease is used within the tugs.
Benefits of using electric tugs
Fixed, large-scale equipment does not always deliver the flexibility needed to react to changing demands.
Instead, the move towards mobile, wheeled and single-use equipment allows faster changeover times and ability to react to market needs.
Facilities of all sizes can change at a moment's notice, accommodate additional employees and be prepared for new opportunities. When there are movable furnishings and equipment, it is possible to create a productive working environment that is truly fit for the future.
Of course, one of the challenges of adopting this new mode of working is how to then transport equipment safely and efficiently – while still maximising the potential for faster changeover times.
The answer is a moving solution that perfectly complements mobile and modular design in laboratories and manufacturing facilities. MasterMover electric tugs allow wheeled loads to be moved easily and efficiently for even greater flexibility and speedy turnaround.