OMV Polska Add MasterMover Electric Tugs & Tows to Product Portfolio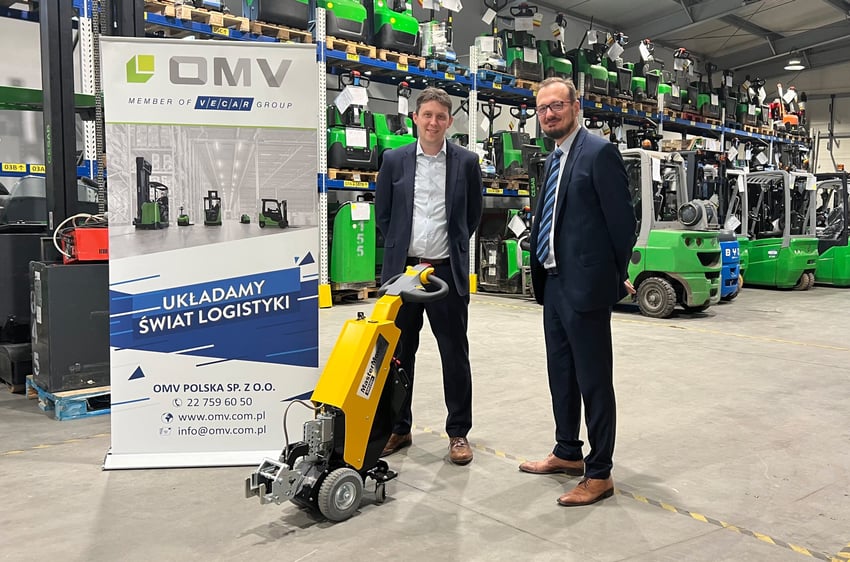 OMV Polska, a member of the VECAR Group, which supports companies in warehouse and production logistics, has become an authorised sales partner of UK-based MasterMover, the world's leading manufacturer of electric tug solutions. The partnership will see OMV Polska add the full range of MasterMover electric tugs and tows to its product range, giving manufacturers, logistics operators and retailers access to compact, powerful material handling equipment for moving wheeled loads.
In addition, OMV will provide full repair and maintenance services to its customers using MasterMover products, delivering both regular servicing and responding to any repair requirements.
MasterMover electric tugs are used around the world by industrial manufacturers to move equipment, products and materials. The company offers the widest range of solutions in the market, with machines available to move loads up to 30,000kg.
MasterMover's innovative MultiLink technology can also be used to move heavier loads, by synchronising the use of multiple electric tugs, operated by a single operator via remote control.
The company offers pedestrian operated, remote control and fully autonomous – AGV – solutions to customers across industrial manufacturing, retail and logistics, around the world.
"OMV Polska offers our customers a range of products and services, working closely with customers to drive efficient operators in their warehouse and production logistics," said Klaudiusz Ziemniecki, CEO, OMV Polska. "Adding the MasterMover range of electric tugs to our product portfolio allows us to offer our customers the ideal material handling solution for moving wheeled loads, and complements our existing portfolio of products extremely well."
Launched in 2005, OMV Polska is part of the Italian-based VECAR Group, helping customers arrange the world of warehouse and production logistics. The company is an authorised dealer of CESAB forklift trucks, from hand pallet trucks, through electric and engine trucks, to towing solutions and low-level order pickers. Besides that, the company supports customers in designing, installing and servicing warehouse racks.
The OMV Polska product portfolio is complemented by a range of other products and truck services offered to customers across Poland.
"Working with high-quality partners such as OMV Polska is a key part of our strategy. We're delighted to add the company to our growing network of partners around the world and look forward to collaborating across a range of opportunities. The OMV Polska team very much match our own culture, being open to flexibility and innovation, and proactively supporting customers and responding to their needs," said Group Marketing Director, Jonathan Dolby.
"Electric tugs and tows are the ideal solution for moving heavy loads on wheels, and in many applications, allow manufacturers to operate far more safely and far more efficiently than would be possible when other more traditional material equipment is used. We're confident OMV Polska customers, and others in the Polish market, will be excited about the range of safety, efficiency and flexibility benefits that come with using best-in-class electric tugs."
MasterMover electric tugs connect securely to the load being moved, with a variety of coupling options available. They are simple to operate and require no operator license, and with a range of safety features built in as standard, ensuring a safe working environment through the controlled movement of loads, protecting employees and eliminating manual handling – which often leads to accidents and injury.
"We see many applications where keeping the load on the ground offers manufacturers many safety and efficiency benefits, along with less disruption impacting to operational processes," commented Ziemniecki. "We're delighted to be able to offer such a high-quality solution. We have found the MasterMover team to be highly knowledgeable, responsive and great to work with, and we look forward to the relationship growing further over the coming years."
In particular, we have been impressed with the quality of the products available from MasterMover. I am sure our customers benefit greatly from electric tug solutions across many applications and industry sectors."
For more information on MasterMover electric tug and tow solutions, please visit the OMV Polska website at www.omv.com.pl.
About OMV Polska
OMV Polska Sp. z o. o. is one of the most dynamically developing companies in the warehouse and production logistics industry. Based on the many years of experience of the parent company, it has been consistently implementing the mission of providing flexible, unconventional solutions tailored to the specific needs of customers for nearly 20 years.
Successively enriching the offer, OMV Polska has won the trust of the largest production and logistics companies, every day offering the benefits of implementing proprietary OMV logistics systems. Showing the highest concern for the quality of services, the company has built lasting, long-term business relationships. The OMV Polska team, currently numbering about 100 people, is a well-coordinated team that contributes to the development of clients. All with care for good relations, respect and partnership.
About MasterMover
MasterMover is a world-leading manufacturer of electric tug and tow solutions, designed to improve safety and operational efficiency when moving heavy, large or unconventional loads. MasterMover focuses on innovation, research and development to provide the widest range of electric tug products on the market.
Specialist solutions include pedestrian-operated, remotely controlled and fully Automated Guided Vehicle (AGV) options. In addition, MultiLink technology allows a single remote operator to simultaneously control multiple electric tugs through synchronised movement.
MasterMover operates globally through direct relationships and a network of sales and service partners. The company works with an enviable range of world-leading names across industrial manufacturing, retail and logistics. With an expert in-house engineering team, MasterMover has a proven track record of delivering bespoke projects for diverse applications around the world.