Taking Control of Manual Handling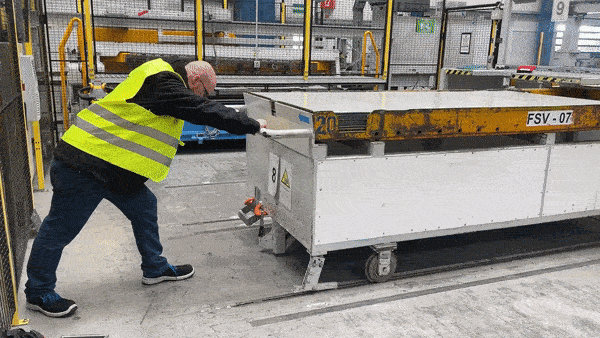 Workers in Facilities Management are often asked to move heavy wheeled loads - but pushing, pulling and dragging can pose serious short-term and long-term risks.
Protecting the well-being of staff while also boosting operational efficiency is a dilemma faced by facility managers. From hotels to apartment blocks and hospitals, the everyday demands of moving often difficult, awkward and heavy loads simply can't be avoided. As a result, the stresses and strains associated with manual handling are sometimes viewed as an inevitability rather than as a factor that can be eased or even removed altogether.
Moving a dumpster is one example of the type of daily activity that can, over time, cause serious issues. For instance, a 290-gallon commercial dumpster - a common sight in many workplaces - can hold up to around half a ton in weight. Even when the floor is flat and smooth this can be a challenge, but when there are slopes to navigate, the effects of constant pushing and pulling become magnified.
It's the same pattern in catering, hotel, and hospitality environments, where manual handling covers a wide variety of activities such as carrying, pushing and pulling. In hospital and healthcare settings too, staff are expected to move everything from dumpsters to carts and laundry cages.
Indeed, manual handling accounts for more than a third of all workplace injuries. This can include:
long-term injuries to arms, legs and joints
repetitive strain injuries to the back and neck
That's not to mention the short-term dangers of moving a heavy, wheeled dumpster, cart or cage. A load running out of control when being transported up and down slopes, around corners or in tight, congested areas is an obvious potential hazard. The law, meanwhile, is quite clear about the obligations expected of employers with regard to safe working practices and manual handling.
If it is not practicable - as would, in reality, be the case with many tasks undertaken by busy staff in facilities management - employers should conduct a manual handling risk assessment to identify how risks are caused so that each factor can be addressed and steps are taken to control any possible danger.
Preventative measures are always the best way to stop accidents happening in the first place. Staff training is of vital importance.
Using a MasterMover electric tugger to securely attach to a load can certainly help. Thanks to a combination of power and traction, the electric tugger is able to take the strain - so all a single operator has to do is effortlessly guide the load into position. It's an easy, controlled movement that allows for the safe transportation of the heaviest of loads even up and down slopes.
One property management provider using an electric tugger in this way is the Alexander Faulkner Partnership. The company approached MasterMover when looking for a way to safely move dumpsters up to street level from an underground car park in a large apartment building. Previously, this had been a physically demanding job undertaken by more than one employee. Today, an electric tugger allows a single member of staff to easily move the dumpsters without strain or effort.
Versatile and user-friendly, MasterMover electric tuggers are compatible with the full range of dumpsters on the market while other machines in the product range are ideal for moving carts, roll cages and laundry cages. Designed to reduce or even eliminate manual handling completely, the tugs also allow an operator to have complete visibility when moving.
There is no compromise between safety and achieving greater operational efficiency. By using an electric tugger, businesses can cut down on wasted time and other non-value-added activities – freeing up staff to concentrate on other tasks if needed.