How to Safely Move V-Mags in Food Manufacturing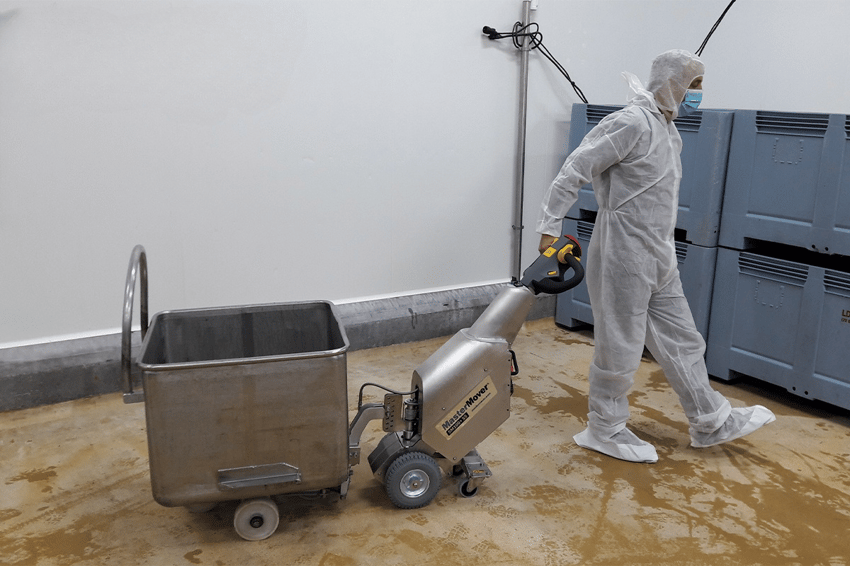 What are V-mags?
V-Mags, also known as dump buggies, tote bins, containers or euro tubs, are a type of wheeled food handling container, often used for the transportation, storage, and handling of bulk food products or waste materials.
What are V-mags made of?
Designed to meet the strict hygiene standards of the food industry, tote bins are typically manufactured in stainless steel, with 304-grade stainless steel often used.
While the majority of V-mags used in food manufacturing are made from stainless steel, food-grade plastic totes are also available.
What kinds of V-mags are available?
They come in a variety of sizes, with 200-liter models being the most common but sizes typically range from 120 to 400 liters. Most designs of tote bins are compact, averaging an overall width of around 27" to integrate with other food processing equipment such as lifters and hoppers.
How are V-mags used in the food industry?
V-mags are often used in the food industry as part of the HACCP (Hazard Analysis and Critical Control Points) system. The HACCP system is a food safety management system that helps to identify and control potential hazards in the food production process.
With a stainless steel design, most Eurobin totes are manufactured to be crevice-free, enabling easy cleaning and facilitating a durable design. This means they can be used to store and transport food products in a way that minimizes the risk of contamination and helps to maintain the safety and quality of the food products.
Challenges in moving V-mags and tote bins
Manually moving heavy stainless steel Eurobins in food factories can present serious safety risks for workers. Eurobins are designed to hold a large volume of raw bulk materials and stock and can often weigh up to 400kg and beyond.
The manual movement of tote bins weighing up to 400kg presents a safety issue in itself, with staff at risk of fatigue, exertion and straining when moving such heavy weights.
However, combine this with repetitive movements, a low-profile design and wet floor conditions, and the reasoning behind looking for more ergonomic solutions to moving tote bins is clear.
Over 30% of injuries reported within the food industry are a result of manual handling.

Health and Safety Executive (HSE)
The manual movement of heavy tote bins results in the increased risk of:
Aches and sprains from straining to move heavy loads

Slips and trips from pushing and pulling totes on wet floors

Back and shoulder injuries from bending and posture needed to move a tote bin

Musculoskeletal disorders from repetitive movements
The Design of a Tote Bin
Tote bins are fairly recognizable within the food manufacturing industry, featuring a solid stainless steel construction and a 'diamond' shape castor configuration - where castors are mounted in a diamond shape. This castor configuration is designed for easy maneuverability, with wheels allowing a tote bin to pivot on the spot.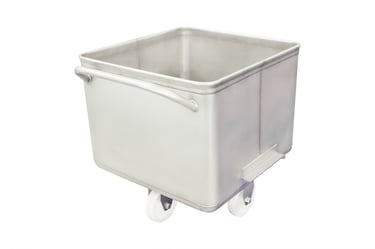 They're designed to be compact, with many manufacturers having high quantities of totes and V-mags on site to facilitate and store different products. However, their low-profile design causes ergonomic challenges, with production staff having to bend and stoop to move them.
Many HSE Managers have searched the market looking for a material handling solution to move tote bins, only to find suppliers scratching their heads for a solution that actually keeps the load safely on the ground.
The flush design of V-mags makes it difficult to develop a connection point with many types of handling aids. This can lead many equipment suppliers to propose lifting solutions - compromising the safety of the movement and raising the loads' center of gravity.
A Safer Way to Move Stainless Steel V-mags
Improve Safety in Tote Bin Movements
Recognizing the need for a solution that delivered the safety benefits sought after by Safety Managers in food manufacturing, our design team set to work on a solution specifically designed to move V-mags.
Utilizing our compact, powerful SM100+, designed to deliver the safe movement of wheeled loads weighing up to 2,600 lbs., we created a custom coupling specifically designed to connect to stainless steel tote bins.
The unique coupling design securely encases one of the castor wheels on the tote bin. Featuring optimized hydraulics, the coupling securely clamps onto the tote bin wheel without causing damage to the castor. The result is a scalable, flexible solution that can be used to move high volumes of stainless steel tote bins without the need for modifications to your equipment.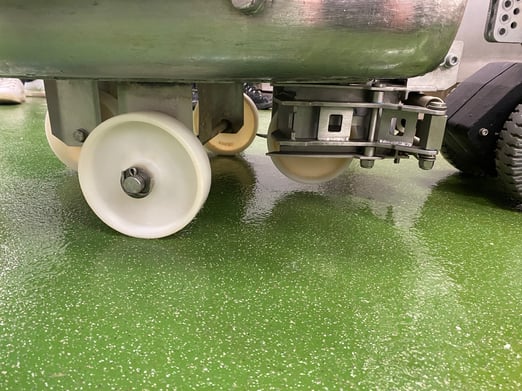 How to Move V-mags and Tote Bins Safely
Combining our compact SmartMover range with our custom tote bin coupling enables food manufacturers to benefit from:
Safe movement of heavy-weight tote bins

Easy maneuverability

Effortless transportation of V-mags throughout facilities

Secure connection to a tote bin, enabling total control

Maximize hygiene with a

stainless steel

design