All Eyes On The SmartMover At Manchester Piccadilly Station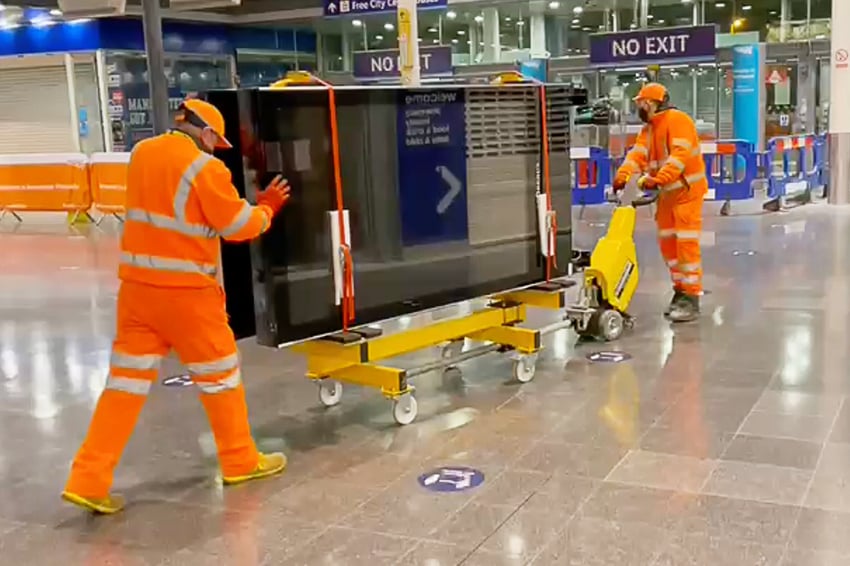 From shopping centres to airports and stations, large-scale advertising displays are part of the scenery. Eye-catching digital screens, giant banners and billboards are all designed to capture the attention of passing shoppers and travellers – but moving often heavy and awkward signage can be a challenge.
Friel Enterprises, a Bristol based advertising services provider, knows this only too well. Specialists in out of home advertising services, the digital displays and billboards they install can be found in city centres and transport hubs up and down the country.
The Application
To assist in moving loads, the Friel team have designed the LST (Lift, Shift & Turn) rig and an associated transportation trolley. This heavy-duty rig and trolley have been built to safely lift, transfer, transport and install large digital advertising screens without the need for manual handling.
But the team hasn't stopped there. To make the process even easier, the LST and trolley have been paired with two SmartMovers. When a MasterMover electric tug takes the strain and weight of the rig and trolley, there's no need for operatives to push, pull and manhandle the screens into position.
It's a solution that has been successfully deployed at Manchester Piccadilly Station for a project carried out on behalf of leading out of home media owner J C Decaux. The project comprising of eight digital advertising screens each standing at 2.7 metres high needed be safely transported across the station concourse and installed at various key locations.
Jim Friel, Managing Director of Friel Enterprises, said: "We split the unit down and then assembled a huge screen made up of eight panels, moving two panels at a time across the station and into position. The combined weight of the LST and panels probably came to around 800 kg. This would be difficult to move manually and that's why we were looking for a solution that could work alongside the trolley."
The Solution
The SmartMover range of electric tugs is the perfect solution for moving heavy wheeled loads weighing up to 1,200 kg in tight and crowded spaces, especially in areas with high pedestrian traffic. With its versatile design, the SmartMover can easily attach to and transport a wide range of different loads, making it an indispensable tool for businesses like Friel Enterprises.
The flexibility of the SmartMover is one of its key features. With a variety of couplings available, it can seamlessly connect with different types of loads, ensuring a secure and efficient transportation process.
In addition to its versatility, the SmartMover is also designed with operator safety in mind. Its compact size allows for easy manoeuvrability in confined spaces, while its powerful motor and traction ensure superior performance even on inclines and uneven surfaces. This combination of power and control gives operators complete peace of mind while moving heavy loads.
The SmartMovers work really well for what we need, particularly when moving up and down inclines.

Jim Friel, Managing Director

Friel Enterprises
Overall, the SmartMover range is a game-changer for businesses that require efficient and safe transportation of heavy loads in congested areas. With its flexibility, power, and operator-friendly design, it's no wonder why Friel Enterprises chose to incorporate the SmartMover into their advertising services.