Rethinking Traditional Material Handling with Hugh Freer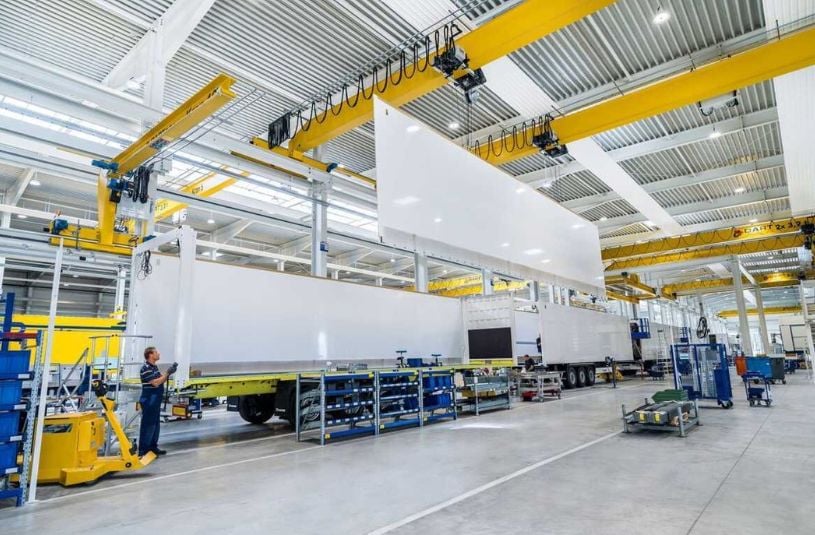 The world record for the heaviest object pulled over 100 feet belongs to a US reverend who pulled a 68-tonne lorry. This is an impressive achievement, but one that manufacturing plant engineers must regularly equal using specialist equipment — with various degrees of success.
Here, Hugh Freer, a European Director at electric tug specialist MasterMover, looks at why these traditional methods are ineffective.
Heavy Weight Movement in Manufacturing
In 2016, Reverend Kevin Fast, otherwise known as the Powerlifting Pastor, achieved the world record for the heaviest object pulled over 100 feet by pulling a 68-tonne lorry over the course. While a load of that weight would be unusual in many factories, manufacturers everywhere face a daily challenge moving heavy tools and parts through their production halls.
Unfortunately, few people in the average manufacturing facility share Reverend Fast's strength, so they keep large parts in one place or rely on methods such as cranes or forklifts to move large loads around the facility.
Challenges of Traditional Material Handling Equipment
In many industries, the movement of work in progress, sub-assemblies and tooling provide a challenge. The default answer for many companies is to use overhead cranes to move large parts through the factory. Not only are these expensive to install, but the process of lifting heavy loads using overhead cranes can be a cause of downtime.
For example, production blockages can occur at one end of the plant while the overhead crane is tied up at the other end undertaking complex lifting operations.
Motorised electric tugs like MasterMover's MasterTug allow for more flexibility when handling objects than an overhead crane, while still moving objects up to 30,000kg.
While an overhead crane can move parts from side to side on the lift bar and up and down on the girders on the factory roof, the part cannot be moved in all directions or to an adjoining building. However, electric tugs, handled by a single pedestrian operator, can move in all directions and can be used to move objects in between production facilities.
In one such case, a company was using a lorry to move large metal plates from one assembly building to the next. Although the buildings were adjacent, the layout of the factory meant that work in progress was loaded onto a lorry and then driven on a mile long circuit of the plant before being unloaded in the production hall next door.
By using an electric tug, the company virtually eliminated this lost time. A single pedestrian operator could move the load between the two buildings in minutes, using the tug to move a transfer trolley.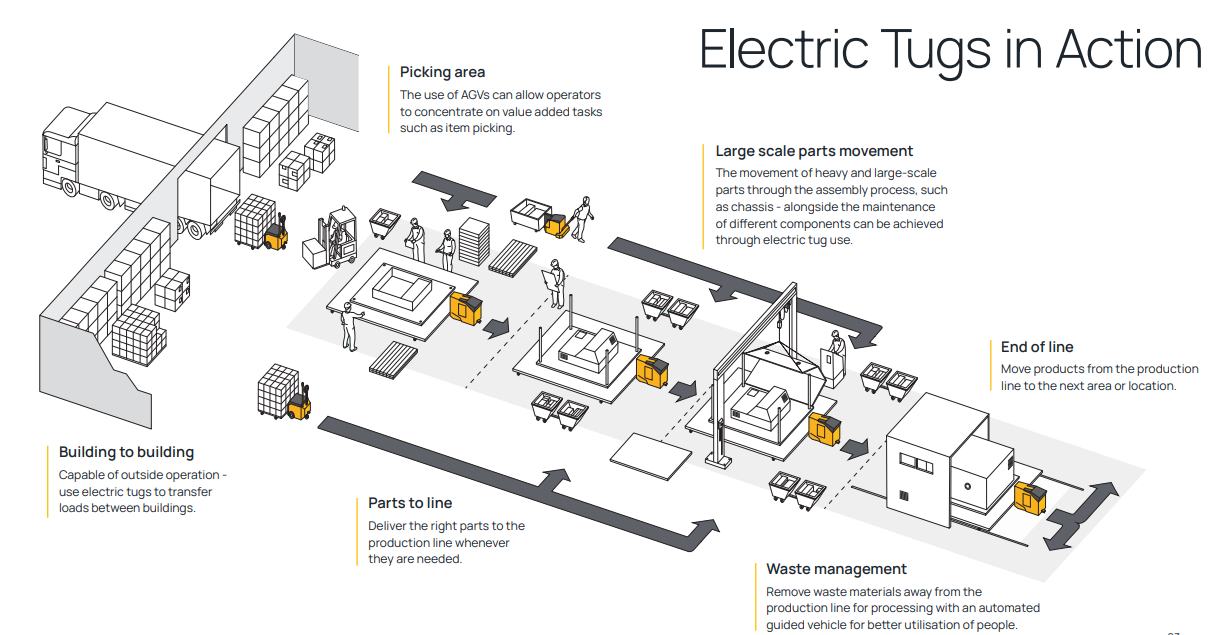 A Flexible, Leaner Alternative - Electric Tugs
Large parts are often objects in the later stages of the assembly process, meaning they are often high value. It is therefore important that plant staff have complete control over the object when it is being moved, but dangling the object from a height over the production line presents obvious risks.
By using an electric tug, which easily connects to the object, the operator can move the part across the plant with complete control. This is without the risk of the object falling from a height, swinging or hitting any other objects while dangling.
By reducing downtime, increasing flexibility and making large objects faster and easier to move across the plant, it is clear to see than an electric tug is a good alternative to the traditional use of cranes.
Unlike Reverend Fast, most plant staff are unable to push large, heavy parts across the plant. It's therefore vital that plant managers choose a method of moving large items that is safe, efficient and effective.