A Safer Way To Move Injection Moulds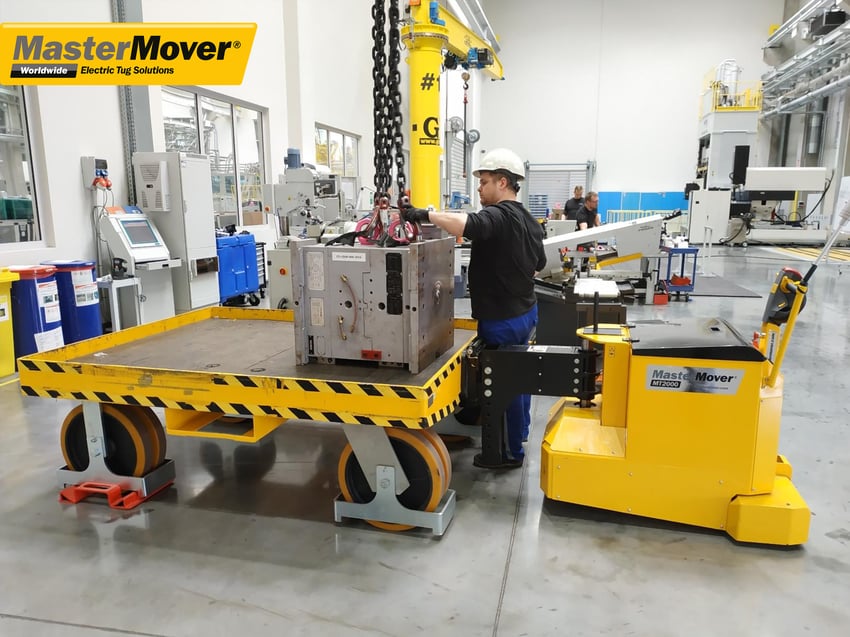 Moving heavy injection molds is a common scenario faced by automotive suppliers around the world. Manufacturing sites typically use a system of overhead cranes to transport the molds but this can be time-consuming and inefficient.
Instead, more and more automotive component manufacturers are thinking about an alternative load-moving solution – one that offers greater control, improves safety and keeps loads on the ground.
That's where an electric tugger from MasterMover can make all the difference.
At a busy Tier 1 automotive supplier in France, a MasterMover is being used to safely transport injection molds weighing up to 16 tons.
While a crane is used to load and unload a mold at the start and end of its journey, a MT1500+ and cart is now used to move it where it needs to go across the production floor. With precision control and automatic braking, the load can be safely maneuvered into place.
This allows space to be used much more flexibly around the site.
Eric Houdot, of MasterMover France, said: "By using a tugger and cart to complete the movement rather than a system of fixed overhead cranes across the whole of the production site, the space can be adapted and the layout can be easily changed to meet future demands.
"We can work with a customer's existing carts or supply a complete turnkey cart and tugger solution if required."
MasterMover helps to keep the supply chain running smoothly for some of the world's leading automotive suppliers. From plastics to glass and tooling to molds, our compact and powerful range of electric tuggers provides the capability to move a wide range of parts and components.