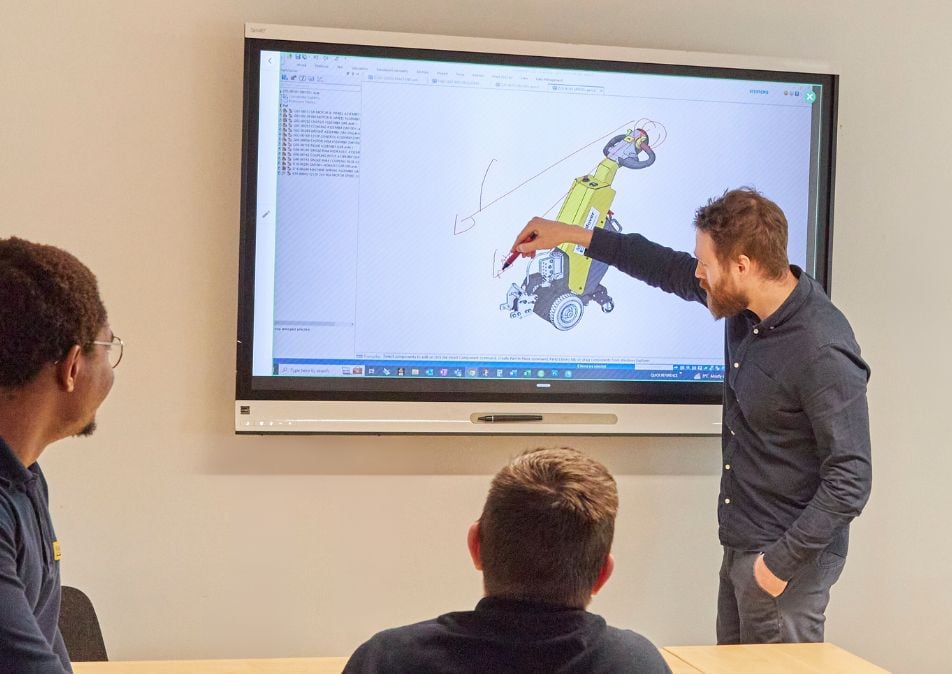 Custom solutions for turnkey systems or small modifications
Whether it's a custom coupling to connect to your load, modifying our electric tuggers to work in a challenging environment, or designing an entirely new solution for your application, our Customer Engineering team can help.
We have a long track record of delivering custom solutions, and in fact, much of our product portfolio started as custom projects!
Innovation & engineering is what we do
As pioneers of innovative material handling equipment, we're no strangers to unique applications and requirements.
If you need a custom solution, you're in safe hands with MasterMover.
In-house Customer Engineering team

From consultancy right through to manufacture, our in-house Custom Engineering team works with you to understand your requirements and create a solution that delivers every time.

Here to help

Material handling equipment and moving heavy loads is what we do. Our team conceptualizes and proposes ideas around your application, enabling you to weigh your options and benefit from industry-leading advice.

Robust processes

Unique requirements and custom solutions need to be thought through. With a robust 4-step process in place, we work with you every step of the way, ensuring your needs are understood and met.
Our custom engineering process
Your Questions, Answered
What level of customization is available?

Our Custom Engineering offering covers a wide range, whether you require a custom coupling to connect to a number of carts, a custom IP-rated machine to withstand a particularly wet environment or the creation and design of an entirely custom machine – we're here to help.

What is the process of specifying an electric tugger or a custom requirement?

We follow a tried-and-tested approach to specifying an electric tugger for your application where we collect information on the maximum load weight, environment and route you need your electric tugger to work on.

From there, our engineers will calculate the most suitable electric tugger solution for your needs and identify if any custom modifications are required.

Why do you need so much information about my application?

We gather a lot of information about your application, but why? Specifying an electric tugger that is fit for purpose and will deliver tangible safety and efficiency benefits right out of the box is critical to us – especially when that solution is non-standard.

An array of factors influence the specification, performance and price of an electric tugger and we need to understand them to ensure any solution is right for your application.

Collecting this information and conducting a full assessment ensures any custom design is fit-for-purpose and maximizes performance.
We're here to help
Interested in finding out more about our products and services, or need support? Fill in the form below to submit an enquiry.