Roll Container Mover Makes Unloading Deliveries A One Man Operation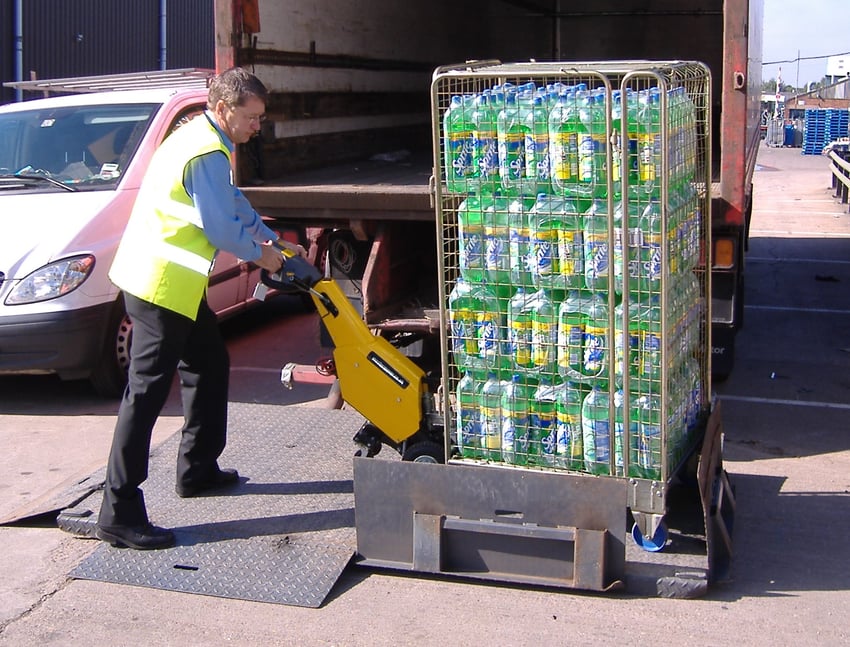 Pedestrian electric tugs from MasterMover are supporting the rise in convenience stores and express supermarket outlets by enabling the swift, safe and simple movement of roll cages by a single operator.
With extended opening hours and a rapid turnover of stock, convenience stores rely on fast and effective delivery of goods, which is achieved through the use of roll cages. New stock is selected from the picking list at the distribution center directly onto a roll cage and then transported via lorry to the store.
Upon arrival, it can be a complex, time-consuming and potentially unsafe process to bring heavily loaded roll cages from the tail lift into the store, requiring two people to transport because of the roll cage's tendency to topple. This is where MasterMover is making a difference. The SmartMover range – a specialist electric tugger solution for moving roll cages – enables a single-store employee to convey roll cages directly from the tail lift to the store safely and efficiently.
As Andy Owen, Managing Director of MasterMover, explains, this has significant benefits not only in terms of logistics but in customer satisfaction. "Deliveries can take place at any time of day or night; if there is a sudden surge in customers in-store while two employees are taking a roll cage delivery, this impacts negatively on service levels.
"Using a Smart Mover frees up one of those employees to work on the tills because a single operative can now safely look after the roll cage," he adds "As the weight of the load is supported by the SmartMover, there is a reduced risk of employee injury or fatigue and stability is also greatly enhanced."
Another key benefit of the SmartMover is its ability to move multiple roll cages. "Where store employees can only move a single loaded roll cage manually, the SmartMover can tow several in a single journey, thus speeding up unloading from tail lifts and further optimizing fulfillment," Andy Owen confirms.
The compact size and pedestrian operation of the SmartMover make it uniquely placed for work in-store. No other mechanical handling device would be able to accommodate a convenience store's narrow aisles, but the SmartMover can reach all areas of the shop floor safely and effectively when employees are stacking shelves.
The SmartMover is also ideal for the latest generation of retail roll cages, enabling store operatives to remove an unnecessary layer of unloading and reloading by transporting goods straight from the distribution center to shelves in a single journey. This encourages Just In Time (JIT) delivery for a streamlined, lean logistics process.