Electric Tuggers Bring Lean Manufacturing Construction And Mining OEMs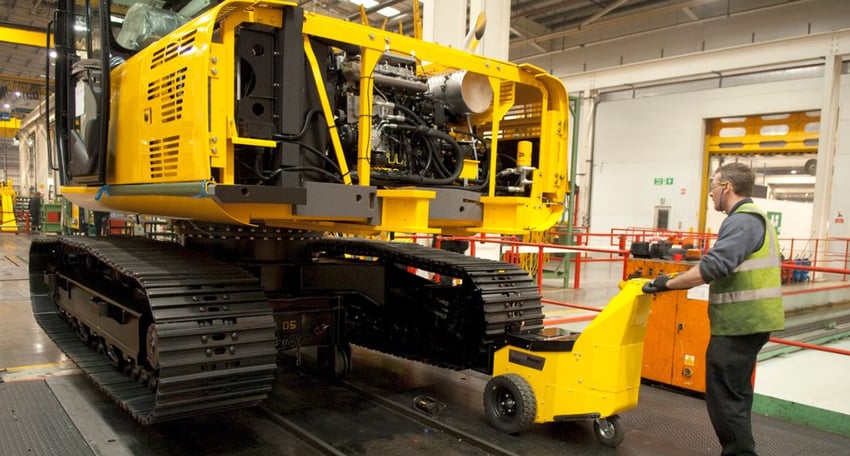 Manufacturers of large construction and mining equipment are benefiting from lean manufacturing practices thanks to the use of pedestrian electric tugs from MasterMover.
MasterMover specializes in moving heavy loads in a simple and cost-effective manner thanks to the unique design of its electric tuggers, which use the principle of weight transfer to allow an operator to push, pull and steer even the heaviest of loads.
Benefits of Electric Tuggers for Heavy Plant Assembly
This presents a real benefit to the construction and mining sector, where large-scale equipment such as loaders and excavators must undergo a complex manufacturing process. Due to their low production volumes, an assembly line is not a practical or cost-effective option, meaning that some other method of moving components within the factory must be used.
See Electric Tuggers in Action...
MasterMover industrial tuggers offer a robust solution in order to give construction and mining customers a fluid assembly process based on lean manufacturing principles. Crucially, the compact size and pedestrian operation enables companies to lay out their factories to suit production requirements, rather than be forced to reserve space for a road network of forklifts.
Typically, construction equipment manufacturers set up dedicated areas where key sections of the machine – such as the chassis, the engine and the cab – are built. Each of these completed sections can weigh up to 27 tons, which must then be transferred to the production line for final assembly.

Andy Owen, Partner & Director

MasterMover
How to Create Flexible Production Processes
MasterMover recommends a system whereby components are assembled directly onto carts. These can then be quickly and safely towed using MasterTugs, initially within that section's production area, and subsequently to the production line.
Effectively, this means that the customer benefits from a bespoke assembly line process built around the optimum order of manufacturing. This helps to increase flexibility and enables manufacturers to increase their agility, allowing them to respond to changing market conditions and demand.
As a core waste within lean manufacturing, the transportation and movement of loads is a non-value adding task. With this in mind, many heavy plant manufacturers are looking for ways to slimline their material handling processes to drive efficiency and enable staff to focus on more productive tasks.