Pedestrian Tugs Assist Movement Of Components At Luxury Car Paint Shop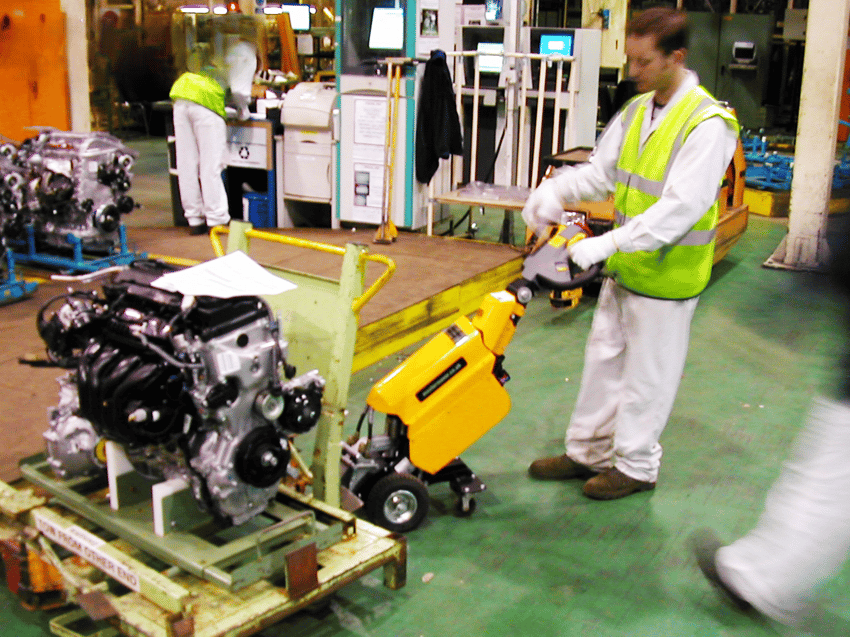 MasterMover, global leader in the design and manufacture of pedestrian electric tugs, has supplied its SmartMover solution to a leading manufacturer of luxury cars for use within the company's paint shop division.
The Application
The manufacturer was introduced to the SmartMover by a third-party logistics company, which brings pre-assembled car components – including sizeable metal sections of car body that weigh up to 1 tonne – from Germany into its UK factory, where they are put into storage until required for production.
That company was using the SmartMover for this purpose. The paint shop, having identified a similar need to safely and securely manoeuvre component parts across the shop floor, recognised the robustness and flexibility of the technology and asked MasterMover for a demonstration. This proved successful, and the manufacturer purchased two SmartMovers.
Small, Lean Handling Machines - SmartMover Tugs
"We're finding that car manufacturers across the country are becoming increasingly keen to incorporate the efficient and effective technology a SmartMover can deliver within an assembly facility, where heavy loads need to be moved in a controlled manner, and within lean conditions," explains Andy Owen, Managing Director of MasterMover.
MasterMover already has an extensive customer base within the automotive industry both in the UK and overseas.
Packed Full of Safety Features
Andy says that the demand for SmartMovers within the automotive industry has been generated as a result of the machine's compact, twin motored unit, which weighs just 90kg and contributes towards creating an extremely effective solution that can be easily manoeuvred around tight spaces and across uneven floor surfaces.
Furthermore, SmartMover's thumb-operated speed controls, electro-magnetic parking brake and reverse torque system improve safety levels for operators, and allow for enhanced control within sloped areas.
Andy continues: "The SmartMover performs at 2 speeds, has an auto-stop feature should the machine detect a lack of operator, and has been designed to be easily serviced and maintained; elements which further add to the equipment's exceptional purpose and suitability to the factory environment."