Leading Train Manufacturer Achieves Greater Safety With Bespoke Remote-Controlled Pusher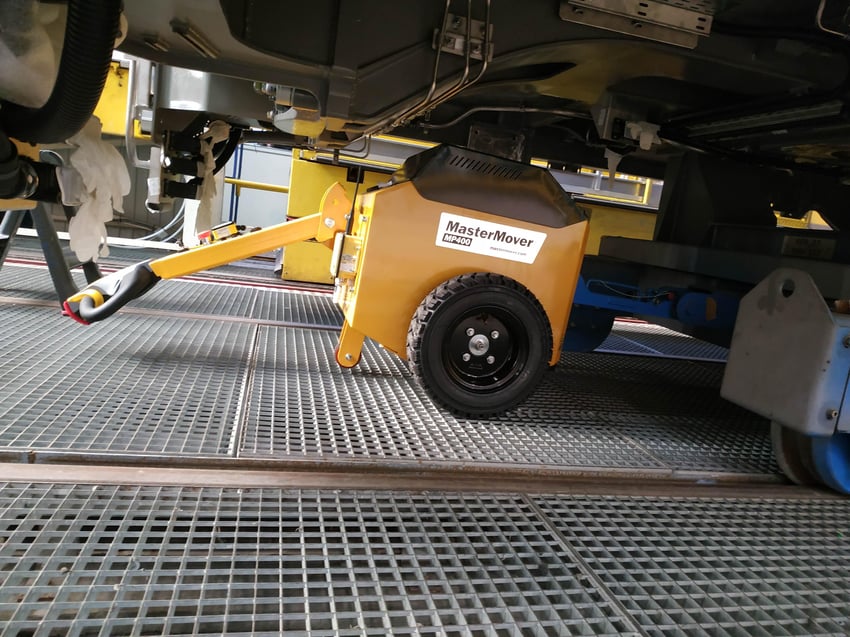 For train manufacturers working with heavy loads, there is an obvious risk when it comes to staff safety. Not only is there a danger of accidents - especially when moving bogies along a production line with rail carriages suspended above – but employee fatigue and an associated slow-down of efficiency means that production does not run as smoothly and cost-effectively as possible.
So, when a world-leading manufacturer in France won a prestigious contract to produce trains for a new line, it was vital that the right materials handling solution was found – one that was flexible enough to meet growing demand, offered moving capabilities of up to 60 tonnes and protected the safety of employees.
A MasterMover MP400 pusher which could move bogies along rails and into position beneath the carriages was the obvious answer – but that wasn't the only challenge. Our customer also wanted remote control operation along the different stages of a 150-metre production line, to create a seamless chain between pushers, ultimately allowing a total of seven machines to move the bogies with no interruption.
Typically, an MP400 pusher's mast remains upright but because the mast needed to lie flat to manoeuvre the bogies into place, MasterMover's team of designers and engineers were called on to adapt the machine to accommodate the customer's exact requirements.
Raphael Spalvieri, of our French division MasterMover SARL, said: "This was a bespoke solution with bespoke remote-control operation. Users now use the remote controls by switching from one to another, so there is no interruption as the MasterMover keeps moving along the production line. It's been received well, as the customer appreciates that safety has been improved and the whole process is more efficient."

MasterMover's electric tugs and material handling solutions are used by manufacturers across France, Europe and the wider world to deliver safety and efficiency gains in sectors including the aerospace, rail and energy sectors.