How to Complement Single Use Pharmaceutical Processes with Electric Tug Efficiencies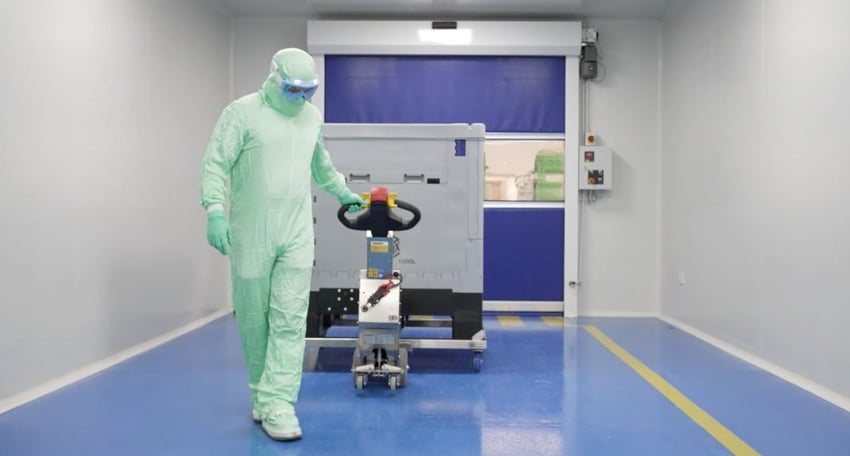 As single-use systems become adopted across the pharmaceutical industry, there is a shift from fixed equipment facilities to modern, agile, and modular-based processes that enable fast changeovers and improved responsiveness to changing needs and demands.
Single-use equipment is key to the future of pharmaceutical manufacturing and, with more industries adopting this change, it's important to look at the ways load-moving equipment can complement these improved systems and processes.
What Are Single-Use Pharmaceutical Processes?
Traditional multi-use equipment is cleaned and sterilised between batches. These reusable consumables can pose risks around contamination across batches and when being moved in and out of clean rooms.
Single-use pharmaceutical manufacturing systems and components are designed to be used once and then discarded. These systems help to ensure a more efficient and effective process while also reducing the risk of contamination.
Some examples of single-use technologies include tubing, capsule filters, chromatography devices, mixers, bioreactors, product-holding sterile bags in place of stainless-steel vessels (sterile fluid containment bags), connection devices and sampling receptacles.
While single-use technologies come with some disadvantages, such as increased costs and waste, the benefits outweigh the drawbacks and make single-use attractive as part of pharmaceutical manufacturing processes.
Pros and Cons to Single-Use in Pharma
Single-use technology offers many benefits over traditional methods, including:
Reduced risk of cross contamination
Shorter lead times
Easier to swap out
Lower capital costs
Greater flexibility
However, single-use systems also come with some challenges, including:
The need for more frequent changeovers
Managing waste
Sustainability within the operation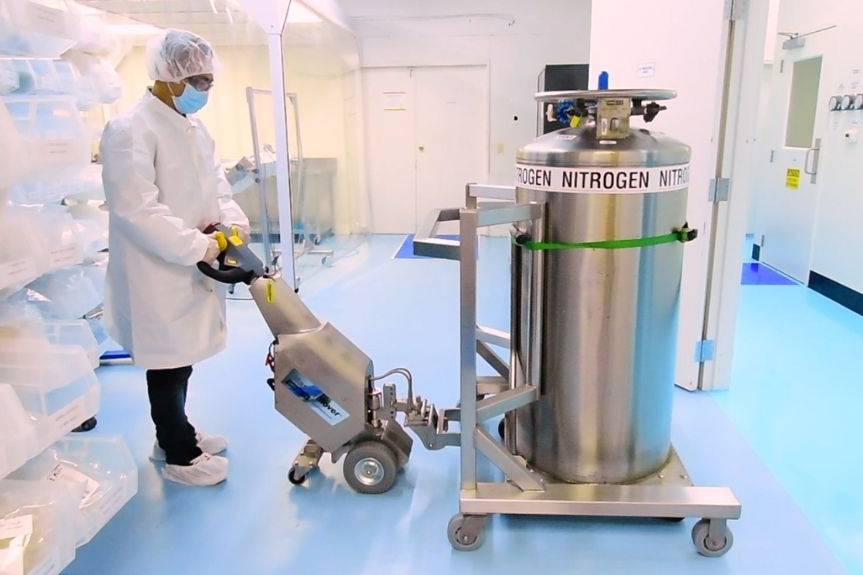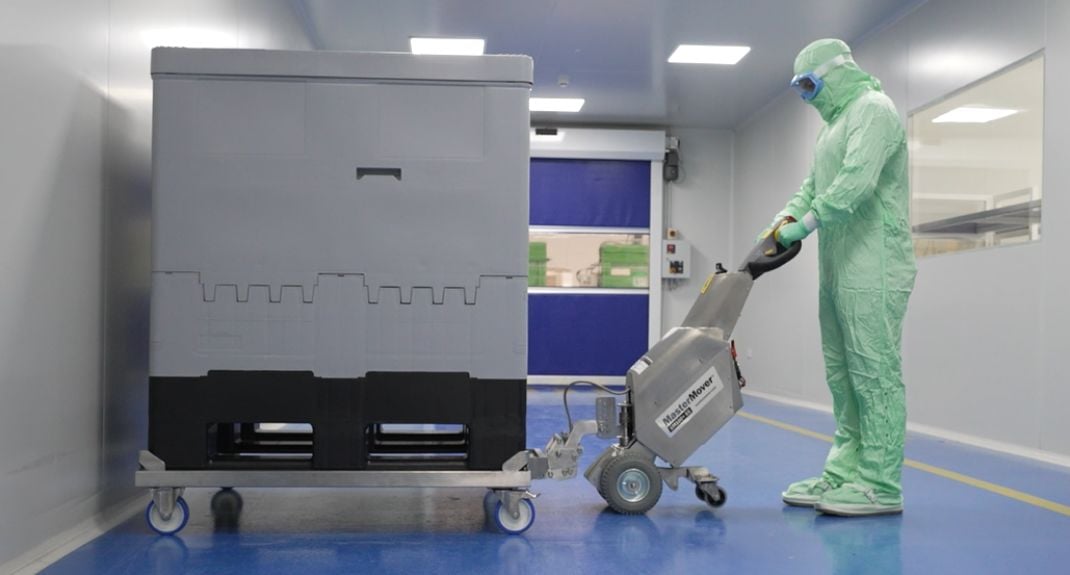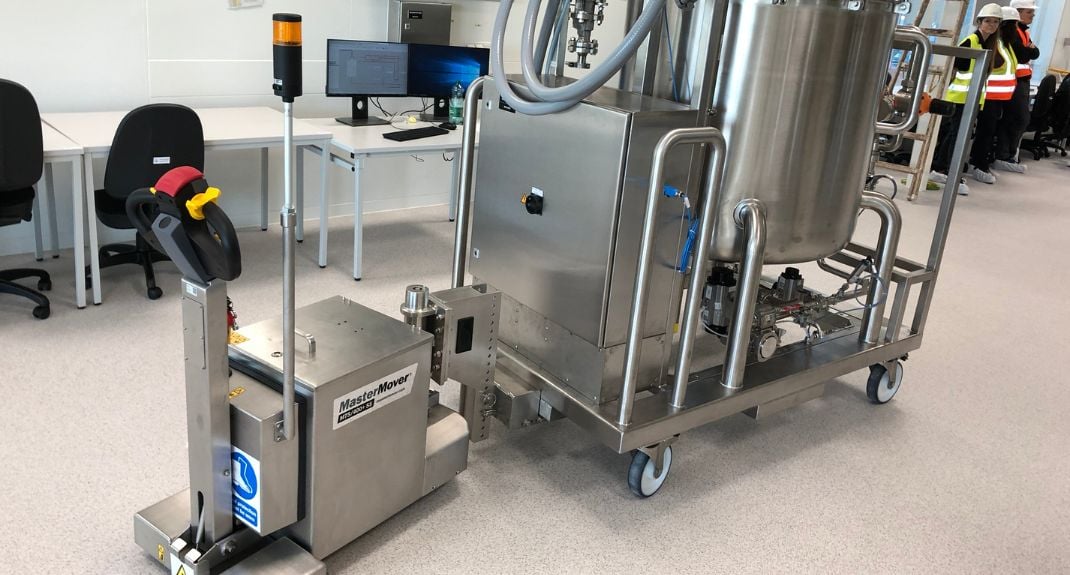 Systems to Compliment the Rising Single Use Processes
More pharmaceutical companies are choosing the flexible nature of modular systems compared to fixed equipment to complement their single-use processes.
Single use does require more changeover, and this places greater demands on the efficiency of the process. Additionally, the highly valuable and delicate nature of pharmaceutical equipment, raw materials and end-use products requires a gentle hand to prevent the risk of contamination or damage to these high-value assets.
Making the Move to Modular
Pharmaceutical companies who recognise the benefits of a flexible and modular approach may often struggle to put it into practice and overcome the key manual handling challenges in pharma environments.
Identifying ergonomic solutions for moving pharmaceutical equipment is the first hurdle to overcome.
Why Adding Wheels is the Solution
Wheeled equipment allows loads to be moved easily and efficiently, offering greater flexibility, improved safety, and faster changeover times.
Single-use increases the speed of production and, when combined with complementary load-moving solutions that feature wheels, the cost and efficiency benefits can be high. Adding wheels to a load offers additional benefits including ease of movement, faster changeovers, and increased flexibility.
But having just wheels isn't enough. Traditional pharmaceutical equipment that is mounted on castors and pulled or pushed by staff can pose a risk to safety and increase manual handling injuries and strains.
Additionally, time spend manually handling such equipment can take people away of higher-value tasks and responsibilities.
Removing the Need for Traditional Manual Handling
Injuries from lifting, pushing, pulling, and putting down an object in pharmaceuticals contribute to the majority of Musculoskeletal Disorders (MSDs). To manage this risk, everything from the shape and weight of the load, the strength of the person moving the load, to the frequency of the task and the environment, needs to be considered to reduce injuries to lab staff and equipment.
As an example, a typical 300L reactor will weigh over 800kg and a 1,000L mixer will weigh more than 1,300kg. Working with these weights in a time-sensitive operation makes it unsuitable and unsafe for traditional manual handling.
Reduction of risk cannot be achieved through training alone but can be complemented with the use of additional manual handling aids to handle the load.
This is where the use of electric tugs comes in.
The Electric Tug Solution
The electric tug, available in stainless steel specifically for clean room environments, can be an ideal accompaniment to wheeled loads. Companies who look to combine both modular facilities and electric tug manual handling processes can move with precision and confidence, reduce manual handling injuries, and reduce the risk of damage to their sensitive and high-value loads.
Electric tugs have the ability to stabilise the load, preventing sudden movement and making loads easier to connect to, move and control. Additionally, they operate well in tight spaces, which is often an issue in pharmaceutical manufacturing.
Electric tugs remove the requirement for manual handling by lab staff. This means they can move loads without the strain and risk of potentially getting injured.
Even the strongest of lab staff would struggle to move equipment with confidence and precision, potentially resulting in injury and damage. By putting the control in the hands of one person and removing the need for multiple members of staff moving materials at once, the use of electric tugs provide better utilisation of people.
By utilising people better, time efficiencies can be realised and aligned to single-use processes for greater cost savings.
By eliminating the manual push and pull from moving things like chromatography columns, single-use mixers, CIP skids, totes and bioprocess containers, electric tugs deliver a level of control and precision manoeuvring capability that simply can't be achieved when moving heavy loads by hand.
Electric tugs have zero emissions and can be specifically constructed from stainless steel, making them ideal for the cleanroom environments found in the pharmaceutical industry. With many benefits of electric tug use in pharma manufacturing, electric tow tugs that are purpose-built for cleanroom use offer the perfect solution to ensure speed and flexibility of production while ensuring safety for staff.
MasterMover is a world-leading manufacturer of next generation pedestrian operated electric tugs, as well as provider of a full range of other machines with remote control and AGV capabilities. If you're looking to compliment your single-use processes in health or pharmacy, contact us today to find a solution that's right for you.