MasterTug Is Used By Premium Car Manufacturers To Move Composites Tooling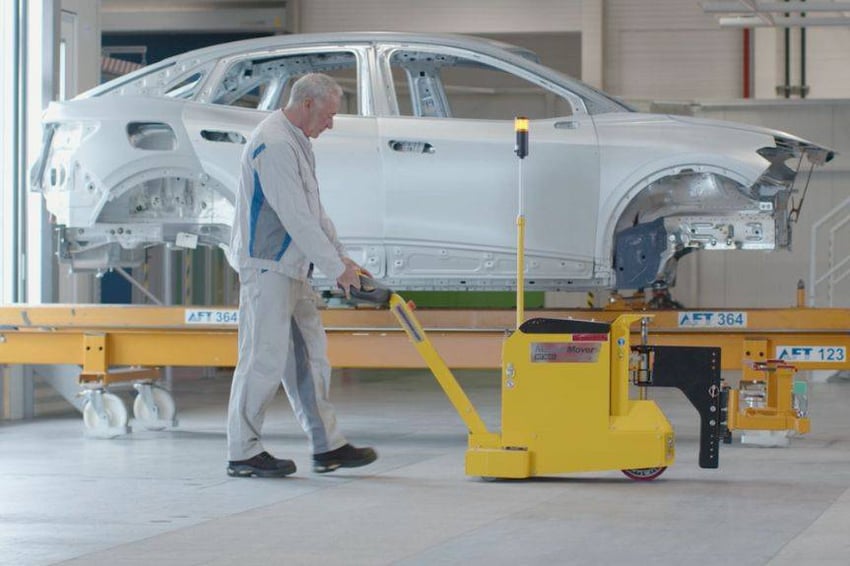 Premium sports car manufacturers are benefiting from the use of MasterMover electric tugs to move heavy composites tooling and large components such as the chassis.
Carbon fibre composites are valued for their ideal combination of durability and light weight – yet, from an operational viewpoint, manufacturing the parts is an intricate and time-consuming process.
The tool for a chassis can weigh tonnes and be many metres long, making it cumbersome to transport between the cleanroom – where resin and carbon fibre cloth 'pre-preg' are applied to the tool – and the autoclave for curing.
Given the commitment of high-end automotive manufacturing to quality rather than quantity, installing a production line would be costly and inflexible. Instead, however, many sports car manufacturers have resorted to manually steering the tooling into the autoclave – a process that is inefficient, a potential health & safety risk and something that can actually damage the tooling.
"We've seen occasions where factory employees use a forklift to push composite tools into place," explains Hugh Freer, Sales Director at MasterMover. "The slightest damage will affect both the aesthetics and the performance of the finished product. For a premium sports car, this is obviously unacceptable, forcing the manufacturer to invest in expensive repairs or replacement of the tool."
The use of pedestrian electric tugs from the MasterMover MasterTug range has solved this problem for a number of top-end automotive manufacturers. Operating on the principle of weight transfer, the electric tug generates tractive force from the weight of the load itself, ensuring that moving the composites tool is easy and efficient.
By deploying a MasterTug, a single operator is able to push or pull the load in any direction, thus transferring the chassis tool from cleanroom to autoclave with maximum manoeuvrability. MasterMover automotive customers who have adopted this system have confirmed that it is faster and significantly reduces the risk of damage.
MasterMover has supplied MasterTugs to some of the world's leading sports car brands, helping them to improve the speed, efficiency and safety of their composites manufacturing process.