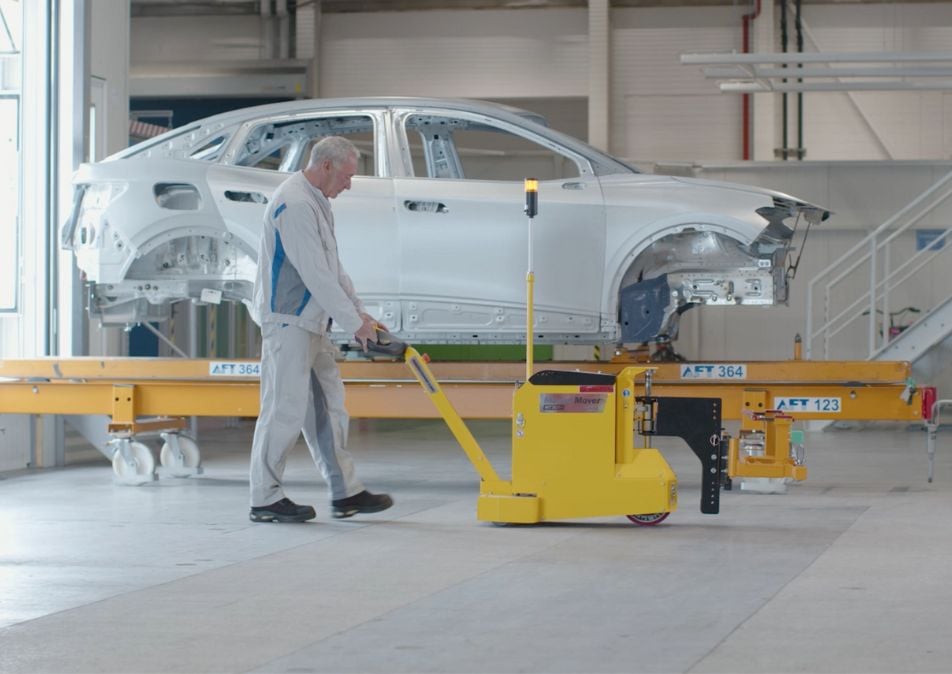 Meeting the needs
At MasterMover, innovation is central to our ethos. We were recently challenged by a customer to demonstrate that one of our AGV (Autonomous Guided Vehicle) machines could meet their requirements…
A manufacturer of cars and commercial vehicles, the customers' manufacturing process takes place across multiple buildings, with parts being brought to the production line as required.
Could this process be automated? Could additional efficiency be realised, through delivering materials on time, every time, and achieving better use of the available resources?
The answer to these questions was yes…
But with AGV solutions often deployed in internal environments, designed for their operation – think clean, flat, dry terrain – could MasterMover offer a solution that would work outside, even in challenging weather conditions across all seasons?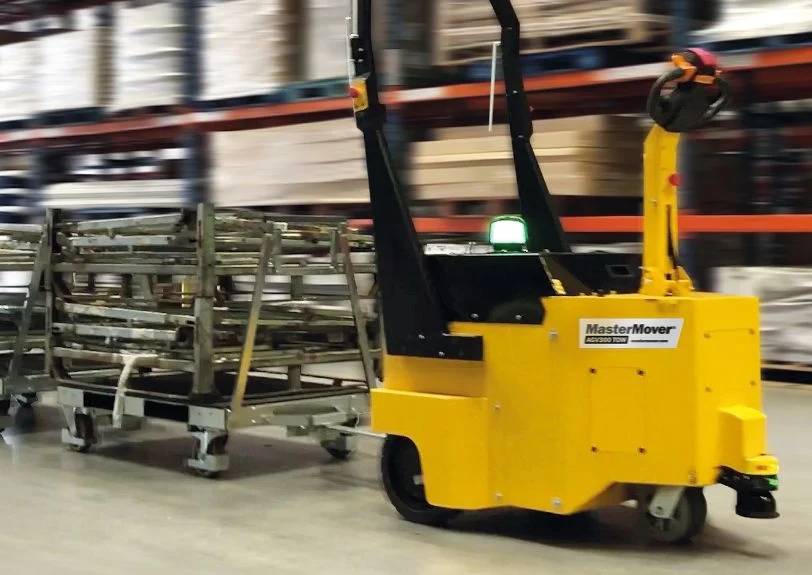 Challenge accepted – safety first with SICK
Our design engineers set to work. Working with our partners at SICK, a technology and market leader in sensor solutions for mobile platforms, we utilised a state-of-the-art outside scanning system, to further enhance the MasterMover AGV in terms of safety systems.
Designed to operate outside, and amend speed depending on weather conditions, the enhanced sensing solution was a perfect fit for this use case. When visibility is reduced, so does the speed the AGV travels, ensuring maximum safety and control.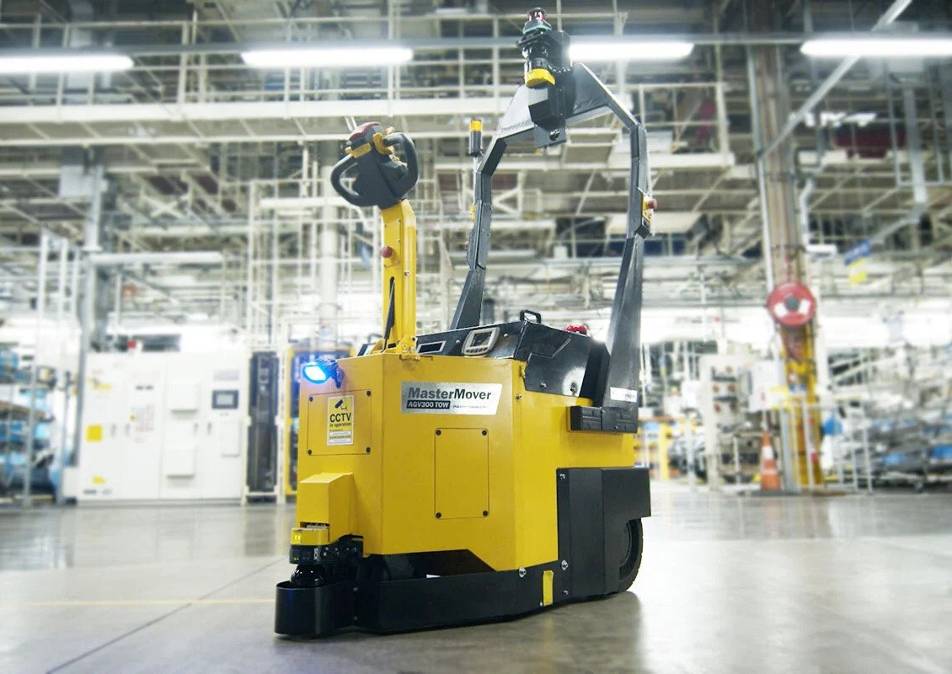 Navigating the way
With a safety solution in place that could operate outside and inside, navigation was the next step.
With MasterMover already operating AGV solutions at the customer site, the existing navigation system was utilised given its track record of success.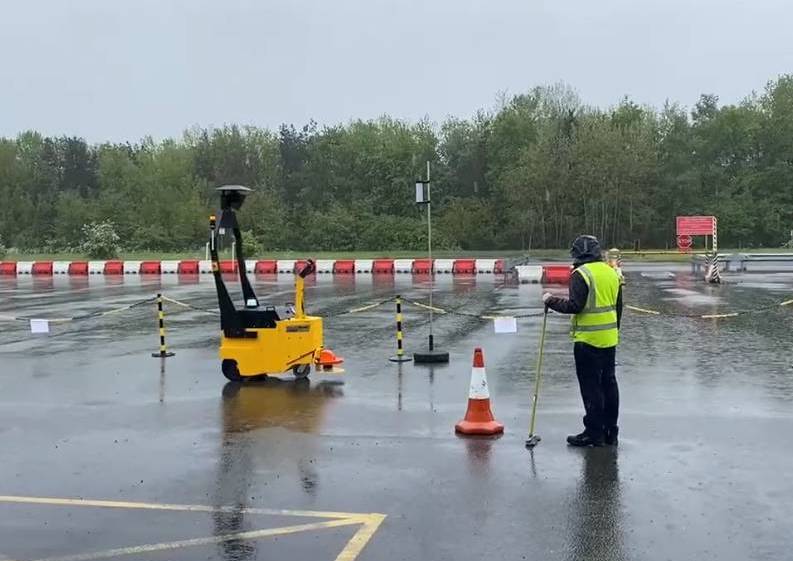 IP rating & the rain
Take a look at many marketing videos of outside AGV products, and the sun is shining. But the reality is the weather is not always kind, especially in this particular location.
Of course, the customer needed to operate efficiently come wind, rain or shine, and operate safely in all weather conditions. Our AGV needed to be built to get wet and cope with the rain.
For this requirement, we delivered a machine built to IP55, meaning protection against jets of water coming from any direction.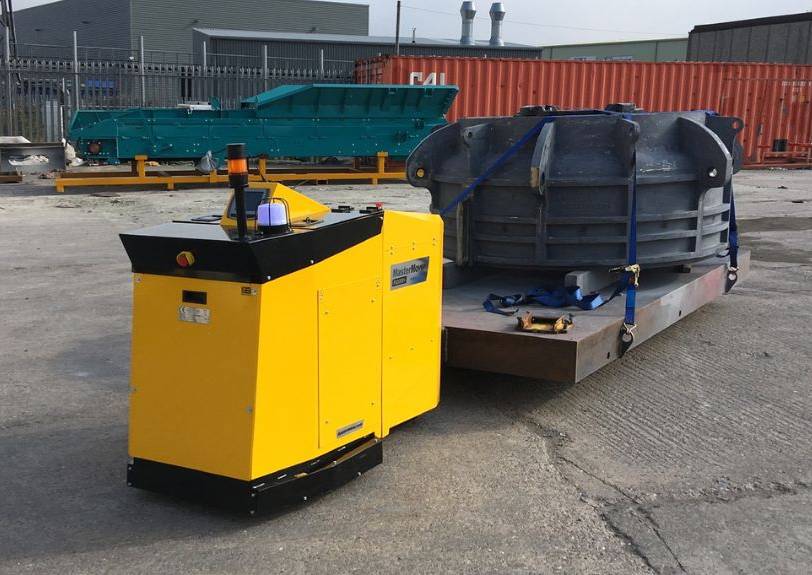 Taking on the terrain
So with safety, navigation and protection from the elements covered, we needed to ensure our AGV's wouldn't be impacted by the less-than-perfect terrain often found outside, away from the controlled environments of production and manufacturing facilities.
MasterMover has a long track record of producing electric tug machines that operate in tough and uncontrolled environments, so this wasn't an issue. Featuring solid rubber tyres and a secure coupling to ensure maximum load security, heading outside a building isn't an issue for MasterMover!
An AGV that fits your application
Regardless of your current phase, we understand that switching to an AGV system is an investment, even if it is one that will inevitably deliver increased ROI, efficiency and safety. Our skilled and experienced team is here to guide you with our tried and tested approach.

Our 5-step process:
1. The right machine for you

Firstly, we put time into understanding your application.

2. The right navigation for your site

We'll explore which navigation system works best.

3. The right dispatch commands

Next, our team will look at how the AGV gets its instructions to move or 'pulse' to the next location.

4. Integration with your systems

Then, we look at where other system integrations are needed.

5. Optimise your safety systems

Depending on the environment and application, identifying the right safety systems is key.
Proving the capability of our AGV solution
As the video shows, MasterMover passed the test! Our AGV electric tug met the challenge posed by this customer, and we delivered a solution that would automate the movement of heavy materials from one building to another, safely, efficiently, and regardless of what the weather was doing that day.
MasterMover & AGV solutions – Our proposition
Whilst there are many companies globally offering autonomous products, at MasterMover we believe we have a clear place in the market and differentiators.
Accuracy & performance
In addition to these benefits, AGV solutions offer manufacturers huge benefits in terms of operating efficiency.
AGVs offer accuracy in terms of ensuring loads are delivered on time, every time, and they do this as quickly as possible, with little or no requirement for human intervention.
In fact, from a people perspective, AGV solutions allow your people to focus on the aspects of their role where they can add maximum value, adding further operational efficiency benefits.
AGV electric tugs in your operation
If you'd like to talk to us about benefitting from the power of autonomous electric tug solutions in your business, we'd love to talk…
Our team possess a wealth of experience and we'd welcome the opportunity to understand your challenges, requirements and opportunities for AGV solutions within your business.
The ultimate guide to AGV electric tugs
Automated Guided Vehicles (AGV)
Looking to understand AGV systems in a little more detail?
We've compiled some helpful resources to get you started, covering everything you need to know.