Denso Marston Eliminate Fork Lift Truck Use With Trolley Handling Tug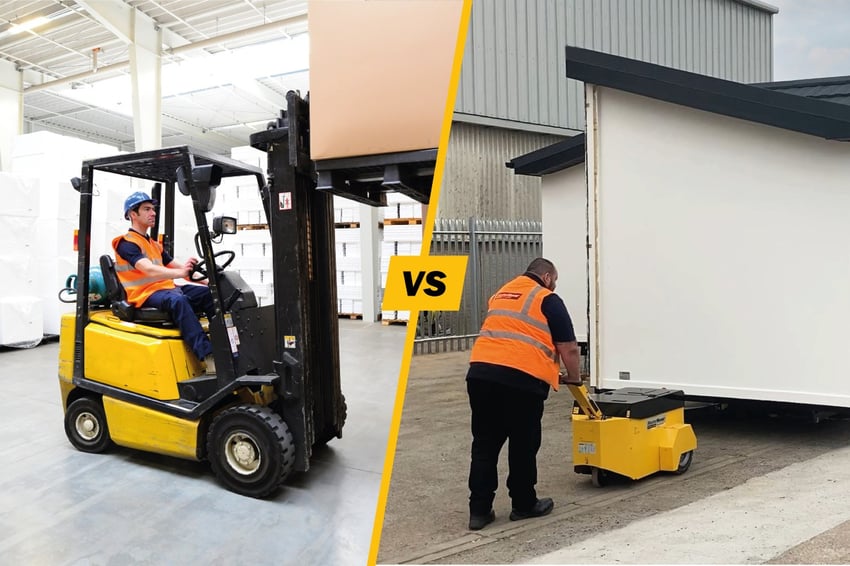 Thermal cooling systems manufacturer Denso Marston has invested in an electric trolley handling tug as part of a drive to improve health and safety measures on the factory floor at its UK facility in Shipley.
The move, part of a global programme initiated by parent company Denso Corporation, has completely eliminated the need for fork lift trucks in an area of the factory where pedestrian activity is high.
"Our operation has evolved, and is undergoing a process of change in terms of creating a safer working environment" explain Denso Marston's HSE Officer Graham Baldwin.
"The decision to address our handling equipment has been part of a bigger picture to remove fork lifts from all production areas, so as to create a safer working environment for our valued workforce."
The electric tug has been put to work within Denso Marston's Press Shop department, where press tools and waste materials need to be transferred within a restricted working area.
Graham says more: "The logistics of the area where handling equipment is needed requires a flexible piece of kit. In addition to health and safety considerations, we needed a device than can easily move a load up to 5,000 kg as well as operate within small turning circles."
MasterMover recommended its MT10/560 MasterTug to fulfil Denso's handling requirements. Pedestrian-operated, the MasterTug range generates all the traction it needs using a coupling system, which transfers load weight to a drive wheel to create an effective and easily operable piece of machinery. The MT10/560 can manoeuvre loads up to 5,600 kg on castors, or 22,400 kg on rails, and significantly improves safety in a pedestrianised working environment.
Andy Owen, MasterMover MD explains more: "We designed the MasterTug as a solution that has the capability to increase productivity and reduce manual handling. It's a powerful, compact tug that's very simple to use. It heightens personal safety and significantly reduces the risk of accidents in the workplace."
Graham again: "The tug has met all our expectations, both operationally and with regard to health and safety.
"In fact, we've been so impressed that we plan to review the tug's suitability for use in other production and logistical departments with a mind to purchase further machines."