Hörmann Unlocks The Benefits Of Seamless Production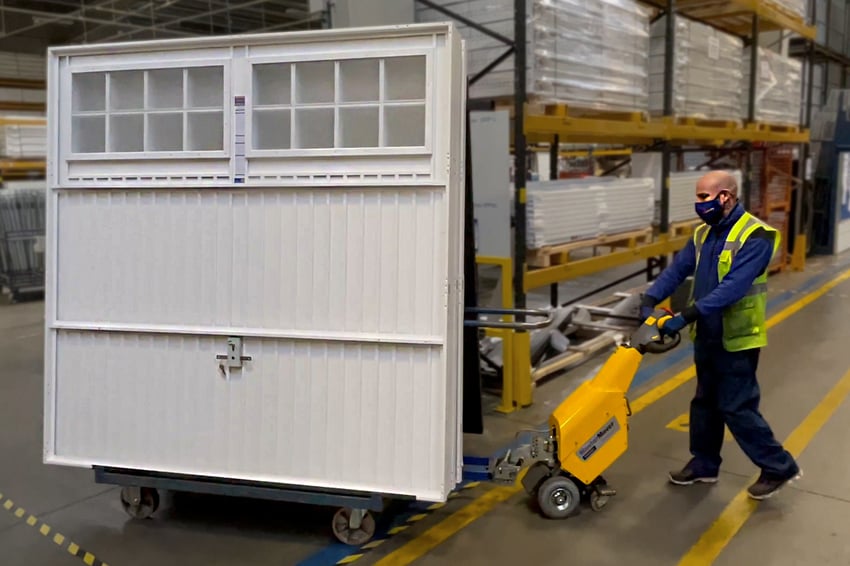 Keeping production running smoothly and without interruption is a priority for Hörmann UK.

The Leicestershire-based business is the market leader in garage doors and assembles thousands of canopy and retractable up-and-over doors every year.
From warehouse to production line, components are moved on an A-frame trolley over a distance that takes around 15 minutes on foot and can weigh up to 1,000 kg.
As Facilities & Maintenance Manager Eliot Buckby explained, it would be an impossible task to undertake manually: "We generally pick between 300-400 panels per day so an electric tug is really the only way to move the components on the trolley over the distance that's required. It couldn't be done at the volume that's needed by hand.
"A forklift or other method also wouldn't be suitable as there are many aisles in the production area to navigate. We need manoeuvrability and flexibility."
To enable the busy factory to meet demand, the team now use two SM100+ machines in rotation.
Eliot continued: "A SmartMover does exactly what we need it to and the ability to easily swap the lightweight batteries over is a massive advantage to allow for continuous production.
"We've used the SmartMovers in our goods-in areas also - because of the machine's flexibility we can move it to where we need it to go very quickly and with no issues. Using the SmartMover has removed a lot of our manual handling issues. The machines are very easy to use and store and I would highly recommend."