Equipment for moving heavy loads
Manufacturers need material handling equipment that delivers powerful movements, precision mobility and maximises manoeuvrability.
For the movement of heavy loads, industrial manufacturers have an array of material-handling equipment at their disposal – including electric tugs and forklift trucks.
Forklift trucks and electric tow tugs are both types of industrial equipment used to move large, heavy loads. However, they are both designed for two vastly different purposes.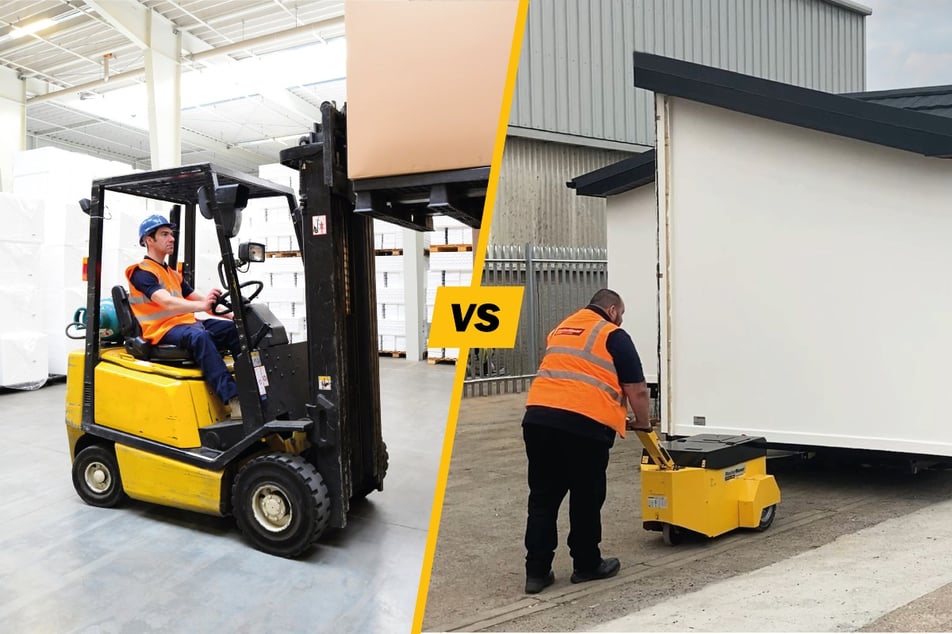 Electric tug vs forklifts
The operation of a forklift truck is widely understood, with their design focused on lifting heavy loads such as pallets, stillages and crates, typically within warehouses and production environments.
On the other hand, an electric tug is designed to push, pull, steer and position heavy-wheeled loads. The core difference is that electric tugs do not lift loads but move wheeled loads that stay safely on the ground.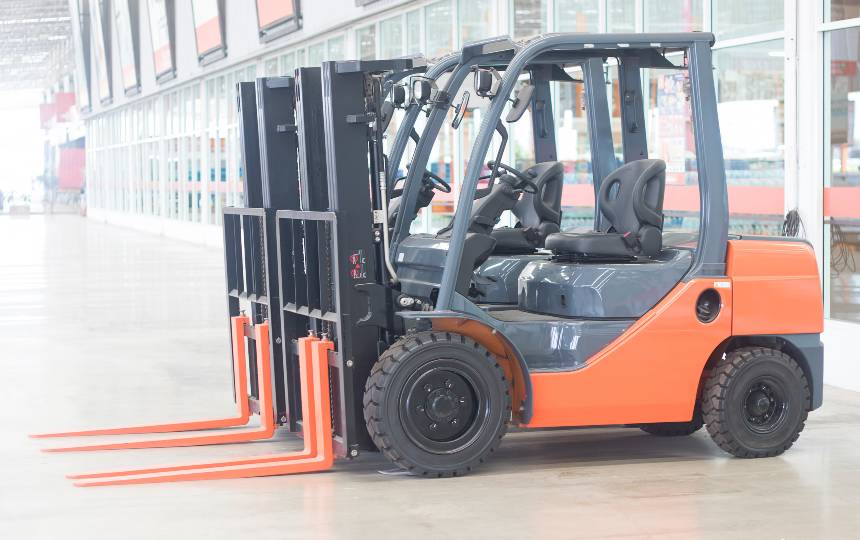 What are forklift trucks?
Forklift trucks are motorized vehicles used to lift and transport heavy loads in warehouses, factories, and other industrial settings. They are powered by either a battery or an internal combustion engine (ICE), and the operator uses hydraulic levers to control the lifting and movement of loads.
What are forklift trucks used for?
Forklifts are used for various tasks such as loading and unloading trucks, transferring materials from one area to another and stacking products on shelves. They are essential tools where the lifting of goods is required.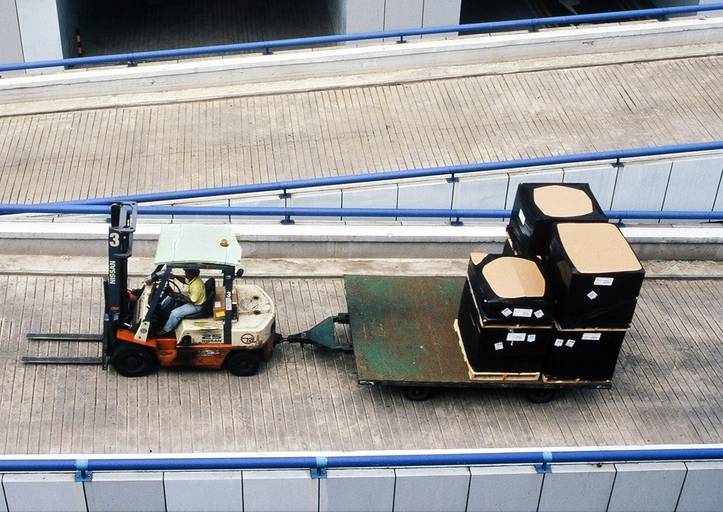 What are forklifts NOT designed for?
With a design focused on delivering a powerful ability to lift loads, a forklift is intended for one operation – lifting.

Despite this, some users stretch the abilities of forklifts and try to use them in the same way as tow tugs.

As any reputable forklift manufacturer will tell you, a forklift should never be used to tow a heavy load, even if they feature what looks like a rear tow pin. The rear tow pin on a forklift truck is only for recovering the vehicle in the event of a breakdown.

There are several reasons you shouldn't tow with a forklift, but the main one is it creates a tipping risk. This is especially true for models with rear-wheel drive, where front-wheel braking systems can make the units unstable when towing.
What are electric tugs?
Electric tugs sometimes referred to as "tow tugs" or "powered tugs", are purpose designed to move and tow wheeled loads within a range of industries such as manufacturing, aerospace, automotive, pharmaceuticals and retail.
An electric tug or electric tow is designed to facilitate the movement of wheeled loads weighing up to 70,000kg with a single machine (or more when combining multiple electric tugs via our MultiLink technology), whilst keeping the load safely on the ground.
Unlike most forklifts, an electric tug is 100% battery powered, making them perfect for use in an industrial environment with their operation guaranteeing zero emissions at the point of use.
Electric tugs and tow tugs move heavy weights through two main functional designs:

A weight transfer system
A secure coupling system transfers an element of the load weight through the machine drive wheel to gain traction and mobilise heavy loads.

Using the machine weight
The tow tug utilises its' own weight to gain traction and enable the movement of heavy loads.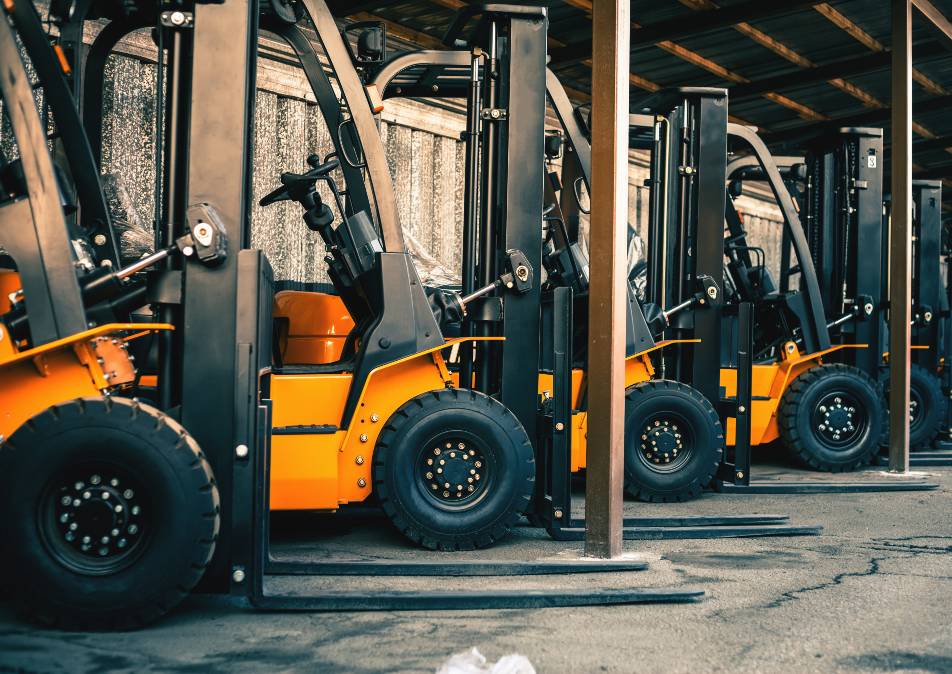 What are electric tow tugs not designed for?
While electric tow tugs deliver unrivalled performance when moving heavy-wheeled loads, they aren't designed to lift loads.
Where lifting is required, companies often use tools like forklifts to load wheeled platforms or trolleys and then utilise electric tugs to safely move them. This keeps the use of forklift trucks to specific locations, helping to reduce forklift traffic in congested areas in favour of a more suitable and safer movement solution.
How do electric tugs and tow tugs connect to the loads being moved?
The connection point is critical when moving heavy-wheeled loads as it ensures that your load is secure and safe during transport.
Electric tugs are available with various standard coupling options designed to deliver maximum performance, safety, and ease of use. Where a customised coupling is required, an electric tug supplier will work with you to design a suitable solution.
What can electric tugs move?
Electric tow tugs are designed to aid in the movement of heavy-wheeled items and are used to move loads on wheeled platforms, trolleys or carts.
They're extensively used within heavy manufacturing, aerospace, biopharmaceuticals, and retail environments to deliver the safe and efficient movement of heavy loads.
What are some of the benefits of electric tugs?
1. License-free operation

2. Reduced downtime

This makes electric tow tugs an ideal solution for intense production environments. Their license-free operation means any member of staff can easily execute controlled movements, removing the need to wait around for a licensed driver, and significantly reducing downtime. This makes them perfectly suited for delivering parts to the production line or transferring heavy loads through assembly stages.

3. Improved workplace safety

Removing the lifting operation, electric tugs mean loads stay safely on the ground, enabling you to improve safety. Many organisations are opting for electric tugs to create fork-free operations, enabling them to remove the risk of collisions with pedestrians and reduce injuries.

With intuitive, ergonomic controls, electric tugs require zero physical exertion from operators, empowering staff to move loads of up to 360,000kg with ease and achieving a secondary benefit in reducing manual handling.

4. Reduced maintenance costs

Compared to forklift trucks, the electric tug design reduces maintenance costs. With an easy-to-service construction, they deliver the most cost-effective solution that will deliver time and time again.

5. Increased flexibility

With a modular design, electric tugs enable you to benefit from maximum flexibility. As a versatile solution, tow tugs can be utilised on multiple applications or move long trains of loads to further increase productivity.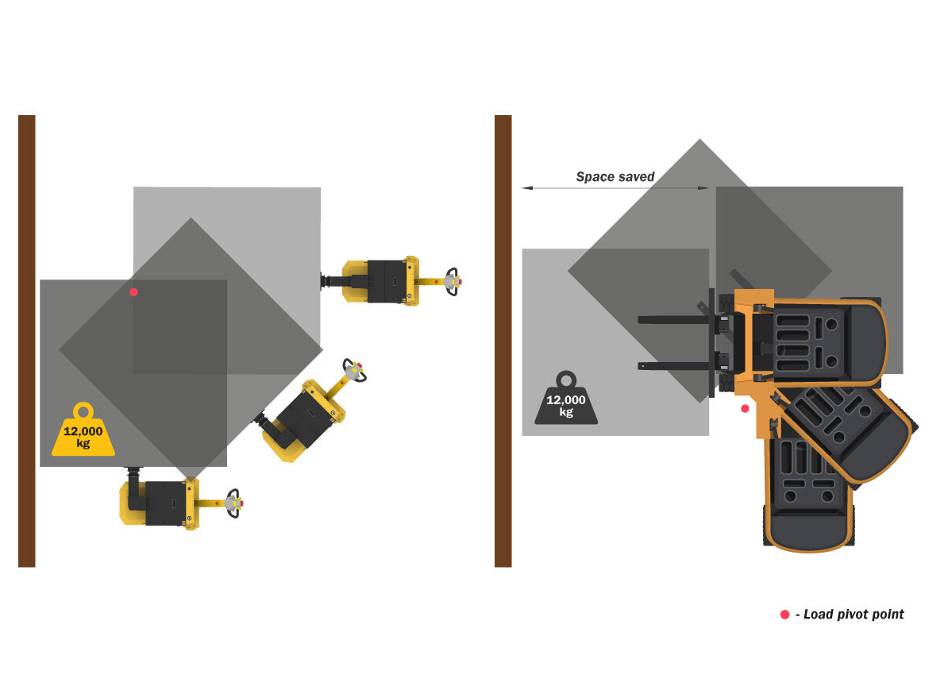 Small and compact – with outstanding manoeuvrability
Electric tugs offer an unbeatable compact machine design, delivering a small footprint that is perfectly designed for moving loads in tight and confined spaces.
Boasting a small turning circle, you can easily manoeuvre loads around tight corners and through congested manufacturing areas with a tow tug. The design of electric tugs also means that the load remains close to the machine, enabling a single operator to exercise complete control of the item being moved.
The small footprint of electric tugs also delivers unparalleled visibility when compared to forklifts. Operators benefit from an optimised field of vision, enabling them to easily manoeuvre loads through congested areas or precisely position cumbersome loads with ease.
Tow tugs are available as pedestrian-operated, wireless remote control, line follow or fully autonomous AGV (Automated Guided Vehicle) systems – delivering maximum versatility and future-proofed solutions.
The ultimate guide to material handling
Material handling equipment
Looking to understand material handling in a little more detail?
We've compiled some helpful resources to get you started.