Custom Solution Moves Ros Roca Spain in Front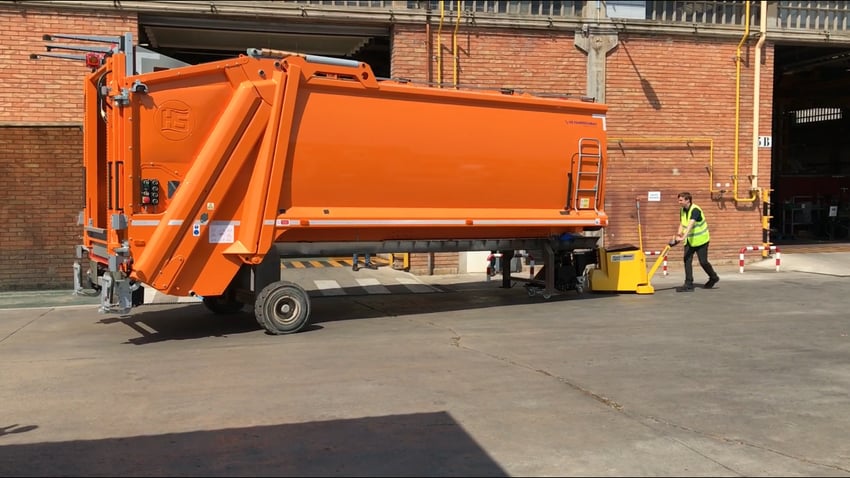 A MasterMover electric tug is putting on a show of strength at Ros Roca, with its precision load-moving control and manoeuvrability ensuring trailers are transported safely and efficiently across the manufacturing site throughout different stages of production by a pedestrian operator.
Rosa Roca Spain – part of the Terberg Ros Roca group is synonymous with innovative, high quality, robust and reliable equipment solutions manufactured to the highest standards using some of the most advanced technology and components available today in factories across Europe. These products serve the waste handling and recycling collection industries across the globe.
The MasterMover team produced a complete engineered solution for Ros Roca, with a bespoke MasterTug MT1200+ built along with a secondary trailer to move rear loaders and turn them around on-site to move from one part of the factory to another.
The solution supports process flow on the site, playing a key role in manufacturing efficiency as well as delivering compact and safe solution. With large heavy commercial waste vehicles, manufacturers often rely on a combination of trucks and modified forklifts to shunt and manoeuvre trailers around the factory. The MasterTug MT1200+ offers a safer solution, connecting securely to the vehicles via the bespoke trailer unit. Boasting a compact design, the solution enables a single operator to manoeuvre the largest loads through tight spaces, in building-to-building movement and around the manufacturing facility, guaranteeing total control and freedom of movement.
See the Solution in Action...
Custom Solution - Project Managed Designs
The solutions was specifically engineered to meet Ros Roca's requirements and overcome issues with moving the large-scale trailers. Working with staff at Ros Roca, MasterMover's engineering team followed the stage gate design process to ensure any solution fully met the needs of the application.
As well as providing a valuable solution for the task, the electric tug and custom trailer have also been designed to go into other applications at Ros Roca, providing a double-duty resource for the Ros Roca team and maximising usage.
Custom Requirement? You're in Safe Hands with MasterMover
We have a rich track record of delivering custom solutions, and in fact many of our product portfolio started out as custom projects!
Whether it's a custom coupling to connect to your load, modifying our electric tugs to work in a challenging environment, or designing an entirely new solution for your application, our Customer Engineering team can help.