Flexible Material Handling in Heavy Plant Manufacturing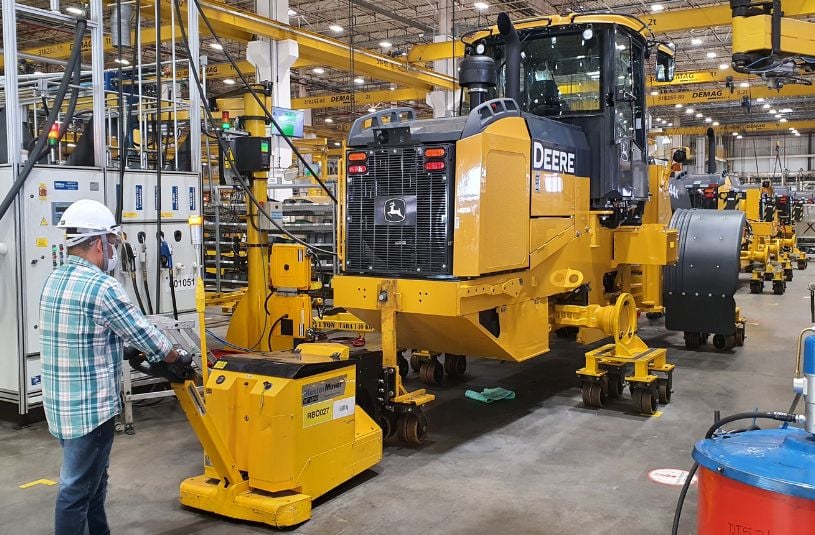 In the wake of a global pandemic and chip shortage, heavy equipment manufacturers are under pressure to clear order book backlogs and recoup lost production time. Additionally, manufacturers face challenges with fixed infrastructure failure, unplanned downtime, and lost time in material transportation.
Electric tugs present a modular solution guaranteed to deliver flexibility and cost savings from day one, enabling you to meet demand and reduce downtime.
Fixed infrastructure failure & lost productivity in manufacturing
Unplanned downtime is estimated to cost industrial manufacturers and heavy plant assembly $50 billion each year. The failure of fixed infrastructure and equipment breakdown is a major contributor to this.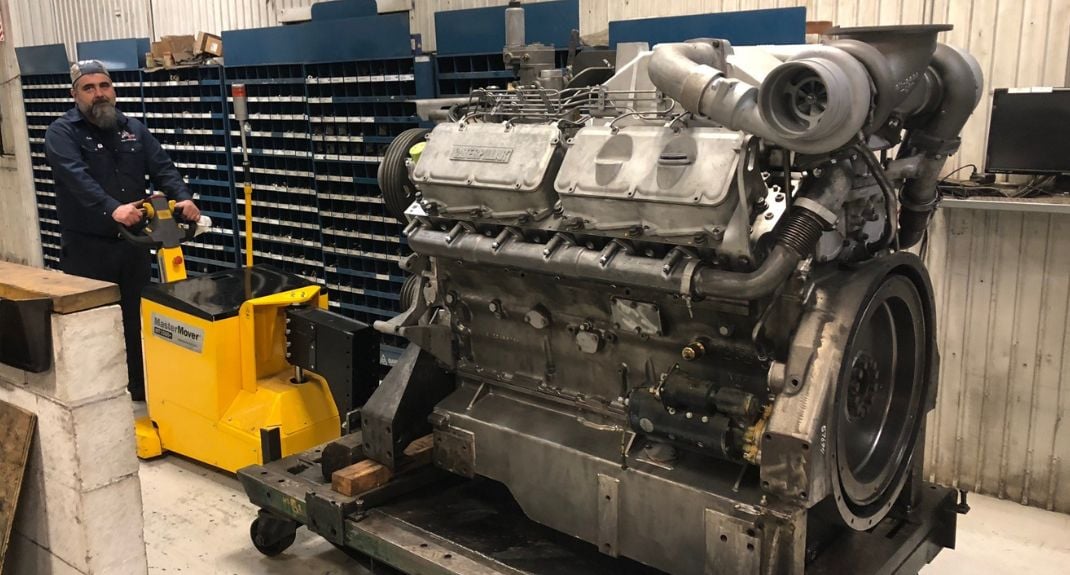 In heavy plant manufacturing, sub-assemblies move through various workstations as part of the production process. Workpieces are moved from stage to stage, creating a material flow. Typically, the movement of workpieces and sub-assemblies is achieved through overhead cranes, floor winch systems and forklift trucks.
Within the manufacturing process, material handling is a non-value-adding process and, is often the greatest source of waste in production systems through over-transportation, idle time, and equipment failure.
The failure and breakdown of fixed handling systems including overhead cranes and floor winches can, and do, stop the whole production system and material flow. An overhead crane breakdown prevents materials and sub-assemblies from moving through the production process, causing significant bottlenecks and downtime. Couple this with the time required to repair the unit and restart production, and it is clear why many manufacturers are searching for more flexible systems.
Alternatives to f
ixed equipment in heavy plant
Reducing downtime through flexible material handling – a pipe dream?
Material handling is a core waste in lean manufacturing, which manufacturers are continuously striving to minimise through reliable, flexible solutions to mobilise materials.
Manufacturers need solutions they can rely on that will continuously deliver the flexibility they need. Electric tugs provide you with the flexibility that fixed systems just can't deliver.
Electric tugs enable you to reduce downtime, increase throughput and scale up or down production as required. With a license-free operation, electric tugs enable any production operative to easily control and move heavy loads up to 30,000kg (or more with MultiLink Technology, which connects multiple electric tugs and are controlled by a single operator).
How easy are they to install?
With a modular, easy-to-install design, electric tugs can be used to create a flexible pulsed system, providing manufacturers with the ability to move workpieces, work-in-progress (WIPs) and sub-assemblies all whilst following just-in-time processes.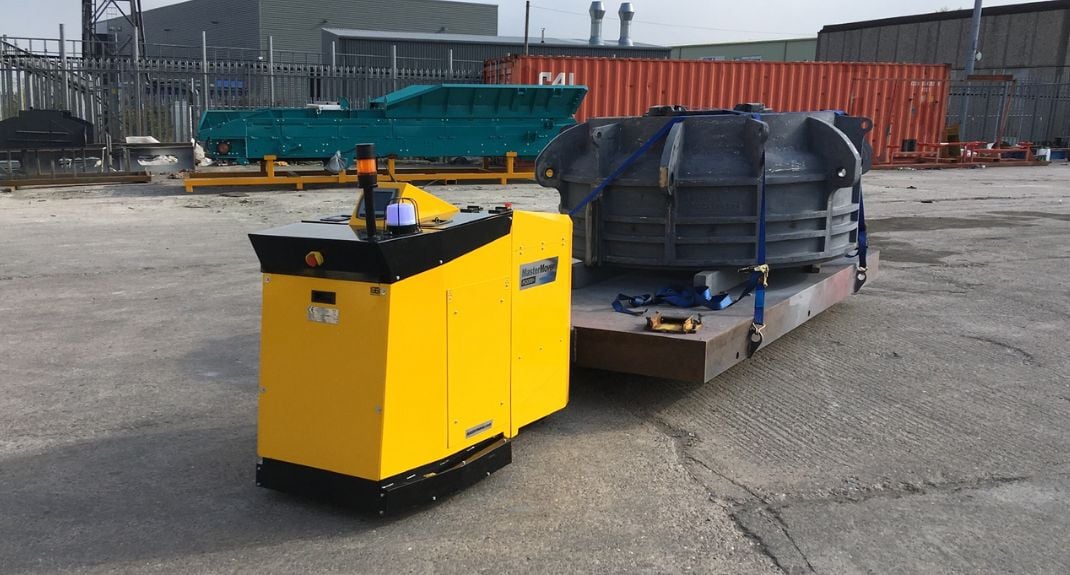 What sort of return can I expect?
Aside from the benefits of flexibility, scalability and reduced downtime, electric tugs are considerably more cost-effective for moving wheeled loads than fixed alternative systems. You can expect to see a visible return in a reduction of idle time during transportation processes, an improvement in the continuous production flow and a new-found ability to pivot your processes in line with demand.
But what about if they break down?
Unlike fixed infrastructure systems, electric tugs deliver a cost-effective, scalable solution that even in the event of a breakdown, doesn't result in production grinding to a halt.
The scalable nature of electric tow tugs mean that manufacturers can have multiple electric tugs performing a range of jobs – such as the movement of sub-assemblies from building to building or the delivery of kits lineside.
Having multiple electric tug units enable you to keep production moving, scale up or down operations as required and implement flexible handling systems at the push of a button.
This also means that in the unlikely event of a breakdown, other electric tugs can step in and carry out the movement.
How do electric tugs work?
You need flexibility, that's why our range of electric tugs has been designed around the needs of industrial manufacturers.
Our electric tugs and tows are available as pedestrian-operated, wireless remote-controlled or, for where more future-focused systems are required as AGVs (Automated Guided Vehicles).
We use an array of coupling systems to deliver complete control and powerful performance, enabling you to easily manoeuvre heavy parts and sub-assemblies.
Boasting an array of standard safety features, electric tugs deliver the efficiency improvements you need, without compromising on safety.