Moving Tooling Jigs is a Breeze at Automotive Plant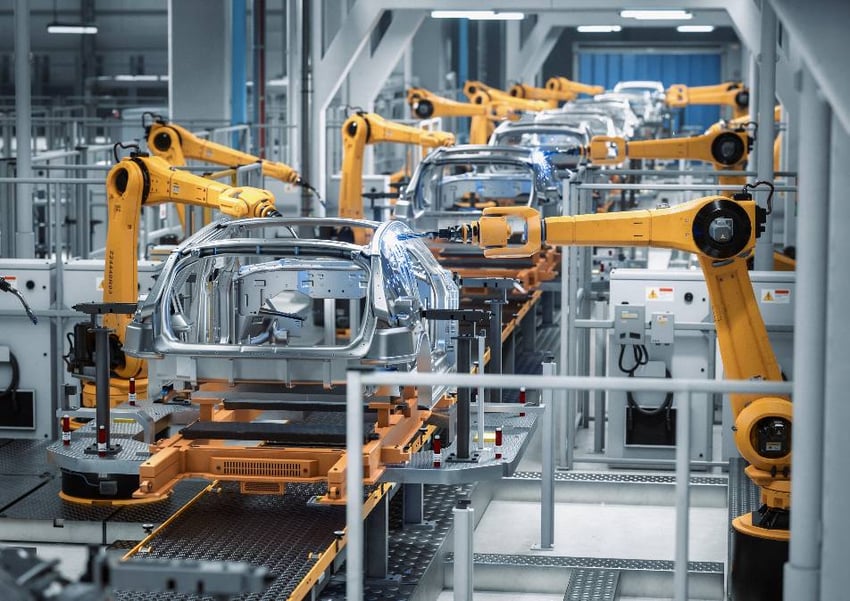 By investing in electric-operated materials handling tugs for moving heavy tooling jigs, car manufacturers can reduce the risk of accidents and injuries to their operators, whilst also ensuring that jigs are delivered to their required destinations on time, preventing delays to prototyping and production.
The Application
In a well-known West Midlands-based vehicle assembly plant, tooling jigs and fixtures are supplied to the vehicle body-in-white shop, prior to the body panels being painted. These jigs are manufactured in mild steel and can be quite bulky – at times they measure the same size as a car, perhaps 4m long by 2m wide, depending on the particular prototype model being produced. This means that a single tooling jig can weigh anything from half a tonne up to three tonnes.
Vehicle body prototyping is a critical process for car assembly plants, which cannot afford to be delayed. These plants typically produce between 15 and 25 vehicle body prototypes per week.
Although the jigs provided are typically fitted with castors on their underside, they still have to be moved up and down the body-in-white shop. Two or three operators are required to manually move a jig of this size and weight. If a jig needs to be moved three or four times during a working day, the time and cost associated is significant to the business. The danger here is that the process becomes too slow in order to meet the assembly plant's daily prototyping requirements. It may also increase the risk of injuries or accidents to operators who are required to move the jigs.
Space at most car assembly plants is also at a premium. In a body-in-white shop, it is often difficult for operators to manoeuvre heavy jigs up and down gangways, if these are too narrow. Using a forklift truck to move a jig may also not be possible due to the restricted space available, which may prevent the forklift from turning.
Following a visit to a West-Midlands based car assembly plant, MasterMover recommended a MasterTug, which connects to the base of the tooling jig frame. The compact size and manoeuvrability of the MasterTug range were particularly appealing to the customer.
The Solution
The MasterTug range can push, pull and steer wheeled and semi-wheeled loads up to 20,000kg in weight. The machine's patented technology moves the weight of the load on to the drive wheel through a coupling system, ensuring maximum traction from a lightweight, easy-to-manoeuvre machine. Simple to operate and with a range of integrated safety features, the machine is ideal for use in busy manufacturing and assembly environments, particularly when space is restricted.
"The tug has performed very well and is meeting with the customer's expectations," says Charles Harrison at MasterMover Ltd. "Ten of the customer's operators are now trained to use the machine, which is used on a daily basis. Everyone that uses the MasterTug has been enthusiastic and positive about its benefits. We also provided operator training for one day at the customer's site."
The Benefits & Results
As well as speeding up the movement of jigs and fixtures to their required destinations within the body-in-white shop, the electric tug has now removed much of the strain and manual effort required to move the jigs across the shop floor. Only a single operator is now required to move a jig, which means that the other one or two operators are freed up to continue with their skilled jobs. The tug has also reduced any risk of litigation or compensation claims due to manual handling injuries.