Improving Efficiency for Hospital Porters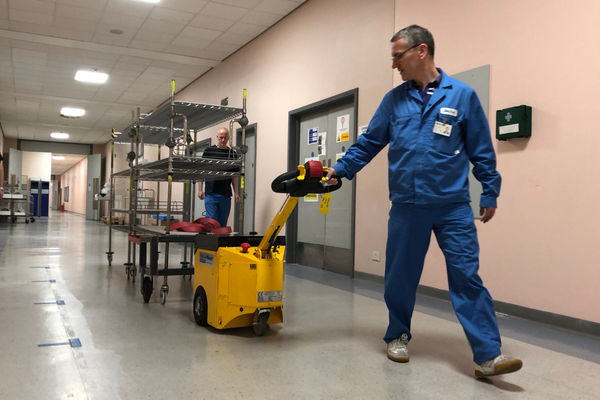 For many, porters are the oil in the machine of many NHS hospitals, moving goods, equipment and patients around hospitals and proving a critical component in running clinical services smoothly. Here, Hugh Freer, European Director of electric tug specialist MasterMover, looks at how improving porter efficiency can affect the entire hospital.
The Lifeblood Of Healthcare - Porters
Porters move both clinical and non-clinical goods across hospitals. Although not directly related to patient care, the movement of soft services such as laundry, food and gas bottles across a hospital impacts the overall quality and speed of patient care. Traditionally, porters have moved goods around hospitals by hand, using roll cages or makeshift equipment such as wheelchairs. However, this is not the most efficient or safe way of moving goods.
Manual Handling in Healthcare
For porters and their employers, manual handling injuries are a big risk. Back pain and other musculoskeletal disorders (MSDs) cost the NHS around £400 million a year and account for approximately 40 per cent of all sickness absences. Despite being well-trained in manual handling, porters still have the greatest risk of being injured while moving goods.
However, this does not have to be the case. If porters use electric tugs instead, they can simply attach the load to the tug and allow the motorised tug to take the strain. This minimises the risk involved in manual handling, reducing sickness absence and allowing the hospital to have a full contingent of porters available.
Yet staff health and safety is only one of three areas of concern in regards to handling loads in healthcare environments. In addition to the costs associated with injuries, NHS hospitals are also challenged with meeting strict time and hygiene standards.
Time Pressures & Increasing Efficiency
NHS hospitals are under increasing time pressures such as the four-hour standard, which specifies that patients attending an A&E department must be seen, treated and discharged within four hours. This means that goods must be moved around as quickly and safely as possible.
The Benefits of Electric Tugs In Healthcare
Using electric tugs allows porters to move several roll cages at the same time, rather than having to move one at a time. By reducing the time that porters take up with non-clinical tasks, they can spend more time in patient facing roles, such as moving patients between wards.
MasterMover research shows that by purchasing an electric tug, 19,500 man-hours could be released over the estimated five-year lifetime of the machine, saving around £139,000. This creates more time for porters to respond even more quickly to patient transport and improve overall efficiency.
Another benefit of using electric tugs is to improve hygiene. Lack of hygiene poses a significant issue for NHS hospitals, with hospital-acquired infection (HAI) costing the NHS more than £1 billion a year and causing five thousand deaths a year.
This means that infection control is the responsibility of all NHS staff, no matter their role. By freeing up more time and reducing the time taken to move objects, porters are able to move waste and laundry more often. This reduces the build-up of waste in the sluice rooms and waste bins that could lead to an increased risk of infection for patients.
By smoothing out the processes they follow, porters can more effectively help the hospital achieve its targets and operate like a well-oiled machine.