A-Class Efficient Solution For Mercedes Indonesia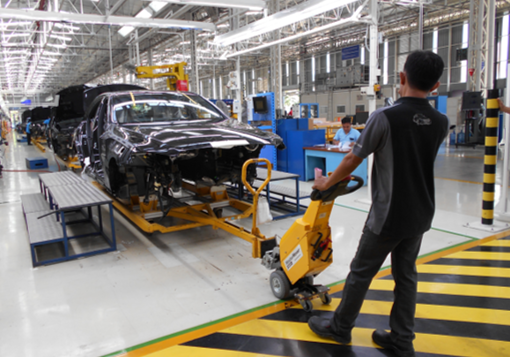 Lean principles and continuous improvement (Kaizen) thinking are well publicised within the automotive manufacturing industry. For car manufacturers globally; areas such as speed, efficiency and reducing non-value-added time are right at the core of their operations. MasterMover's handling solutions – which have been designed to improve safety and efficiency – make us the ideal partner for the implementation of lean processes, allowing manufacturers to improve speed and eliminate waste.
The Application
The most recent addition to MasterMover's global automotive customer base is luxury car manufacturer - Mercedes Benz based in Jakarta, Indonesia. Mercedes contacted us at MasterMover to look into a handling solution that would not only enhance their lean processes but help improve safety. MasterMover was specified for the movement of car chassis weighing up to 1,200kg. Before the introduction of electric tugs, the chassis were being manually pushed and pulled by several members of staff. Aside from the obvious risk of injury, a key concern for car manufacturers is that this tiresome movement is classed as non-value-added time.
MasterMover specified the SM100+, allowing a single operator to replace what was previously a 3 person move.
The Solution
Using the SM100+ has considerably reduced non-value-added time, releasing other staff to carry out more productive activities. Staff were previously struggling to manually turn the trolleys and carefully position them, the two-speed selector switch means the speed can be reduced for tight turns and delicate positioning.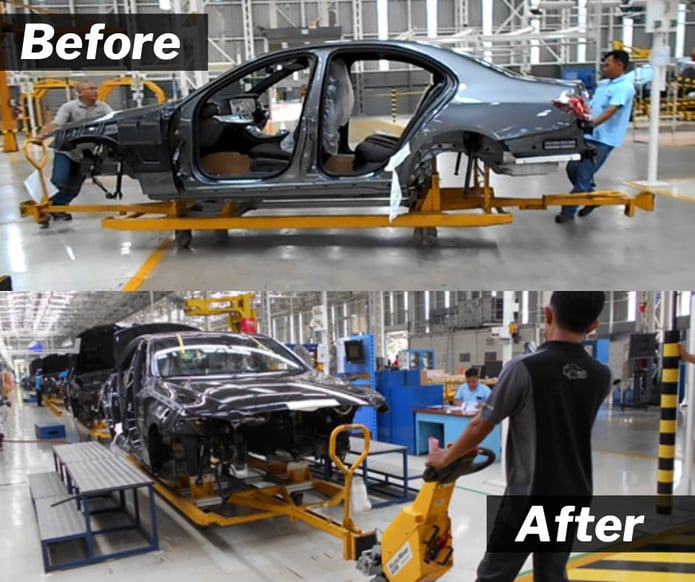 Part of the SmartMover range, the SM100+ features a secure hydraulic coupling. Operators simply press a button on the headset to engage the hydraulics, creating an unbreakable connection to the load. This is especially important when moving high value loads such as automotive chassis. This feature of MasterMover electric tugs means loads are in constant contact with the ground, moved with control and reduces the risk of damage to the product.
With clients including Bentley, Toyota, Nissan, Volkswagen and Jaguar Land Rover, MasterMover has developed a deep understanding of some of the challenges facing the automotive sector. Our range of electric tugs boost safety and efficiency with moving capabilities of up to 30,000kg and beyond.