Slovakian train manufacturer reduces costly delays with upgrade to MasterMover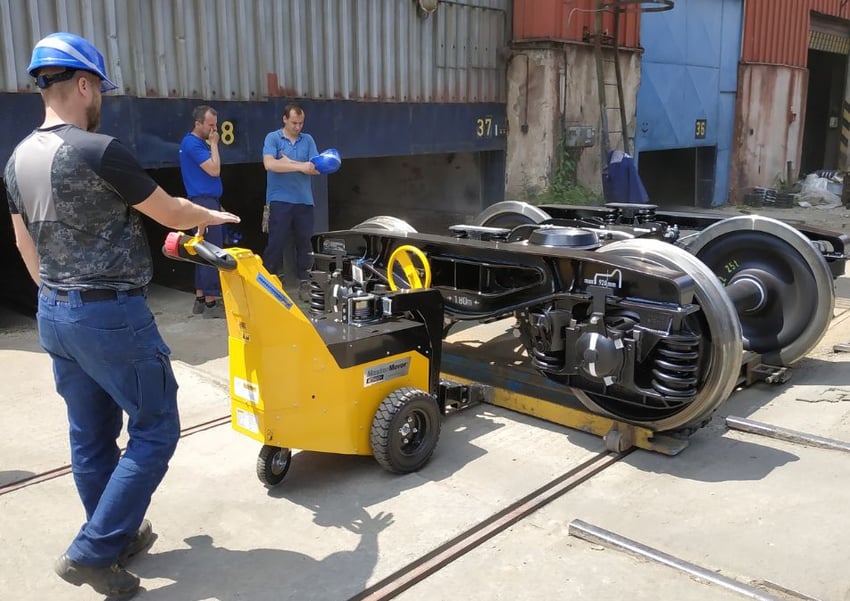 For a Slovakian train manufacturer, moving five-tonne wheel sets on trolleys using a system of chains was proving problematic. When the chains broke, production came to a halt - leading to costly delays while repairs were carried out.
So, when the business decided to upgrade its production line in order to meet growing demand and move greater distances, managers were faced with a dilemma.
They could either extend the chain in the ground or look at a more reliable way to move the wheel sets. After approaching SELS, MasterMover's sales partners in Slovakia, it was decided to trial an ATP400. After an on-site demonstration, the manufacturer was so impressed that they ordered it straight away.
The ATP400 allows a single pedestrian operator to push and pull heavy wheeled loads with ease, thanks to a combination of power and traction. With a self-levelling support castor and a robust steel chassis, it is capable of withstanding the toughest of conditions and navigating less-than-perfect surfaces.
Now the pusher is being used to move heavy and awkward wheel sets 30 metres through the production halls, creating a process which is smoother, more efficient with less potential for interruptions and accidents.
SELS Business Development Manager Petr Čermák is based in the Czech Republic but also covers Slovakia. He said: "I went to the site to give a demonstration and they liked it so much, they bought it straight away. It's been in the factory since June and they are very happy. The chain was breaking down before and could only complete a movement of 10 metres. When they wanted to extend the chain to cover 30 metres, they were worried about it not being reliable. With our machine, they have much more flexibility and reliability."
MasterMover's solutions are used by manufacturers and service centres across Europe to move heavy loads including locomotives, train bogies, carriages and wheeled stillages.