Case Study: AGV Accelerates Efficiency at Toyota Motor Manufacturing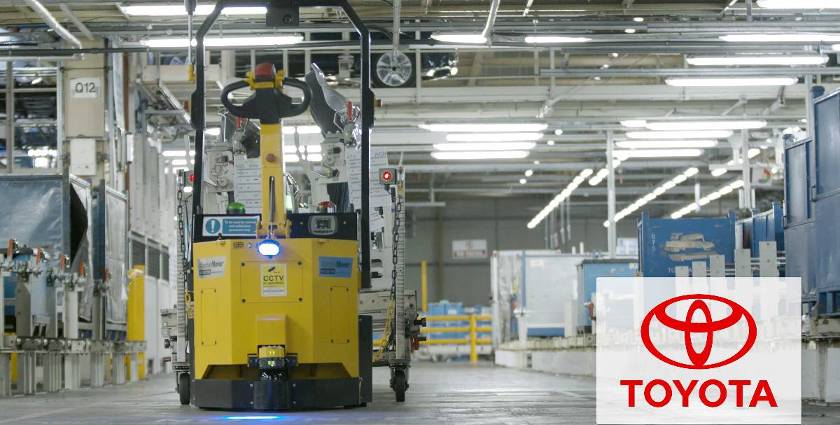 Toyota Motor Corporation has always been a pioneer within industrial manufacturing – renowned for efficiency, lean manufacturing, and innovation within the automotive manufacturing industry and beyond.

Now, Toyota leads the way in being the latest business to install MasterMover's autonomous load-moving systems to drive efficiency and maximise shop floor performance.
Project background & problem identification
Toyota engineers at the Burnaston plant – a major manufacturing centre in the UK – identified waste in the production and transfer of resin back doors.
Previously, resin back doors were loaded onto dolly trains to facilitate transfers throughout the facility. This transfer process involved an operator continuously driving back and forth while towing laden dolly trains throughout production stages – a process that was both inefficient and costly to Toyota.
Before we implemented our MasterMover AGV, we had quite a lot of issues on this resin back door process. It was one member who would spend all day just driving back and forwards. So quite a lot of waste for Toyota.

Ryan Oakley

Assembly Engineer, Toyota
Previously, the driving process was completed using a ride-on-tow tractor and a licensed driver. That meant that each shift needed dedicated resources for the transportation process. Identifying this as a non-value-adding activity and an area of waste, Toyota wanted to investigate automating the driving process to maximise efficiency.

Having identified the problem, Toyota explored the options to automate its driving processes by investigating the market.
Project objectives & finding the solution
Toyota's essential requirements steered their selection criteria, and they identified that they needed an AGV system that could:
Efficiently drive through the facility
Interact and mix with other plant traffic
Safely navigate through heavily pedestrianised areas
Seamlessly integrate with existing infrastructure, processes and systems
Conducting a thorough assessment of the available options led Toyota to MasterMover – an electric tug manufacturer with 25 years of solving complex material handling challenges
The solution | AGV300 TOW
Toyota selected MasterMover's AGV300 TOW, an autonomous solution that would fully automate their driving processes and slimline the transportation of resin backdoors – here's why…
Best-in-class navigation delivers interactivity with existing processes
Featuring intuitive, natural navigation, the AGV300 TOW is designed to follow a standardised route and deliver the repeatable movement of dollies.
Boasting best-in-class navigation technology, the AGV is programmed to stop at specific transfer points. Once it reaches a transfer point, the AGV300 TOW sends a signal to the door transfer system to automatically load the fabricated doors onto the individual dollies.
Once the transfer of parts is complete, the AGV takes its command to move to the next station.
Meeting essential requirements within transfer processes
Alongside the ability to interact with existing systems, such as the transfer loading system, Toyota needed an AGV system that would stop with extreme precision to ensure that parts were correctly transferred onto the dolly train.
"A key point of the process is the AGV needs to be able to stop very accurately at the transfer points and it can do that very repeatably." Kevin Jones, Principle Engineer, Assembly Manufacturing
Safety as standard
While efficiency was a key driver behind the move to automation, safety was non-negotiable for Toyota.
Kitted out with cutting-edge safety systems, including low and high-level scanners and interlinking emergency stop systems that enable operators to stop the system from anywhere, the AGV300 TOW guarantees safety.
"The AGV itself has got emergency stops on and it also connects to our dolly train, which has emergency stops. So, the device can be stopped from anywhere along the train." Kevin Jones, Principle Engineer, Assembly Manufacturing
With responsive navigation and safety technology, the AGV300 TOW seamlessly interacts with other traffic, such as shunters and forklifts and safely navigates through highly pedestrianised areas. Navigating its busy route, the AGV runs for 16 hours a day and covers around 5,000 miles per year, delivering resin back doors throughout the production process.
Our members are really confident with the AGV in particular, the safety of it and that it works safely around them and stop if it needs to. The AGV has been running for about two years and during that time, we've had no safety incidents with it.

Ryan Oakley

Assembly Engineer, Toyota
Exceeding expectations – Results & benefits for Toyota
Having been in place for two years, the AGV300 TOW has delivered a return on investment and enabled Toyota to unlock greater efficiency and reduce waste. The introduction of the AGV system has enabled Toyota to improve productivity and repurpose operatives to activities with a greater value-add.
"The MasterMover has delivered a return on investment within the time it's been in production" Kevin Jones, Principle Engineer, Assembly Manufacturing
Looking ahead – The future for Toyota and MasterMover
Toyota is confident in the AGV300 TOW solution and the service received throughout the process from MasterMover. With the successful integration of the AGV300 TOW, Toyota plans to roll out MasterMover AGV systems throughout their production processes globally.
"I'd certainly be happy to recommend the MasterMover AGV to other organisations looking to automate their driving processes." Kevin Jones, Principle Engineer, Assembly Manufacturing
With 25 years of experience in providing innovative and dependable load-moving solutions, MasterMover AGV electric tugs offer unrivalled performance, backed up by an enviable global customer base. MasterMover AGV solutions are available with an array of navigational systems to meet your needs and move loads weighing up to 30,000kg autonomously.