Electric Tug Enables Quick Die Changeovers (SMED) at Nissan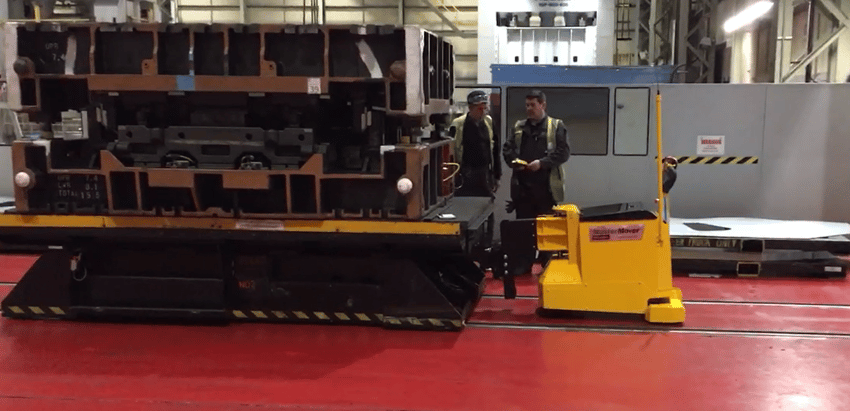 By investing in a customised electric tug from MasterMover, Nissan Motor Manufacturing UK now has a more reliable, flexible handling system for moving press dies from production to maintenance bays, reducing changeover times.
The Application
As you'd expect, the press shop at Nissan Motor Manufacturing UK (NMUK) in Sunderland is a highly automated plant. In total, the shop has six automated transfer press lines that produce a wide range of vehicle body parts. There are also three blanking lines that convert incoming steel sheets into appropriate-sized blanks ready for transfer to the press lines.
Press tools and dies are critical elements in press shop operations. The maintenance and repair of a die is crucial in ensuring that production downtime is minimised. As Rob Rolfe, Die Maintenance Team Leader at NMUK explains: "Our team comprises 39 technicians and eight team leaders who operate on a continuous, three-shift basis. If a die breaks down, we have to move it out of production and into the maintenance workshop as quickly as possible, then repair it and move it back to production, often within hours."
The press shop manufactures 260,000 pressed steel panels per week. The shop employs 140 production staff who operate six press lines on a three-shift system.
Some die sets run every 24 hours and so a rapid turnaround during breakdowns or planned maintenance is critical. The reliability of handling equipment used by the maintenance team to move dies around the press shop is also important.
The press shop uses hundreds of different press tools but holds no spares as there is little space to store these. This means that if a die breaks down or is in need of repair, maintenance has to react very quickly. The dies themselves can weigh anything from a few tonnes up to 30 tonnes and so moving these parts around the press shop to the maintenance bays is a critical process.
Electric Tugs in Action Moving Die Sets
Relying on Traditional Systems
Although NMUK has multiple overhead cranes that are capable of lifting the dies, these run North to South up and down the press shop. In order to move the dies across the press shop and into the maintenance bays, NMUK needed an alternative solution.
For many years, the plant has used a special powered trolley system, rather like a train bogie or axle, which operates on a guided track. The trucks traverse across the press shop on these tracks, which enable the die sets to be positioned and then hoisted by any of the overhead cranes and into the maintenance bays. However, as Rob Rolfe states, "this battery-powered truck system was too unreliable and kept breaking down. If a truck broke down, the die sets would sit motionless in the middle of a busy production area until repairs were completed."
The Solution to SMED
After approaching MasterMover for help, an alternative bespoke solution was recommended. As Rolfe recalls: "MasterMover's solution entailed integrating a MasterTug to the outside of our three existing press die trucks. An operator drives the trucks via a wired pendant control. If there is a fault on the drive system, we can easily and quickly detach the drive from the truck by simply removing a single pin. We then replace the drive with one of the other two, less critical MasterTug drive units."
One of the benefits we have seen from using the MasterTug units is the flexibility they provide. This has improved our reliability considerably.

Rob Rolfe, Die Maintenance Team Leader

Nissan Motor Manufacturing UK
The MasterTug from MasterMover was identified as the best tool for the job. The MasterTug can pull, push and steer wheeled loads up to 20,000kg. Traction is the key to moving heavy loads and so the MasterTug is designed to get all the traction it needs by using a coupling system to transfer load weight to the drive wheel. For NMUK, MasterMover removed the tiller arm from the MasterTug and devised a special coupling system between the MasterTug and the die truck.