Engine Maintenance Shop Achieves 93% Time-Saving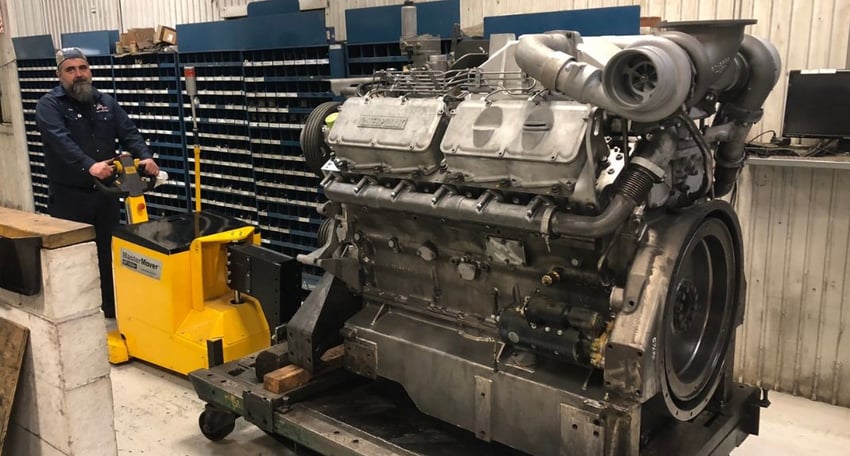 A MasterMover electric tug is driving forward new efficiencies for Canada's biggest diesel engine and replacement parts distributor.
With seven branches across Quebec and Ontario, ADF Diesel is renowned for its diesel engine expertise in both service and technology. Handling hundreds of engines across the workshop areas requires a coordinated approach to ensure that movements are carried out safely and efficiently.
The Challenge
ADF Diesel was looking for a way to streamline the movement of engines throughout the workshop. Previously, three people were needed to move a single engine, a task that was strenuous, risky and laborious - taking around 25 minutes each time an engine needed to be moved.
Alongside the obvious safety risks of manual handling and physical exertion, ADF Diesel wanted a more efficient and leaner way to move engines throughout maintenance. As with any maintenance operation, maintaining service levels and reducing turnaround times was crucial, leading them to explore alternative material handling solutions.
The Solution
With aims of improving safety and reducing the time needed to safely move heavy engines, ADF Diesel reached out to heavy load moving specialists, MasterMover.
We worked with ADF Diesel to understand their requirements and applications. After assessing their application, we proposed our MasterTug MT1500+ as the ideal solution.
Since being introduced on-site, the MasterMover MT1500+ is already making its mark – enabling the ADF Diesel team to move heavier engines more efficiently and with reduced manpower.
Using the MasterTug enables just one person to safely move the load – in just five minutes, representing a time-saving of 93% for the company. The electric tug is located in the area where engines are dismantled, as well as the testing station and assembly point.
We use the MasterTug to move engines, spare parts and heavy kitting trollies. It's used for two and a half hours on each shift and enables us to move heavier engines than before, with less people involved. We are going to buy more of the machines

Jérôme Langlois

ADF Diesel
A powerhouse performer, the MT1500+ is designed to allow a single pedestrian operator to easily push, pull and steer wheeled loads weighing up to a maximum of 15,000kg. Features include a safe maintenance-free battery, with a display screen that shows remaining charge. The electric tug's steel chassis is also FEA tested to ensure there are no weaknesses – and ease of movement is assured with loads manoeuvrable through 180°.