Case Study: Sicarev Invests in Safety at Meat Processing Plant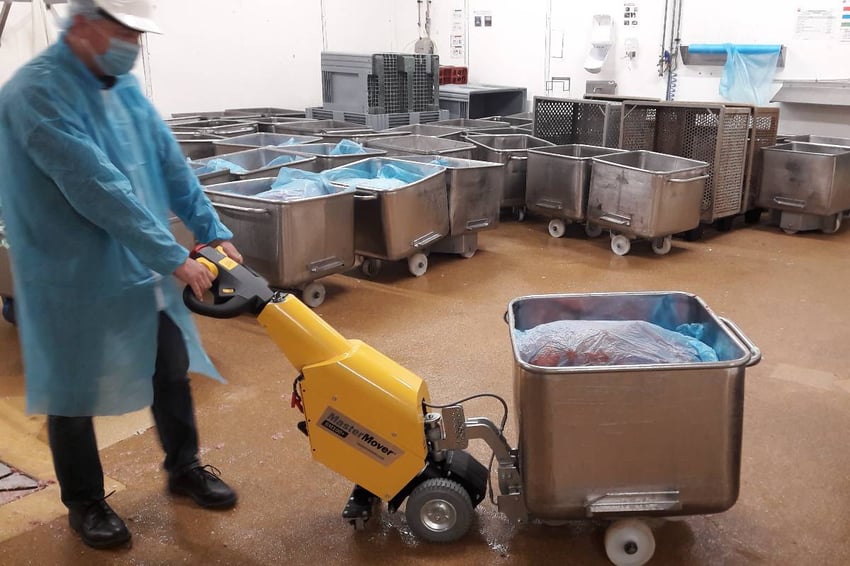 Sicarev, one of France's largest meat processing companies, has transformed workplace safety by investing in a fleet of 20 MasterMover electric tugs.
The electric tugs are used across multiple sites to eliminate manual movements and support safer material handling in food processing. In this case study we dive into how Sicarev has used electric tugs to create safer working processes and reduce the risk of injuries in their meat processing plants.
Manual handling risks within meat processing
From the movement of carcasses within chiller rooms to the transportation of cut joints to packing, operations within meat processing environments can be both repetitive and strenuous for staff – particularly where heavy loads are moved manually.
At Sicarev, manual handling was relied on in multiple stages of the production process. Production operatives manually pushed full and processed carcasses along overhead rails, while butchery staff were tasked with carrying rolls of meat and push heavy-wheeled Syspal bins of cut meat.
Strenuously pushing and pulling carcasses along the rail systems was presenting issues with staff safety. The manual movement of heavy loads resulted in staff fatigue, the risk of musculoskeletal disorders and excessive bending and stretching to position the carcasses.
The nature of food production environments, and in particular meat processing, can mean that floors are often wet and slippery. A wet environment combined with staff straining to move heavy loads presented the high risk of injuries – a risk that Sicarev was determined to reduce in all of its meat processing facilities.
"Moving storage containers such as bins is sometimes difficult for the different operators due to their weights. Those operations can generate some risky situations including back pain and slips. We had to find handling assistance equipment that was easy to use, robust and efficient."
Joel Oddoux, Group Environmental Safety Manager
Sicarev
Searching for a solution
Material handling equipment in the food industry
Reducing manual handling in food processing isn't an easy task. Companies have traditional options available such as pallet trucks or sack lifters to aid in easing the strain of lifting operations, but pushing and pulling loads is a different matter and one where the options available to manufacturers are limited.
For the movement of carcasses on overhead rails, automated or mechanised line systems are available, but these can be both costly and inflexible.
On the other hand, the design and volume of storage totes and Eurobins within food manufacturing environments can make finding a universal electric tug solution difficult.
Sicarev needed a supplier with engineering expertise to support them in assessing potential options that could remove manual handling in the movement of carcasses and heavy-wheeled storage bins.
Their requirements led them to contact our Technical Team at MasterMover. With an expansive range of proven electric tug solutions, and 25 years of custom engineering experience, we were familiar with the challenges Sicarev was looking to solve. Our problem-solving approach to material handling solutions has enabled us to support some of the world's largest food producers alleviate manual handling and improve production efficiency.
With the help of the MasterMover team, we found a device that met our requirements – namely very manoeuvrable, even with a heavy load, easy to use and capable of adapting to all terrains such as climbs, bumps and slippery floors.

Joel Oddoux, Group Environmental Safety Manager

Sicarev
Improving safety at every stage of the process
With multiple applications across various facilities, MasterMover collaborated with Sicarev to understand the requirements of each task. This collaborative approach enabled our engineers to specify solutions to maximise safety at each stage of the process – without compromising production efficiency.
Sicarev now uses multiple SM100+ electric tugs to move rolls of meat and manoeuvre the high volume of Syspal bins with complete control. With extensive experience working in food material handling, the SM100+ machines were specified with MasterMover's existing custom designed clamp, specifically crafted to easily connect to the unique design of Syspal and Bac Cousin bins – without compromising safety or performance.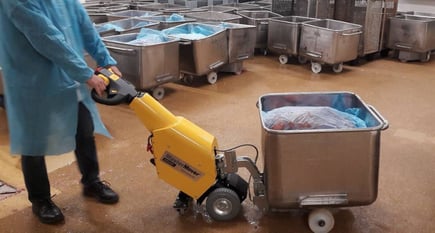 The SmartMover range enables single operators to easily and safely manoeuvre loads weighing up to 2,000kg, with stainless steel models available to meet the stringent hygiene needs of food manufacturing.
Collaborating with Sicarev, MasterMover engineers combined the powerful design of the TOW200 with a custom pushing system that enables production operatives to effortlessly move rows of heavy carcasses along the overhead rails.
The results for Sicarev
By integrating MasterMover electric tugs throughout its production facilities and reducing manual handling, Sicarev has been able to improve workplace safety and reduce the risk of injuries.
"In collaboration with MasterMover, we were able to deploy the tugs on many sites. We have received very good feedback from users." Joel Oddoux, Sicarev's Group Environmental Safety Manager
Create a safer food manufacturing environment with electric tugs
Electric tugs provide a safe and efficient solution to material handling in the food industry. Discover your solution here.